Money, money, money, dru-ugs…and guns.  I forget how that song goes.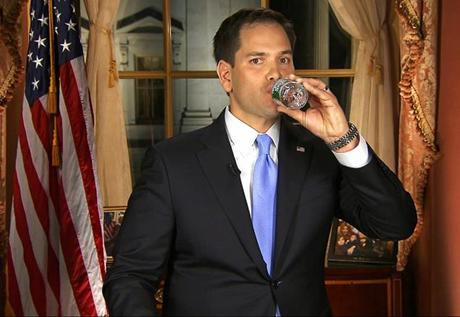 This drink intermission sponsored by corporate tax-dodging America!
GOP presidential hopeful Marco Rubio lays out his economic plan for the country and it's all kinds of terrible.  Nothing overly surprising in the plan as it's a giveaway to the wealthy and will hurt the poor and middle-class, like most GOP proposals.  Tax cuts for corporations, elimination of dividends and capital gains tax, and cuts to Medicare and Social Security to pay for it.  Please keep trumping that idea around so everyone is clear about what you want to do to us.  I'm sure that presidential run will go great, Senator Nochanceinhell!
In economic inequality news, David Geffen donates $100 million to Lincoln Center.  It's great he wants to make such a donation to the arts but it's hard to ignore the economic disparity when these donations are made at the same time the wages of the majority have stagnated for so many decades.  It must be nice to donate the equivalent of 6631 minimum wage earners' combined yearly salaries in one shot.  The donation is great but it does help exemplify the huge difference between the have-everythings and the have-littles.
An appeals court has upheld a California city's ban on gun magazines that hold more than 10 bullets.  A small victory for commonsense gun policy but the case will go through more appeals as gun nuts desperately beg for an increase in the size of their magazines.  Blah blah blah penis joke.  Bob Loblaw penis joke.  Blah blah blah penis joke.  Moving on.
Heroin death rates in the United States have quadrupled since 2000.  So odd it is happening.  It's almost as if the market has been flooded with more heroin from the people who grow the most heroin in the world since the year 2000 for some reason.  I wonder how that happened?
The article is filled with good information until the end when this quote appears:
David G. Evans, of the Drug-Free America Foundation, blames the use of less-harmful drugs for the uptick in heroin use.

"I think heroin deaths are going up in part because the attitude has changed towards marijuana," he said. "Kids now think marijuana is a medicine so it's okay to use it. You get involved in a drug culture, you get high, you get addicted, one drug just seems like the other, and I think that's a big part of it."
Ah, the good ole Gateway Theory.  Hasn't that myth been killed enough by academics to never bother quoting in a serious article on drug use?  It's like finding a fossil fuel funded climate denying scientist to quote in a climate change article.  We're better than that now, aren't we?
Palestinian president Abbas calls Israel gangsters over the tax dollars they are holding from the Palestinian people.  If you read the article closely, it clearly maps out how this situation could easily (and will likely) devolve into more violence due to Israel's horrendous action.  Israel will then "mow the lawn" again and kill more innocent Palestinians in the name of their security, despite the fact they will have caused the situation to begin in the first place.
Already many of the PA's 140,000 civil servants have had their pay cut by around 40 percent…
Gosh, why would 140k people be angry about their pay being cut nearly in half by an occupying government that just killed more than 2,000 of their people?  But remember everyone, it's Israel that is being treated terribly by the Palestinians and not the other way around.  Just listen to their leader.  If Netanyahu wasn't busy lying about the non-existent nuclear threat of Iran, he would be able to lie to you about the threat of Palestinians.