As the end of the year draws near it seems there is a holiday party or get together to go to every other night. All in less than a week I enjoyed a holiday cocktail party hosted by a good friend, exchanged Secret Santa gifts  and co-hosted a dinner party. While all of this is enjoyable and what the season is all about, it creates quite the balancing act combined with gift shopping, work and wrapping the year up. So here are five little tidbits that can make celebrating the season easy, fun and a little more chic!
1- Holiday Hors d'oeuvres Made Easy- Whether you received a last minute invitation to a dinner party or time was simply not on your side that day, you can still easily put together an appetizer that is Christmas-y and incredibly tasty. At a dinner party last night, I was put in charge of appetizers and barely had any time to whip something up. That's when I turned to a "recipe" I had made before for Thanksgiving from The Noble Pig blog, one of my favorite recipe sites. I made a goat cheese log with cranberries and pistachios and the end result brought together Christmas colors and flavors. The reason I call this a "recipe" is because there isn't any cooking involved at all, just some easy prep and a beautiful presentation as the end results. Check out the instructions here! When I made it for Thanksgiving I used walnuts and golden raisins instead, so get creative and you'll be the hit of the hors d'oeuvres table.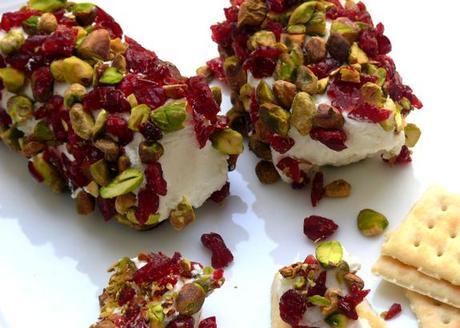 2- Tied Up in a Pretty Little Brooch- There is nothing worse than finding the perfect gift for someone and then realizing right before you head out the door you don't have any wrapping paper, bags or bows. If the gift is small, all you need is some tissue paper and a 1928 holiday brooch to top it off! Much more decorative than a bow or ribbon, a brooch is also an extra little gift! Our Deck the Halls Christmas Bells Brooch and Red Poinsettia Brooch are beautiful ways to spruce up even the simplest of wrappings and will only set you back $15.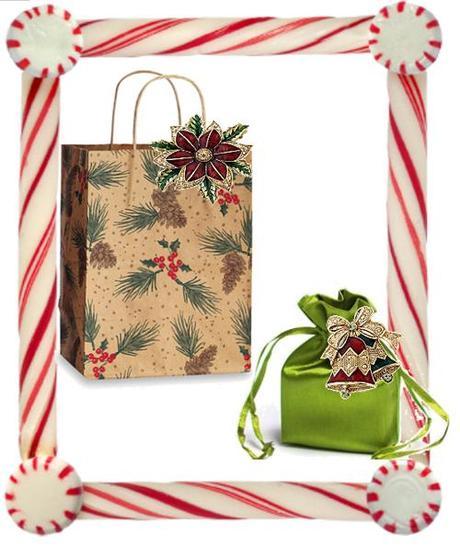 3- Deck the Halls with Decor-
This past weekend my old college roommate hosted a wonderful holiday cocktail party at her apartment in downtown Los Angeles. It was a great excuse to dress up and stay in (one of my favorite things to do!) get together and ooh and aah over all of the festive little details she put together. You can see all of the planning and recipes she used on her blog, Snacktive.blogpost.com- definitely worth checking out not only during the holiday season. My favorite part of the party, besides the spiced hot
apple
cider? The décor! From tiny metallic Christmas presents to beautiful fresh flowers, it all made the whole party seem that much more fancy and festive!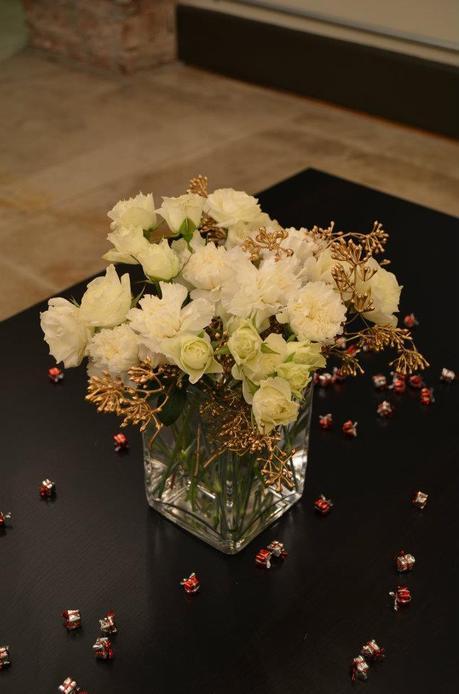 4- Scents of the Season
- You may not have time to bake and fill your home with the delectable scents of gingerbread or Christmas dinner, but one easy way to make your home holiday ready is getting some candles or a room spray. One in particular I have found that is the perfect blend of sweet and woodsy. A few quick sprays of Bath & Body Works' Merry Mistletoe will create a wonderful, welcoming scent throughout your whole house. No baking required!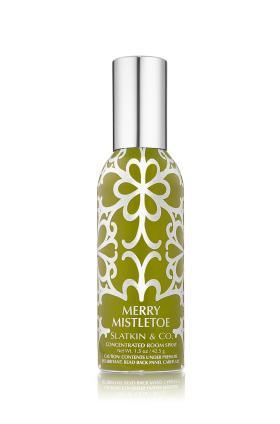 5- Merry Music
- Even if you have your holiday hosting plans down pat, there are always things like atmosphere to consider. We have all heard of Pandora Radio before, where you can create stations around your favorite artists and songs, but did you know you could do the same for Christmas music? Say you like Coldplay- simply type in Coldplay Holiday and a radio station of Christmas music similar to that of Coldplay's will stream live. Want some Jazz Christmas music? Just do the same thing, or
browse throughout all of Pandora's holiday stations
including Country Christmas, Gospel Christmas and even Hanukkah songs!
Maybe it's just me that struggles through the hustle of the holidays, but we hope these ideas might provide for the "cherry on top" of your festivities to make them even more fabulous.