Laurel Fehrenbach, public programs assistant here at American Art, spoke with Brad Linde of the Brad Linde Ensemble about their upcoming performance at Take 5! The group will be performing a tribute to Ella Fitzgerald on Saturday, April 16, from 3 to 5 p.m. as part of Jazz Appreciation Month (JAM).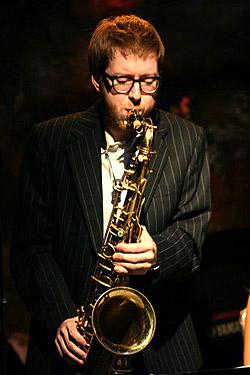 Brad Linde
Eye Level: Ella Fitzgerald seems to be a timeless figure in American jazz. What in particular draws you to her music?
Brad Linde: Ella was one of the greatest interpreters of the Great American Songbook. She had excellent diction, her tone was very clear, and she was an excellent, swinging improviser. I particularly enjoy her collaborations with Duke Ellington and Billy Strayhorn.
EL: How do jazz artists of the past, like Ella, influence your style and playing today?
BL: I have always been drawn to the music and musicians of the bebop era (1940s–1950s). My own style and ambitions are rooted in the swing feeling and the song forms of the big band era, the bebop revolution of Charlie Parker and Thelonious Monk, and the early free jazz experiments of Lennie Tristano. My interests have developed from devoted listening to my early heroes Coleman Hawkins, Sonny Stitt, and Miles Davis, and to the recent study of innovators like Lester Young, Charlie Parker, and the Tristano School. These artists created the music and provide the obvious and perfect place to learn how to play this music.
I have really tried to combine the feel and conventions of the bebop era with a freer thinking and more improvisation-based music. Barry Harris taught me the rules of the music and Lee Konitz showed me how to free myself from them. Both of my mentors are working with the same material —32 bar tunes, jazz standards, etc., and they both come from the same period historically. They were not only there when it was happening, but they contributed to its creation, and each interpret the music so differently. It's the honesty in what they are doing and the love of improvising, often starting from scratch, that attracts and inspires me.
EL: The last couple times you performed at Take 5!, the Brad Linde Ensemble was celebrating anniversaries like the 50th anniversary of Miles Davis's seminal album The Birth of Cool and Lester Young's 100th birthday. Any big tributes coming up this year?
BL: The Brad Linde Ensemble is moving towards creating, commissioning, and performing new music this year. The ensemble is performing fewer shows, but taking the time to put together new music and set up collaborations with guest artists. We have a very special show at the Music Center at Strathmore in October that I am really looking forward to, and we are in the process of finding dates and venues to collaborate with new guest artists including Grachan Moncur III, Gary Smulyan, and Mark Turner.
I will be celebrating the 50th anniversary of the Lee Konitz album Motion with a new trio and live recording. This year, I will continue to focus on free improvisation and composition and some re-workings of other classic albums and artist repertoire. I'm beginning to work on a "Cool Side of Cannonball and Coltrane" performance for June.
EL: You are the bandleader for both the Brad Linde Ensemble and the Bohemian Caverns Jazz Orchestra. Do you see lots of overlap between the two, or does each have its own distinct style?
BL: Each band definitely has its own style. The Bohemian Caverns Jazz Orchestra has a different energy and has a broad repertoire. The big band plays music from Count Basie and Duke Ellington and performs modern big band literature and originals. The band is co-directed and the artistic direction is collectively decided. The band members, additionally, all have a variety of influences and abilities. The Brad Linde Ensemble is just an extension of how I hear music and about investigating some of my favorite repertoire from my favorite composers and bandleaders. The Brad Linde Ensemble has a historic element to it, but also a continuation of a more subtle, chamber music attitude. While the Bohemian Caverns Jazz Orchestra is standard 17-piece big band instrumentation, the Brad Linde Ensemble requires existing or tailored arrangements to include tuba and french horn, and also for the five saxophone ensemble and to accommodate guest artists.
EL: Besides your tribute to Ella Fitzgerald on Saturday, April 16, how else are you celebrating Jazz Appreciation Month?
BL: During JAM, I will be hosting a series on Tuesday evenings at Twins Jazz called "Dialogues and Duets". This series pairs me with two musicians each night in two sets of improvised conversation. The three musicians will come together as a trio to finish out the evening. The series features trombonist Greg Boyer, pianists Dan Roberts and Harry Appelman, guitarist Anthony Pirog, saxophonists Sarah Hughes and Brian Settles, bassist James King, and violinist Matvei Sigalov.
On Wednesday, April 20, I have put together a band with pianist Freddie Redd, bassists Butch Warren and James King, drummer Nasar Abadey, and saxophonists Brian Settles and John Kocur to perform at Twins Jazz. We will be playing music by Redd and Warren, and talking about The Jazz Loft Project that photographer W. Eugene Smith documented in the 1950s.
The Bohemian Caverns Jazz Orchestra recorded a live album earlier this week, and we will celebrate our one year anniversary with a live broadcast by WPFW 89.3 FM on Monday, April 18 at Bohemian Caverns. The performance is from 8 to 11 p.m. with a $15.00 cover, no minimum, so I hope people will come out to support us.
I also will be performing in New York City with my quartet featuring tenor saxophonist Ted Brown. We are playing at the Miles Cafe and Tomi Jazz on Thursday, April 21 and Saturday, April 23. Playing with Ted is another lesson in how to play jazz and really improvise.
Brad Linde Ensemble, Ella Fitzgerald, Jazz Appreciation Month, American Art, Smithsonian American Art Museum