Although times are changing and pretty everyone is becoming more tech savvy, Travel bloggers still fall into the non-techie category when it comes to websites. Building a website from scratch is not an easy task. Even customizing your website's HTML and style code takes some tech chops. However, WordPress provides a solution for the technically capable and non-techies to build stylish, functional, and revenue-generating websites with ease.
What's the best WordPress theme for Travel Bloggers? The following themes are ones that I recommend based on years of working with WordPress and websites in general. I don't recommend free themes except for experimentation and beginners. Anyone who wants to be taken seriously should buy a premium theme which cost as low as $40.
You can take WordPress to any level and build extremely complex multi-site empires with customized code but we're going to look at a simpler option which will appeal to the average travel blogger. Putting a nice looking website on the internet is often a matter of choosing the right WordPress template. WordPress is eating up the Content Managment System (CMS) competition on the web. It now beats every other CMS by miles and runs on 25% of the entire internet's websites.
So the advice is: Stick with WP.
If you'd like to know more about getting started blogging in the travel niche check out part 1 of How to Start a Travel Blog. It's one of the most detailed guides on the Internet and is sure to help you on your blogging journey.
The Best WordPress Travel Blog Themes
Essence Pro By StudioPress
A beautiful new theme that is as practical as it is eye-catching. Essence Pro WordPress theme is perfect for showcasing large photos and Pinterest-style images. Great for the modern travel blogger. This is a feature-packed theme with pricing tables, shop layouts, and a professional looking front page already built in. You just need to show up and start adding content.
As with all StudioPress themes, Essence Pro is a child theme of the Genesis framework, one of the most rubust, security friendly, and seo-ready theme base to start your blog on. I've been using Genesis themes for years and they've never caused me problems.
View Demo and Buy Theme
Gallery Pro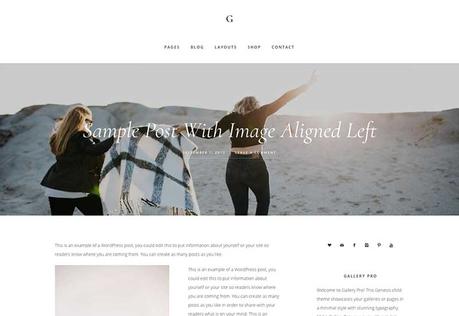 The Gallery Pro theme is not promoted as a travel blog WordPress theme but it has many elements that make it a great choice for travel bloggers.
The theme is one of the fastest around and also one of the most secure. This comes from the underlying Genesis framework which you will need to own to be able to use the Gallery Pro child theme. The Genesis framework is a complete solution for security, SEO, and future-proofing. Updates to the underlying core framework are very infrequent (if at all) and it's also a very secure and lightweight place to start a website. But beginners need not feel overwhelmed. There is no requirement for coding knowledge and the framework with child theme can be set up in a couple of clicks.
The themes minimal, clean look allows site owners to promote beautiful images and really highlight the content rather than the technology behind the site. With Gallery Pro, you can showcase your travel photos and image-heavy blog posts with ease. The font is subtle and subdued and nothing overpowers the focus of the site, the content. For this reason I think most bloggers wanting to document their travels or promote a product could do so quite easily with this theme. It's also WooCommerce ready so you can sell online if you wish.
The Gallery Pro Theme costs $129.95 with the Genesis Framework. It's not the cheapest option but you will have access to StudioPress' Genesis which you can use with other themes. Recommended for beginners with a slightly bigger budget or someone that has moved on from the basic free or general WordPress themes.
See Demo and Buy Theme
Divi & Extra by Elegant Themes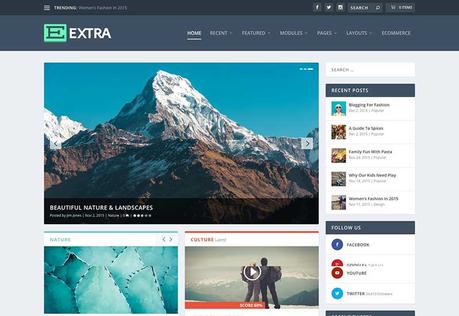 Divi and Extra are two of the most popular themes for WordPress. This blog currently uses Divi and I first used Elegant Themes back in 2013.
Extra is a good choice for magazine, community, and news type blogging as it offers many customisation options and preconfigured layouts. You can have a very professional looking theme set up and running quickly even if you don't have much technical knowledge. Divi is a great choice for building slick graphics-heavy websites (ideal for travel blogs). It's also a very capable Ecommerce store and offers tons of extra features such as A/B or split testing, translation features, beautiful buttons and layouts, a theme builder, and rock-solid security.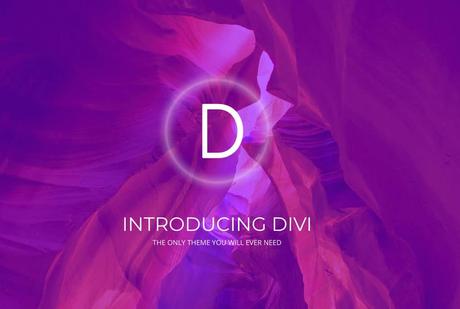 Extra and Divi WordPress themes offer a bewildering array of sliders, video sliders, contact forms, and audio player widgets, to name a few. Many of these options are overkill and will add some extra loading time to your website but managed properly they can make a plain site look very professional.
It also comes with built-in support for WooCommerce, product reviews, and project galleries so if you are planning on selling via your website check this theme out.
ElegantThemes.com sells its themes on a subscription basis. Don't panic! A one-year subscription to the entire collection of themes, including Divi (their flagship theme) and their social media plugins and lead magnet tools is just $69 per year. You can also use the themes on other sites and their technical support is superb.
See Demo and Buy Theme
Aden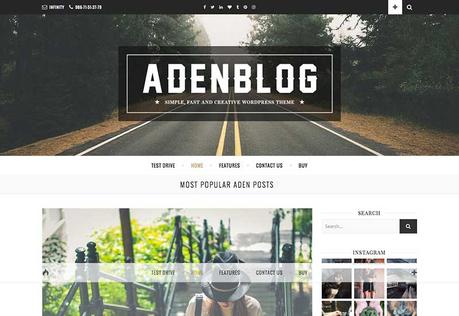 The Aden Theme isn't aimed directly at travel bloggers but I think it's a very good blog theme for building a travel related website.
A full-width image header which doesn't eat up the entire before-the-fold space allows the website owner to place a site navigation in the center of the screen. Blog posts come directly under the navigation allowing the reader's attention to move downwards to where the blog's content begins.
A bar at the top of the screen shows social media icons, contact details, and a search option. This is a neat way of giving the user some more details about the website and business without distracting them.
The content slider is slick and doesn't slow the site down and the theme uses a similar Instagram feed near the footer, like the Traveler theme. Aden uses subtle social sharing icons below each content post. The very readable open sans font gives the theme a very slick 'well-defined' appearance.
You have several choices of front page arrangement and images, video and audio can be easily slotted into blog posts.
The Aden theme sells for $47 and this includes future updates. A bargain for a theme of this calibre.
View Demo and Buy Theme
Dune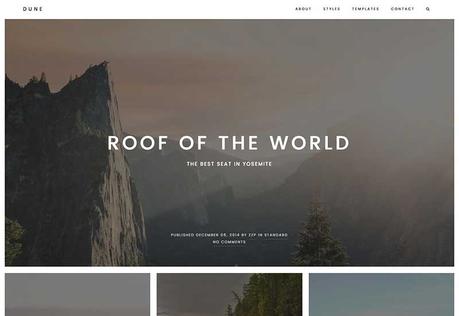 The Dune theme from ZigZagPress is another Genesis framework theme so you will need the framework before adding this child theme. However, the process is simple and adds a very solid, secure framework to your website. 90% of the websites that I built in the past with my digital agency used Genesis-based themes and they have never let me down.
I like this beautiful-looking WordPress theme because of it's unique take on presentation. Dune goes for a full-screen header with only the simple white background menu at the top. This is followed by very pleasing post widgets which split the screen into thirds. The pattern is repeated again after this.
The footer is simple, with only basic looking formatting. This simplicity, coupled with the strong images and use of whitespace makes for a very attractive theme that any designer would be proud of.
As the theme builds upon the Genesis framework you have the entire range of Genesis-specific plugins, shortcodes, and code snippets to choose from when customising the theme. For beginners and the non-technical bloggers, the theme offers easy access to setting up a very professional looking blog. Thanks to the built-in security and use of child themes in Genesis you won't have to worry about updates crashing your server or errant code destroying your WordPress installation.
Dune costs $49 and you can use the theme on as many domains as you like. It's mobile and localisation ready which means it will work on any device and you can easily get the theme ready for international language use.
View Demo and Buy Theme