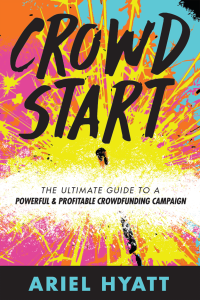 The following is a guest post by Ariel Hyatt, founder of Cyber PR and author of Crowdstart: The Ultimate Guide to a Powerful & Profitable Crowdfunding Campaign.
You may not know it, but you probably have fans willing to give you a lot more than they've ever had the opportunity to give. Crowdfunding is not only an opportunity to create an experience around the launch of a new product or idea, but as the crowdfunding campaign progresses, it becomes less focused on money and instead transforms into something that involves people on an emotional level, uncovering fans and a community you may not have known existed.
That being said here are a few myths I'd like to clear up for you so you have the most successful campaign possible.
MYTH #1
I will raise 25K, 50K, or 100K with my crowdfunding campaign!
The media has presented a skewed version of what we mere mortals can achieve. Sadly, we are all not Amanda Palmer or the dude who invented the Coolest Cooler. Here's the most important statistic to keep in mind when it comes to keeping it real when you set your financial goal for crowdfunding:
The average successful crowdfunding campaign raises around $7,000 – fundable.
If this is making you freak out a little take a deep breath and ask yourself – would having between $5,000 and $7,000 extra in your bank account make a difference for you? If so than it just may be worth it to launch a crowdfunding campaign. But be honest with yourself – look at how many email addresses, phone numbers and REAL social media friends you have and guesstimate how much each one may be willing to contribute to your campaign. Once you have that number in your mind you can aim for an amount that is truly possible to raise.
MYTH #2
I'll go with Kickstarter because everyone knows what it is and the chances of getting funded are higher on a platform that people recognize.
Not so fast! This crowdfunding undertaking is not as easy as it looks!
According to Kickstarter's own statistics, as of May 2016 the 235,593 projects had been launched on its site, and only 105,777 — 35.98%% — reached their fundraising goals. That means more than 60% of the projects on Kickstarter received no money at all.
This is not to discourage you from going for it but I will caution you – It may be smarter to work with a platform that allows you to keep a partial raise as opposed to a "you get all or nothing" approach. Why? Because to do all of the work required to get a campaign underway for nothing is crazy.
However, if you are the go-for-broke type, or you have a project that requires 100% of the funding, this may be the route you choose. I will leave this decision up to you. But you should consider working with Pledge or IndieGoGo so you can keep whatever money is coming towards you!
MYTH #3
I have tens of thousands of followers on my Social Media channels – I've GOT THIS.
I promise you this is the fastest way to fail at crowdfunding. While social media is a critical factor in crowdfunding success you need to understand that the vast majority of your contributions will come from people that you already know – either friends or family or subscribers to your email list.
If you don't have an active email newsletter list you may want to take a giant step backwards and create one or reactivate that list you have let languish to ensure results. I strongly advise you make a list and track your VIPs. This VIP list should include your close colleagues, best friends and family members. Make sure you communicate one on one (not via email newsletter blast). 
 And make sure you track whether you have received a pledge or heard back from each and every one.
MYTH #4
I can do my entire campaign while hiding behind my computer – its just a few Facebook posts and some emails!
I am delightfully and constantly surprised at how effective calling contacts can be. People are busy, it's not personal so, pick up the phone. You don't want a favorite aunt or cousin telling you after the fact that they'd wish they had donated but they just did not hear about your campaign. So, make the telephone your go-to campaign tool.
Keep in mind that Facebook numbers probably don't count! Quite a few clients proudly tell me they have 3,000, 5,000 or more fans on their Facebook Pages, and so they assume that equals funders. This is almost never the case. It is crucial to check Facebook Insights and make sure you understand your real numbers. When it comes to Facebook you must be ready to pay for advertising and boosted posts as part of your successful crowdfunding campaign.
MYTH #5
I can use my crowdfunding campaign to create handwritten lyric sheets, press cool colored vinyl, and get those cassette tapes I LOVE!
STOP And THINK. Does your uncle Bob have a record player? Are your friends at work and in your softball league as cool as you? You may think that everyone in the world loves vinyl as much as you, but the truth is most of your non-muso friends may not even own a CD player!
Make sure you offer rewards that are experiential and unique. How about: come bowling with the band, throw a pub-crawl, or have a wine tasting event at a friend's swanky house? People who are not immersed in all things music and musicians may just pony up some good money to hang out with you in another context. After all they are your friends and family so figure out what they may enjoy and add at least one tier that appeals to the non-music peeps to your offers.
I hope you find these 5 myths helpful, and they shed some light on some of the biggest misconceptions I hear.
---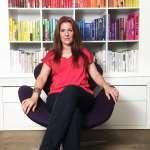 Ariel Hyatt has been a fierce entrepreneur for more than 20 years and runs Cyber PR, a dynamic social media & content strategy firm based in New York City. Her agency places clients on blogs & podcasts, establishes their brands, and advises on how to create online influence. She has spoken in 12 countries to over 100,000 creative entrepreneurs, and is the author of four books on social media, including Cyber PR for Musicians and Music Success in 9 Weeks, which have both hit number one on Amazon.  Her newest book Crowdstart:The Ultimate Guide to a Powerful and Profitable Crowdfunding Campaign comes out on October 25, 2016.
---
Want More?
Download a chapter!