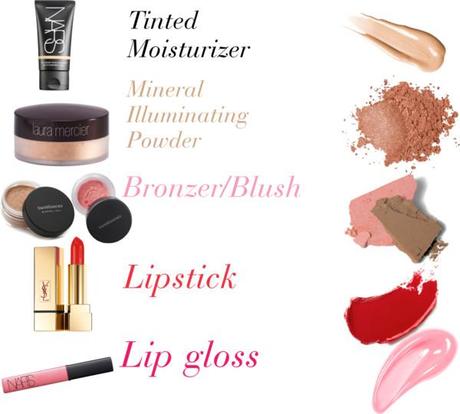 Nars Tinted Moisturizer: There are three things I love about this tinted moisturizer. First off, it is oil-free, meaning it will not clog your pores or cause breakouts. Secondly, it will blend and match your skin tone perfectly. Last, it is light-weight and will allow you to achieve that "no make-up make-up look". It blends any imperfections and evens skin tone. 
Laura Mercier Mineral Illuminating Powder : This type of powder is critical to apply between your tinted moisturizer and bronzer (especially when you put the two on one after the other). It allows the tinted moisturizer to set, and will give you a bright, luminous glow. It will also allow for your bronzer and blush to take to your face better, enhance the color, and make it last all night. 
Bare Minerals Bronzer/Blush: There is nothing more natural looking or feeling than the Bare Mineral products. With the right brush, it will give you the slightest yet perfect amount of color. 
YSL Lipstick: This lipstick comes in 50 shades of perfection. I put it on at 7 am and it will last until almost 4 or 5 pm. It plumps your lips, provides you with SPF15, and gives them a smooth, soft, finish. 
Nars Lip Gloss: Every time I go out, I carry this product in my purse. (All 2 times I've gone out at night this winter) But seriously, it's the perfect tool to wear over  your lipstick (it enhances the color), or to wear bare on your lip. 
{Shop these products}: