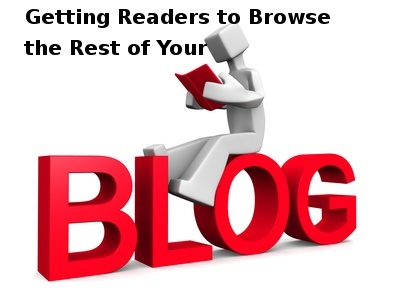 Guest blog by Richard Eaves
Do you check the statistics of your blog? Surely, a small spike in traffic is enough to bring a smile to your face since it shows that some people know your blog exists. The question is, "How many of these visitors took the time to read your other content?"
You are not sure of the answer right? While you can't force your target audience to read your posts, you can always use subtle yet effective strategies. With that said, here are five ways to encourage readers to check out the rest of your blog:
1. Provide useful and engaging content
Obviously, this is the main reason readers flocked to your blog. Your post probably came up in the result pages after. Probably, another site linked to it. Either way, the path they took led them to YOUR blog.
Since they checked out your blog, you need to do your part and give them a great experience or lots of useful info. This way, they would see your site as a good source of information; therefore, leading them to check your other articles.
Apart from being informative, your blog post should also be engaging. Everything from the title down to your conclusion should keep the readers glued. Not only this, they should be able to get valuable learnings after reading your posts. When you do, the chances of them browsing the rest of your blog are high because you managed to keep their interest.
2. Use a user-friendly blog design
Your homepage sets the tone for the overall impression of users. Sure, it helps to draw their attention with intricate designs and cool animations. The questions are, "can they navigate through your blog with ease?" and "can they find what they are looking for without too much hassle?"
To answer these, you have to consider your homepage's loading speed. To cite a statistic, 40% of Web users wouldn't hesitate to leave a site if it takes longer than 3 seconds to load.
As a blog owner, you have to know that the abandonment of readers just as they made it to your blog is the last thing you want because it affects your visibility on search engines. Yes, Google and Bing take the time spent by users as a factor in determining your placement in search results. If you want to be seen, make sure to take the design of your blog into account.
In addition, you have to be aware that keeping these things in mind counts as good search engine optimisation (SEO) practice. As you know, applying SEO on your blog is a major factor in getting it listed in the first pages of search engine results. In fact, some acquire pay on results services to see their website on the coveted spot in results pages.
3. Refer readers to related posts on your blog
At the end of your article, continue to feed the curiosity of your readers by providing a list of related posts. This keeps them occupied with a bunch of articles to sift through; hence, keeping them longer on your blog.
There are two ways to do this. One, you could manually provide a list of articles you deem relevant to the current post. Two, you can use a plugin that automatically generates a set of articles to put at the bottom of your write up.
4. Display a list of popular articles
Most readers are curious to know what others are talking about or reading on your blog. Satisfy this curiosity by showing a list of your most popular articles.
You don't even have to do this yourself. There are plugins available which calculate the "popularity" of a post based on comments or number of views. So all you need to do is to pick between the two factors (comments or number of views), and a list of articles are automatically generated for you.
5. Link to other blog posts using a hyperlink
Although this is quite similar to tip #3, there are clear differences. With this method, you are leading readers to related posts by turning words into a link.
Let's say you are writing an article about the "top 10 apps every blogger should use". Imagine that you have the following line in that write-up: "these applications help increase the productivity of bloggers".
Now, you recalled that you have written about tips on increasing blogger productivity. What you can do is link that post with the word "productivity". By doing this, readers not only get information about useful apps, they are also led to another resource containing tips on boosting their productivity.
By providing links to other relevant posts, you are giving users something to read further. Plus, by keeping them occupied, you make them stay longer on your site.
Parting thoughts
Readers are the main key factor which determines the success of your blog. This is why it is important to keep them satisfied and wanting more so they won't abandon your site as swiftly as they came.
About the Author
Richard Eaves is a Digital Marketing Specialist for Smart Traffic, a leading SEO company offering services that get clients to top positions on Google. He oversees 300+ campaigns for the company.