Halloween is weeks away but you're probably spooked when it comes to the number of sooner-to-be-expected costume parties and your current level of preparation.  Don't fret.  These last-minute adult Halloween costumes and ideas have got you covered.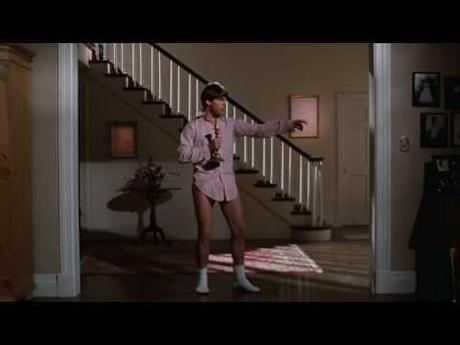 Risky Business
In one of his younger appearances and leads in a Hollywood production, Tom Cruise played a curious yet obedient teen home alone.  Peer pressure and train rides follow an iconic scene, where Tom, dressed in a button-down shirt, socks, Ray-Ban sunglasses and a winning smile, slides across the wooden floor.
Get a dark pair of shades, a light-colored (collared) shirt, and knee-high white socks.  Wear a short and tight-fitting bathing suit or pair of shorts underneath.  In the film, Tom'swears tighty-whities, so those willing to take the risk can do the same.
 Morton Salt Girl
There's little competition when it comes to large containers of salt available at the grocer.  A majority of cupboards host Morton Salt, and whether knowing it or not, most of us have seen that girl holding a big purple-colored umbrella on the logo.
Find a yellow sundress, a yellow pair of shoes, a yellow sweater (optional), and a large-sized purple umbrella.  The last-minute costume idea is perfect for a woman but clever enough for a spicy male or man counterpart, such as theCaptain Morgan's character.  If finding clothes items to clinch the costume is not as easy as finding salt in the cupboard, head to Spirithalloween.com for a wide selection.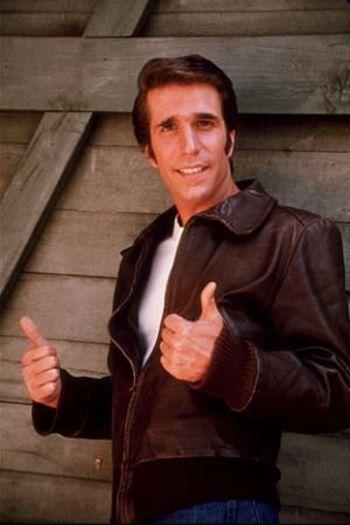 Fonzie
Fonz is a well-known TV character and symbol of the 'nifty fifties.'  Little is needed to conjure the popular character other than a calm, cool, and collected attitude along with a few staple items.  This costume is fit for a lady, but there's no way to pull off the Fonz without short, greased-back hair or a really convincing wig.
You'll need a white t-shirt, black leather (or leather-looking) jacket, a pair of blue jeans, dark boots, and some hair grease or mousse to elicit the 'wet effect,' waxed to perfection by men of the fifties and sixties.  Remember to give out an "Ehhhh" every now and again, and if there's a malfunctioning jukebox nearby, don't punch it.
Beavis and Butthead
Beavis, and his appropriately-named counterpart, Butthead, were popular in the early 90's, yet movies, guest appearances, and endeavors to reintroduce them to newer generations perpetuates this tenacious force forward, and like Bart Simpson, cartoons impervious to aging.
Beavis and Butthead haven't changed much, clothes included.  Therefore, you'll need to hunt down Beavis' Metallica t-shirt and the black, AC/DC concert-style shirt Butthead dons.  Butthead wears red shorts, and his partner, a darker blue than his same-colored Metallica shirt.  Making faces like the duo is definitely optional, but you have to get the hair color and teeth discoloration just right.
Napoleon and Pedro
Napoleon and Pedro were two guys who would stop at nothing to attain world domination and chaos; no, that' not true, but it is easy to dress like the popular characters of the film, Napoleon Dynamite. Before your costumes inspire anyone to vote for you and Pedro for best costume, you need the following.
Red flaming hair for Napoleon, along with a 'Vote for Pedro' t-shirt, baggy and awkward-fitting pants, with dark-colored snow boots to top it off.  Pedro wears a dark-colored wig, with a Western-style button-down shirt and Bolo tie.
Anatolii Oslovskii is a big-time Halloween fan. An avid writer, he likes to share his passion for the holiday with others. Look for his entertaining posts on a variety of websites.