When you think of Argentina, the first images that will most likely come to mind will involve tango, Madonna's Evita, gauchos and delicious steaks. And for very good reason!
But there's a whole lot more to this fascinating South American country. Gay travel bloggers Stefan and Sebastien spent 2 months traveling in Argentina and they give us their 5 interesting facts about Argentina, which you may not have known.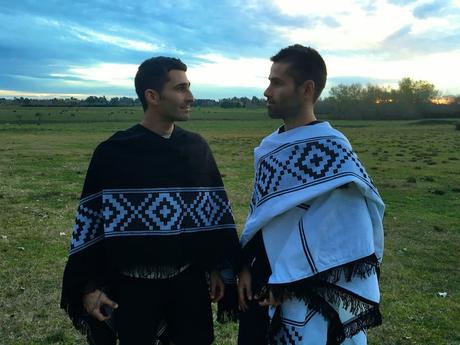 Stefan and Sebastien of Nomadic Boys travel blog discover Argentina and become the Nomadic Gauchos
1. MATE: the ubiquitous herbal tea
Mate (pronounced MAHteh) is serious business in Argentina. It is deeply ingrained in the culture, the focal point in social gatherings, handed around for everyone to share. It is a black herbal tea made from the yerba mate herb, which is grown in the Northeast provinces of Misiones and Corrientes.
To prepare, the yerba mate herb is placed in a gourd (the mate pot), hot water added, then served from a metal straw called a bombilla.
It's got quite a bitter flavour, but honey or sugar is added to balance the bitterness.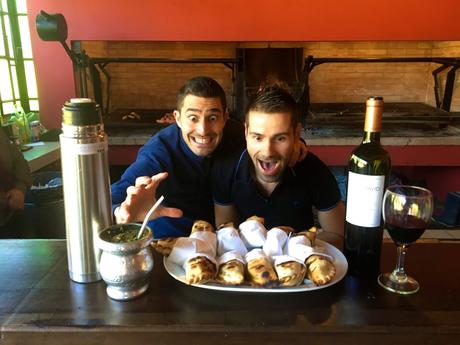 Mate nicely compliments a plate of freshly made empanadas as the Nomadic Boys found out
2. EL PATO: the official national sport
You thought it would be soccer right? Think again! In 1953, President Juan Perón decreed El Pato to be the national sport.
It has been played in Argentina since the 1600s and was traditionally a game played by gauchos on horseback. Pato is very similar to polo with elements of basketball thrown in. However, instead of a ball, a basket is used, which historically used to contain a live duck (pato) inside, hence the name. Today a more humane approach is taken when playing the sport and a ball is used in place of the duck.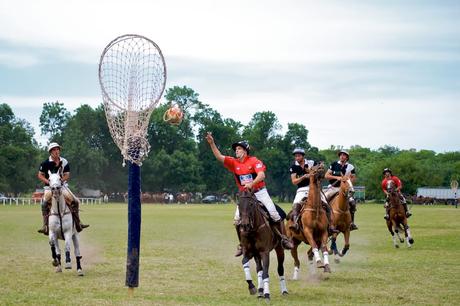 El Pato in action: the National Sport of Argentina
3. UNIQUE DIALECT: the Porteño way of speaking Spanish
Argentinian Spanish has a unique pronunciation with a strong Italian influence, particularly in Buenos Aires. The locals in the capital city are referred to as Porteños.
The most distinct thing you will notice with the Porteños dialect is the change of the ll (lye) to a sh sound. So for example, the word for street, calle will instead be pronounced cashe, or if you're asking someone's name, you would say "como se shama" (instead of llama).
It takes a few days to get used to it, but once you do, it's a lot of fun!
4. IGLESIA MARADONIANA: a religion devoted to Maradona
The Argentinians are so passionate about their football hero Diego Maradona that a Church and religion has been set up in his honor. The Iglesia Maradoniana was founded in 1998 by his fans in Rosario and now have over 80,000 members spread across 55 countries. To them, he is their D10S (Dios in Spanish means God and Maradona's shirt was #10).
They also have their own 10 Commandments, which includes naming your first son Diego and making Diego your middle name!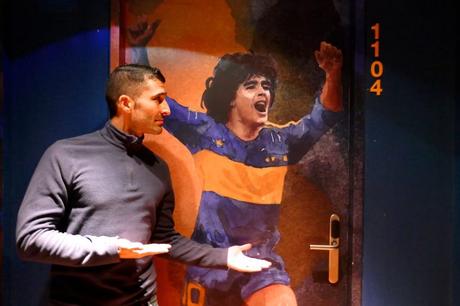 Maradona-mania taking over Stefan at La Boca hotel in Buenos Aires
5. QUEER TANGO: it originated as a dance between men
Nothing evokes the passionate spirit of the Argentinians better than this very famous sensual and seductive dance. Tango is probably the first thing that comes to mind when you think about Argentina. But did you know, at its inception in the 1880s, it was danced between 2 men, but very quickly the concept of same sex tango dancing got lost
Over the last 10 years however, there's been a renaissance in the queer tango culture with milongas (tango halls) offering same sex tango classes.
We took a queer tango class in Buenos Aires which was one of our favorite memories from our travels in Argentina. It is not only a romantic way to express the passion and fire with your (same sex) partner, but a true representation of the fiery Argentinian spirit.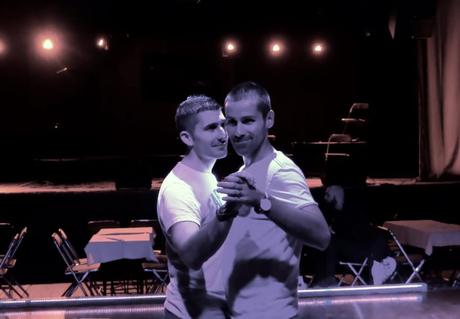 Stefan and Sebastien take a queer tango class in Buenos Aires
To read more about the Nomadic Boys' travels through Argentina, check out their gay guide to Buenos Aires and their road trip through Northeast Argentina.