Here are the Top 5 Inspirational Stories for Self-Producers,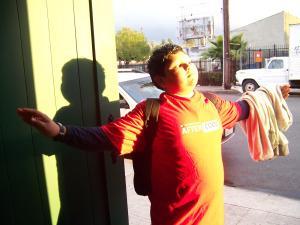 New audience must feel invited as individuals, not a mob.
inspired by conversation at last week's workshop:
1. Audience Development Blog: Loving Your Donors - Although specifically about Donors, truly good advice for all who show interest in or attend your event. Also see Kickstarter Tips – again, specifically for fund-raising but great ideas on making your audience feel loved.
2. Seth Godin's Blog - He somehow always reads your mind and delivers the right message. One of the only blogs I get sent directly to my inbox every morning.
3. Facebook Post Tracking Spreadsheet – An easy way to track times of day & types of posts that work the best. Originally created by The Marketing Spot. This one's more practical than inspirational, unless you're like me and are inspired by analytics!
4. Talkbacks & Tamales "By Being Welcomed, Instantly I Belonged" – An audience member reacts to her first time at the theater where I work, geared specifically towards making people feel invited & welcome.
5. Who Won't Be at Comic-Con and Why That's a Problem - an article by Corey Blake on how Comic-Con has nearly shut out any possibility of new attendees.
This Saturday, Build Your Marketing Strategy in 3 Hours
The sooner you register, the more detailed research I can do for your project!
FEB 23
Build Your Marketing Strategy
10am-1pm
What is your show's story? We'll peel away all the layers of people who would be interested in the story you want to tell.
Who is your audience? How can those layers be organized in a way that you and your team can target?
Who are your audience's influencers? Who has your audience's ears & how can you begin a relationship?
How can you target them? Just what it says, tailored to the platforms you're already using or are most efficient.
Basics of a pitch to media & bloggers  With fun examples.
Includes basic media lists  The sooner you register, the more research for your specific needs I can do. It's all about relationships; lists mean nothing without engagement.
See you there!
——
Saturday, Feb 23rd (10am-1pm) at Theatre Asylum
$40 / individual workshop
Bring another from your company or show for $60 total
All 5 for $175. – Pay for all 5 Workshops
Can't make this one? Watch & interact via live-stream* (email after registering) or pay for the archived video w/ visuals.
*Live-stream requires at least 24 hours notice.
Comment below or email [email protected] for more info.