After several visits to Kauai, Maui, Molokai and the Big Island of Hawaii, I finally had a chance to visit Oahu, the most populated of the Hawaiian Islands and home to the state capital of Honolulu. My travel opportunity came with an invitation to Honolulu to attend the launch of the new Hawaiian Airlines World Elite MasterCard issued by Barclaycard. Although primarily a business trip, I got a wonderful taste of what Honolulu has to offer leisure visitors as well.
With just three days to discover a bit of Honolulu, I've come back with an appreciation of the places and activities I got to experience and the knowledge that there's more to see and do – hopefully, next time including Mr. TWS, too. We've made connecting flights in Honolulu over the years and each time have said that we really want to actually leave the airport and see what's happening in Honolulu and on the island of Oahu.
Honolulu highlights
Beaches, balmy weather, palm trees …

Of course! That's what comes to mind when dreaming about a Hawaiian vacation, and I enjoyed every sandy footstep and warm breeze that swayed the palms during my Honolulu visit.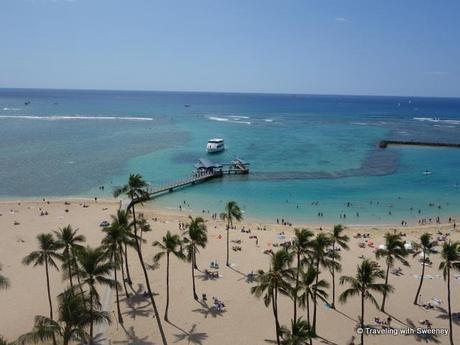 White sand and palms of Duke Kahanamoku Beach
While so many parts of the United States were experiencing record cold and snow this winter, I almost felt guilty putting on sunscreen and sandals. Almost. In fact, I was relishing every moment. Although the San Francisco Bay Area is not exactly a frozen tundra in the winter, it's not a tropical island. Sitting outside or in open air dining areas for breakfast, lunch and dinner is a big treat for me. I also love sleeping with the sliding doors open to feel the balmy breezes and listen to the surf gently lapping along the shore. I think you get the idea – it's Paradise.
I stayed at the Hilton Hawaiian Village which has the widest stretch of white sand beach in Waikiki. It's named in honor of Hawaii's much loved native son — a great water sportsman and Olympic champion, Duke Kahanamoku who trained on this beach in the 1920s. He is called the "Ambassador of Aloha" for spreading the friendly Hawaiian spirit to the world and he is also known as the "Father of modern surfing".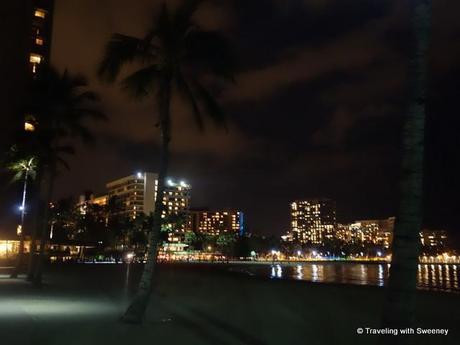 Enjoying the balmy evening breezes walking along the lagoon at Hilton Hawaiian Village
A nighttime walk along the shore creates a tropical sexy and romantic ambiance with the lights of the village and the promenade reflecting on the waters. You might even hear a ukulele playing in the distance.
Water activities and a Mai Tai
Yes, they're related. Those who know me well will confirm that I'm not really a person comfortable in the water. I'm much more at home on the beach or poolside with a Mai Tai. But with the encouragement of my colleagues and hotel staff, I tried some new water activities at the Hilton Hawaiian Village. Although I didn't actually end up in the water (a good thing), I thoroughly enjoyed some time on the water.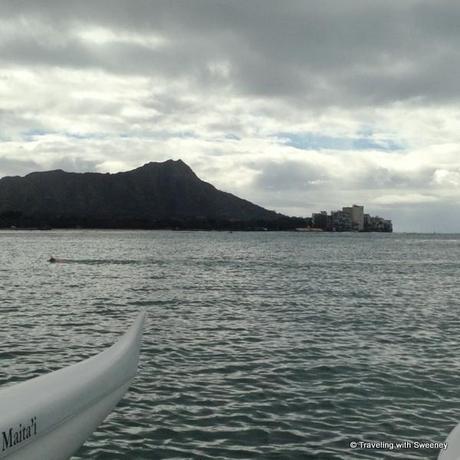 Diamond Head, imposing and majestic
I had the most fun sitting in the front of a double-hulled canoe accompanied by 6 others, each of us rowing in harmony (mostly) as our guide steered the canoe. Although we were not too far from shore as we paddled on the ocean parallel to the beach with Diamond Head in our sights, there was a feeling of adventure and exploration about the experience and the time went by too quickly. As we glided along the smooth waters and occasionally rested our paddles, our guide told stories about the importance of these canoes in Hawaiian history and culture as well as his own deep connections with traditions. The cultural pride and respect of ancestors, traditions and spirituality is something that I've seen and admired throughout the Hawaiian Islands.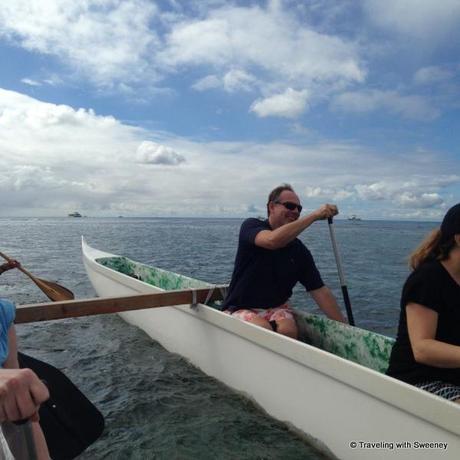 Crewmates on the double-hulled canoe
On Duke Kahanamoku Lagoon, there are several water activities and lessons available. I gathered my courage and tried a standing paddleboard. I kept my balance and maneuvered around the edges of the lagoon rather nicely, although cautiously. Perhaps too conservative, I ran aground once because I was keeping too close to shore; however, I managed to free the board with a little effort. Other paddlers sensibly kept a safe distance as I came near, so there were no collisions. Off the board and into a paddle boat, I spent a little more time on the lagoon enjoying the sunshine and somewhat strenuous exercise involved in getting around in one of those boats without a partner.
Finally, I was ready for a well-deserved Mai Tai at the Ali'i Tower private pool. Fun fact: The Hilton Hawaiian Village serves about 136,540 Mai Tais each year. That's a lot of rum and orchids.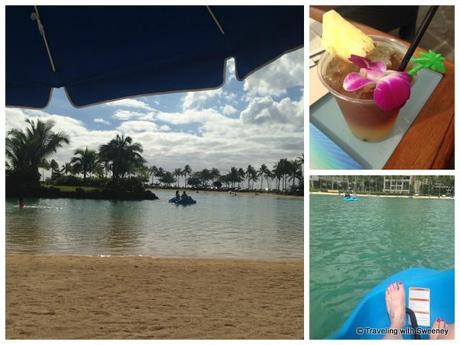 Water activities at the Duke Kahanamoku Lagoon and tasty Mai Tai by the pool
In addition to the Ali'i Tower small private pool, there are five other pools that make the resort a real water-lover's destination, including the 5,000 square foot Paradise Pool with a 77 foot slide and the 10,000 square foot Super Pool.
Room with a view at Hilton Hawaiian Village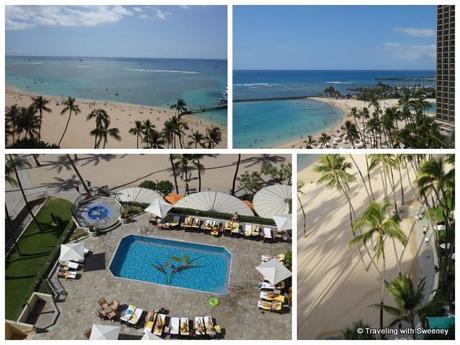 View from my room at the Ali'i Tower, Hilton Hawaiian Village
I was pleased to have a deluxe room with a spectacular view in the Ali'i Tower of the Hilton Hawaiian Village. The pool with the Bird of Paradise design is the tower's private private pool on the 2nd floor.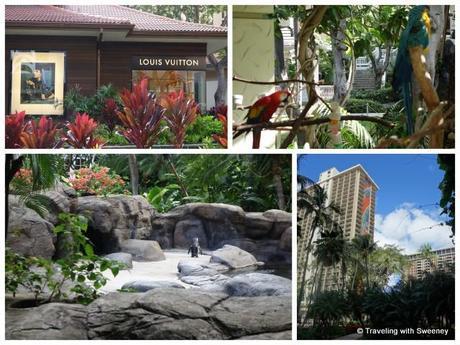 Flora, fauna and shops of Hilton Hawaiian V
In the village, spread across the resort's 22 acres there are over 90 shops ranging from designers stores like Louis Vuitton, small shops with local handcrafts and clothing, and gift shops. On two sides of the Rainbow Tower, there are ceramic tile murals designed by artist Millard Sheets consisting of more than 16,000 hand-painted tiles. In the photo above you can see a portion of the 286 foot high design that rises 31 floors. Parrots (top right) and penguins (bottom left) were amusing sights on the grounds of the village.
With 18 restaurants, there's something for all taste buds, simple to gourmet and covering diverse styles and flavors. There's even the Ocean Crystal Chapel, a pretty structure set in the lush landscape with waterfalls and a gazebo. It's a lovely place to say "I do.", renew vows or just reflect for a while.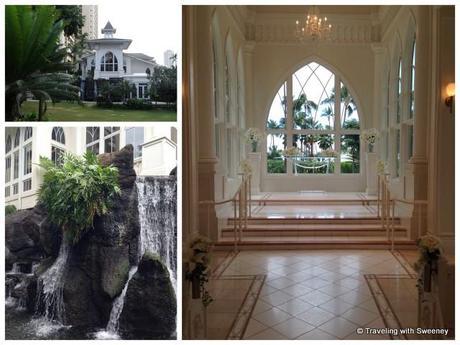 Ocean Crystal Chapel
Downtown Honolulu
As the major business center of the Hawaiian islands, Honolulu has a skyline of modern office buildings accommodating many corporations. The architecture is eye-catching with skyscrapers and artistic touches in the courtyards and building entrances as you see in many cities, and not anywhere else in the Hawaiian Islands.But the business district has a distinctive aloha feel about it.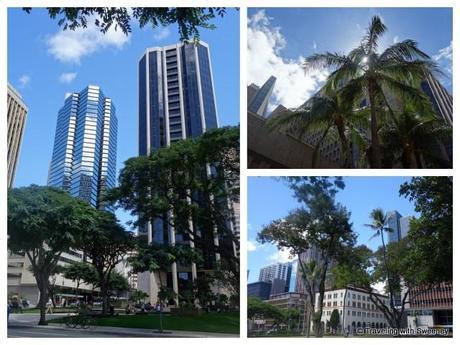 Downtown Honolulu
Walking along the busy streets, you see corporate professionals going about business, in between meetings, heading to lunch and talking to associates; but there's a friendly, more laid-back ambiance that you certainly don't pick up on in other big cities.
In the heart of downtown, there is also history. On an informal walking tour, our group stopped to appreciate two significant historical sites.
Iolani Palace, a national historic landmark, was the official residence of the former Hawaiian monarchy from 1882 to 1893 — King Kalakaua and his sister and successor, Queen Liliuokalani. It was interesting to learn that electricity was installed in the palace several years before the White House. In 1886, it became the first royal residence in the world to have electricity. Today, the palace is a museum and guided tours are available. On our walking tour, we just admired the outside from the beautiful grounds.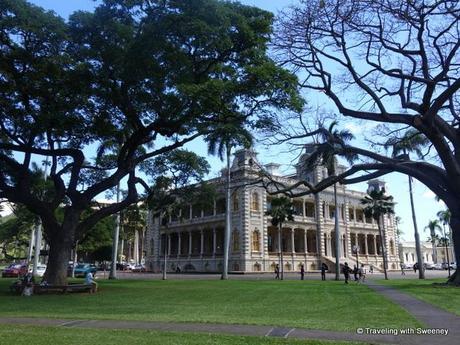 Iolani Palace
Across the street from the palace is the Aliiolani Hale (Hawaii State Supreme Court) where one of the four statues of King Kamehameha I in Hawaii is located. Created by Thomas Gould in Florence, this 18-foot bronze statue is one of Oahu's most recognized and photographed landmarks. Each year on Kamehameha Day (June 11th), the statue is adorned with wreaths of leis to celebrate the king. He is considered to be Hawaii's greatest king as he united the Hawaiian Islands into one royal kingdom in 1810 after years of conflict.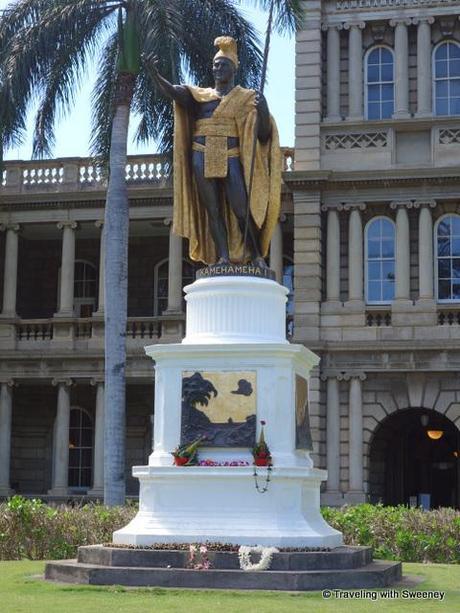 King Kamehameha I
Our group also walked through Honolulu's Chinatown which presented another side to the city that I hadn't previously known about. I've visited Chinatown neighborhoods in New York, Toronto, Chicago and of course, San Francisco. There are similarities in the sights, sounds and smells, but this was the first I'd seen with palm trees and beautiful blossoms on a broad, tree-lined pedestrian street.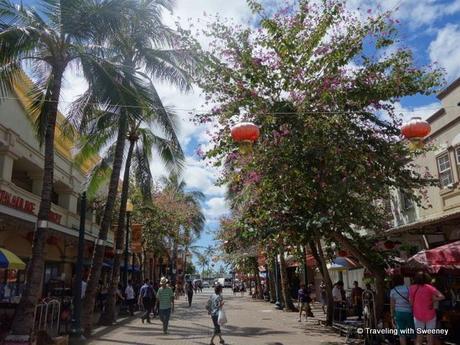 Pedestrian street in Chinatown, downtown Honolulu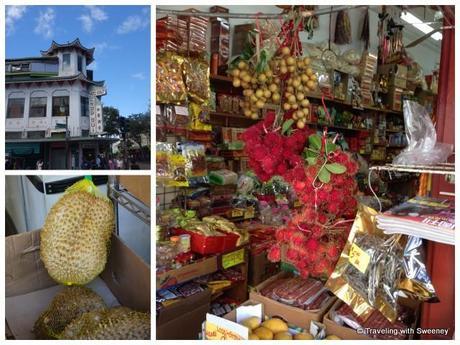 Top left: Wo Fat Chop Sui, Sun Chong Company market, durian fruit
Food
You may have been wondering when I'd get around to food. I was treated to exceptional dining experiences, some simple and some elegant. Here's a taste.
In my experience, Trump hotels really know how to create a dining experience. At BLT Steak in the Trump Hotel Waikiki we were served as a group with several items to share. Unfortunately, I don't have photos, but picture in your mind a few of my favorite dishes: Roasted Beets with walnuts and goat Cheese, New York Strip Steak in a green peppercorn sauce, Herb Crusted Rack of Lamb with Bernaise sauce and a creative side dish of Jalapeno Mashed Potatoes — smooth, green, delicious. Can you picture these desserts? Peanut Butter Chocolate Mousse, Warm Chocolate Tart? A special appetizer that I'd highly recommend is the beer-battered blue cheese-stuffed olives.
Bali Steak and Seafood is indeed a dining room with a view located in the Rainbow Tower of the Hilton Hawaiian Village right on the beach. My mouth is watering just thinking about (and looking at the photo below) of my Filet Mignon accompanied with Bernaise sauce, the second time on the trip I indulged on that wonderful sauce. And the desserts were delectable, my favorite of those we shared being the Waialua Estates Chocolate Bar with Vanilla Cream. I think I ate more than my fair share of that one.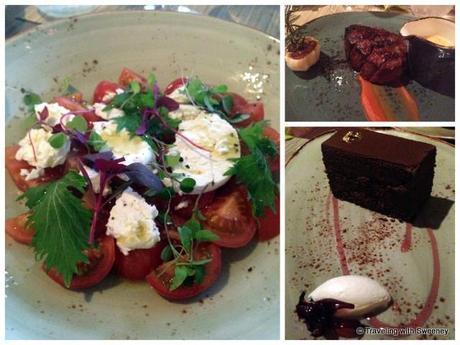 Bali Steak and Seafood at the Hilton Hawaiian Village
For a simply delicious lunch, we had burgers at Honolulu Hamburger Company. There were many burger selections, including unusual ones such as the Aloha Elvis Burger (with peanut butter, bacon, and guava jam), but I keep things simple with my burgers. I ordered and was perfectly happy with a cheddar cheeseburger, but I got it on a toasted taro roll to be a little different. That and the truffle fries were absolutely delicious.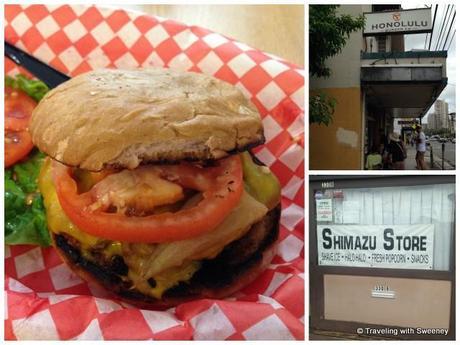 Tasty cheddar burger at Honolulu Burger Company and Shimazu Store
I think everyone I've known who has visited Hawaii has eaten shave ice (not "shaved" in Hawaii), right? Not me. During all of those previous visits, I never tried it. So this time, I tagged along with a few of my colleagues and headed to Shimazu, a small store in a Honolulu residential neighborhood. We arrived just before it opened and a line quickly formed when the doors were opened. It's a fun place to visit not just for the shave ice (which although similar to a snow cone has a much different consistency since it is shaved from a block of ice rather than made with crushed ice), but the shop has a lot of character. It also has posted on the wall a surprisingly detailed ordering procedure that ends with this statement: "Please do not refer to us as being shave ice Nazi's or there will be no shave ice for you!" Next to this list is a sign that warns, "No photographs" inside. Did I take a photo? No comment.

Bonus highlight
It was a special experience to actually climb aboard two voyaging canoes of the Polynesian Voyaging Society at the Marine Education Training Center where a crew is preparing for their Worldwide Voyage beginning in May. Sponsored by Hawaiian Airlines, the Hokule'a and its sister support vessel, the Hikianalia, will travel around the world navigating by star patterns, ocean movement, marine life and other traditional methods. The society has many cultural, environmental, educational and scientific goals for this epic voyage.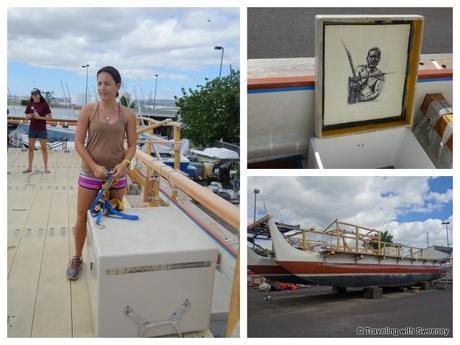 Polynesian Voyaging Society
We got to meet two of the crew members and get a first-hand account of life at sea on the canoes. It's clear that it takes many skills, strength, discipline, and mental and spiritual readiness to make such a journey. It's fascinating to think about the exciting voyage ahead for them and their crewmates.
Reasons to return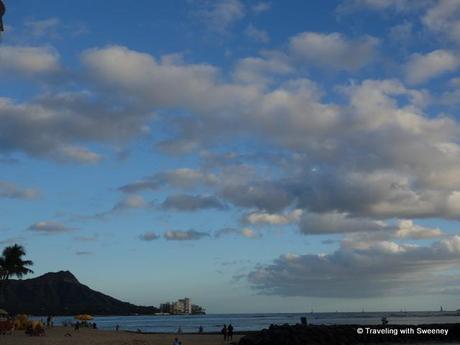 Diamond Head from the promenade along Waikiki Beach
Before long, I was being whisked away on Hawaiian Airlines with a super friendly crew heading back home. I know there's more to see in Honolulu itself and I'd like go a bit further afield to hike on Diamond Head, visit Pearl Harbor & the USS Arizona Memorial, and explore the North Shore. Most importantly, I want to come back with Mr. TWS — the beach and water sports are right up his alley, and I just might get more adventurous, too.
For information about the new Hawaiian Airlines card issued by Barclaycard: Hawaiian Airlines World Elite MasterCard. You can apply at Hawaiian Airlines or by visiting any Bank of Hawaii branch.
Disclosure: My inaugural trip to Oahu was made possible by Hawaiian Airlines, Hilton Hawaiian Village and Barclaycard. My opinions and perspectives are totally my own — as always.

This article originally appeared on Traveling with Sweeney.