Facebook
Twitter
Google+
Linkedin
Stumbleupon
When your Google AdSense application gets approved, adding it to your WordPress site will be your next step, right? That's where the Google AdSense plugins comes in…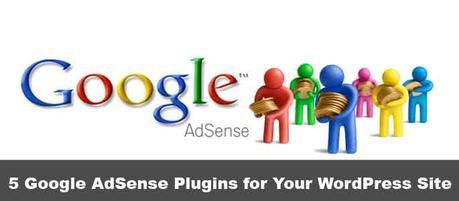 How can you add the Google AdSense code to your blog without messing your blog up? Using a plugin for WordPress is just the best choice.
Must Read: How To Link Your Google AdSense Account To Your YouTube Channel
Google AdSense is a third-party ad network that helps bloggers make money with their blog by serving ads on their blog.
Have you applied for Google AdSense but don't know how to add code to your WordPress site? Using any below plugin will seamlessly help you with that.
5 Google AdSense Plugins for Your WordPress Site
Below are 5 Google AdSense plugins that can help you insert codes to your WorPress site seamlessly without stress…
Aside from Google AdSense, these plugins can help with inserting other codes to your header, middle post, below post, and your widget.
Post Layout:
This plugin is easy to use and has some wonderful features that might be absent in other plugins.
The post layout plugin allows you to easily add codes from Google AdSense or any other codes before, after and in the middle of a post or anywhere with a block short tag. You don't need to be a tech expert with no coding skill; you can easily execute any code insertion.
Easy AdSense:
This is meant for bloggers who wants to add more features like AdSense search bar and many other features to their blog.
Easy AdSense plugin also known as "Easy Plugin for AdSense" manages all aspects of AdSense, like; inserting ads into posts and sidebar. It also helps in adding a Google Search box.
This plugin doesn't need a tech person to set it up… just install and add your codes and it will go live.
Google AdSense:
If you're looking for an AdSense specific plugin, Google AdSense might have one for you.
Google AdSense plugin created by the AdSense team, is a plugin that lets you place AdSense ads using a simple point-and-click UI rather than manually inserting snippets yourself. The AdSense Plugin enables you to easily use Google's products – including Webmaster Tools.
This plugin is meant to help you use the Google products effectively 😉
Ad Inserter:
Looking for more features? Something that can help you do more with your codes? Then, you should also look into this plugin.
Ad Inserter plugin helps you add any code to your blog. It is good for all kinds of banners and ads placements.
WordPress Ad Widget:
looking for an easy way to add image banner, third party ads codes like Google AdSense, Amazon… without any knowledge of coding and insertion? You should try this plugin as well.
WordPress Ad Widget helps you to easily upload ad images and ad code to your sidebar and blog post.
Looking for an easy plugin? Trying this plugin can be a good thing as well
Conclusion
All plugins mentioned here are good and works perfectly. You can choose your choice and I know you'll love it.
All Google AdSense plugins mentioned here can be downloaded at WordPress plugin download section.
Back to you
Looks like I have said so much about so much on Google AdSense plugins, now it's time to pass the keyboard to you guys.
Must Read: How I Increase My Google Adsense Earnings With Matched Content. Are You Eligible?
Do you have comments, questions, or thought you'd love to share with us? Please do share using the comment box below.
Remember that your comments, questions, and thoughts are highly welcome and most appreciated.
Be social
Please do share this post with your friends, because they might find it useful. Remember that sharing this post is also one way of keeping onenaijablog.com alive.
Do subscribe to our feed for your latest and most fresh updates on the go…
Save
Save
Save
Save
Don't Miss Any Post Again. Subscribe To Our Feed And Be Updated
Enter your email address below:
Powered by OnenaijaBlog
Facebook
Twitter
Google+
Linkedin
Stumbleupon