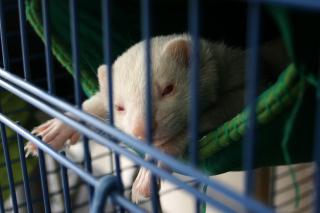 Image by Isa Costa, FlickrFerrets are intelligent and easily trainable animals. With a few simple steps, you can even train your ferret to use a litter box to improve cleanliness. Read on to learn how.
Litter Training Your Ferret
Follow these 5 easy methods to litter train your ferret
1. Keep Him In A Cage
In the beginning stages of litter training, it might be best to keep your ferret confined to a cage until he can properly use the litter pan. A good way to start your ferret off is by segregating his cage into sections, and expanding as he begins to use the litter pan more and more frequently. 
2. Make It Clear Where The Toilet Area Is
Your ferret might think the litter pan is something to play and burrow in, so you'll have to make it clear to him that it's a place to go to the bathroom. Ferrets like to go in corners, so the first step to take is to place the litter pan in a corner. Try placing a little waste inside the litter pan, so the ferret knows that it's a place to use the bathroom. Fill the other corners with feeding areas, sleeping areas, and bedding, so your ferret won't be inclined to go in them. 
3. Taking Him Out Of The Cage
Once your ferret is using the litter pan inside of the cage without any problems, it's time to take him out. Keep a separate litter pan out of the cage, and place it in a corner. When you take your ferret out of the cage, place him on top of the litter pan to make him aware of it. 
4. Placing Him On The Litter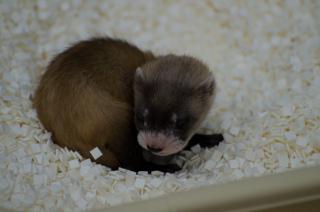 Image by USFWS Mountain Prairie, FlickrNot only should you place the ferret on top of the litter pan while taking him in and out of the cage, but frequently during his playtime as well. While your ferret is outside of the cage, place him on top of the litter pan periodically. If it looks like he's going to go somewhere else, or does go somewhere else, give him a firm "no", and place him back on the litter pan. 

5. Rewards

Be sure to reward your ferret often if you see him doing well. Whenever you catch him going in the litter pan, praise him and reward him with a nice treat. Chicken and turkey are perfect treats for ferrets. 

By following these 5 simple methods, your ferret will be litter trained in no time. Spend lots of time with you ferret, and enjoy!