I'm not going to tell you to rip up your website… unless you've not touched it in years.
I'm not going to tell you, its the worst thing since sliced bread that you've not touched it in years…
You are reading this now, it's a start!
2020 is going to be a big year for SEO.
It started in December 2019 with a large search update to the core algorithm globally.
And in January, we have already seen another update! We will probably see a fair few updates early in the year, nevermind throughout the year.
With this in mind, here are what I believe will be the 5 BIG Trends for SEO in 2020.
SEO in 2020
Featured Snippets will Dominate Search
As Google has pushed to give a better user experience on the search results page, one feature that has become fairly common are the featured snippets. These are results that appear within the common / normal results or in position zero.
They are often items such as short answers, how to's, common questions, reviews or videos.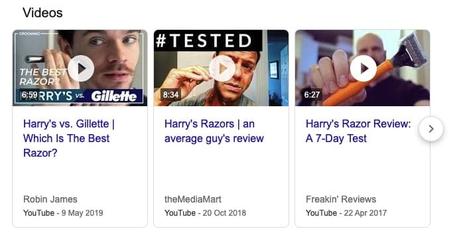 Example of Videos as Featured Snippets in Organic Search Results as "
Harrys Razor Review"

Example of Questions as Featured Snippets in Organic Search Results for "Harrys Razor Review"
The other important thing to know about featured snippets…
is that featured snippets are often short paragraphs of text or simple answers. These are commonly not only shown as straight answers at the top of search results (see below) but can be read aloud by voice assitants or on mobile searches (eg google search or siri).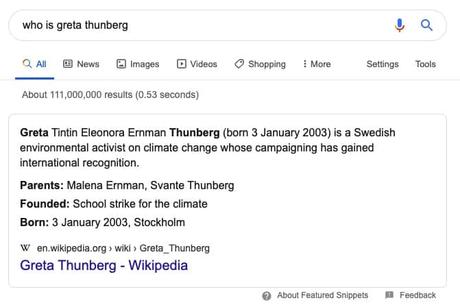 Example of Paragraph Text answer as Featured Snippet, Greta Thunberg
This means an increased use in featured snippets is likely to align with an increased use in Voice Search by users, and the statistics back this up with 50% of all searches predicted to be by voice this year (comScore).
Mobile Search as a Ranking Factor
If you didn't know User Experience is one of many ranking factors, as such mobile user experience is a ranking factor.
This means, if your website isn't friendly to mobile users and built with them in mind (and as your user base grows on mobile, with them put first) then your rankings will suffer. And i make no issue in shouting that.

65% of searches are from mobile devices
With stats such as the above, even if your website isn't hitting this number, you should know you will be heading towards it.
We are moving to an ever more mobile world, and Google lives in that world.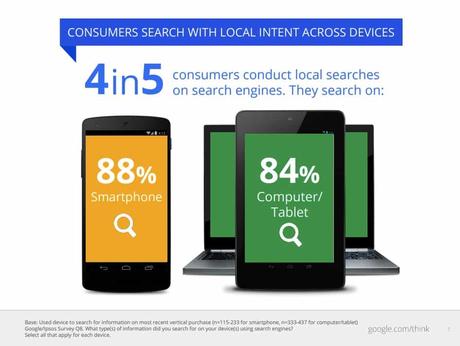 80% of local searches are made on mobile devices
Even if you insist on not living in a fully mobile world with your site, you must be considerate to the userbase and ensure the website is fully functional, looks good and acts as you would expect. If it doesn't meet this minimum standard or acts vastly different to that of your desktop you could find yourself not ranking well on mobile.
One last stat to remember is that 72% of consumers who searched for local information on smartphone visit a store within 5 miles, vs just 66% on a tablet/computer. This shows a second clear differentiation for mobile specific users, and highlights how much clearer the search intent is for these users and how much more likely they are to take action. (stats from Think with Google)
Online Video Grows to Support SEO
This isn't a secret trend, its something hidden in plain sight and isn't talked about much.
In an average month 80% of 18 to 49 year olds watch youtube!
Thats a big number, right!? And the time we all spend watching YT doubles each year…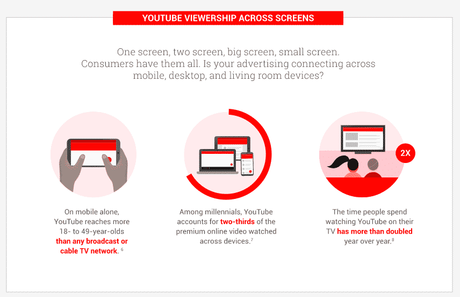 And the reason they prefer YT is the same as they prefer all online video consumed (such as NetFlix), its choice of when and where to watch what they want. Thats why 6 out of 10 of us prefer to watch video online rather than Live TV.
However, conversely it is clear that TV ads can generate a significantly better return on video based advertising vs display (thinkbox)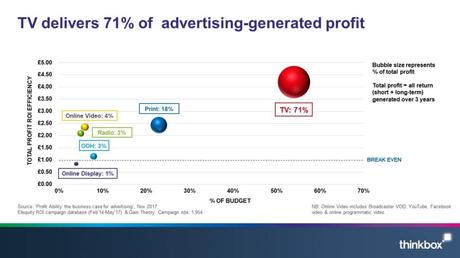 When we spoke about featured snippets earlier, we mentioned video snippets – they mainly come from YouTube.
To get in those snippets you need to optimise them!
Even if they are on your website (they need to be optimised on YT and your website).
Wondering how to optimise for youtube?
Here is the best guide i've found online from neil patel.
(have a better one? let me know)
Quality of Content, Returns as the King of Factors
Over 10 years ago, I wrote about the idea of compelling content on the Boagworld blog!
(don't scroll to see my ugly mug at the bottom of that blog!)
I bleated on about it so much over the years, that I wrote about it again for Boagworld (among others) 5 years later, and well I haven't shut up about content really since.
The latest updates to Googles Algorithm have been focused on content and understanding.
We saw Google talk about EAT (Expertise, Authority and Trust) in content, as part of its guidelines and it's baked this into its updates.
We see BERT as an update, a language processing update, look to understand our content better. It wants to, as other updates have, understand how we speak and communicate. Google knows, that it is a computer, but we don't talk like computers – to rank websites effectively it must understand us better.
Also BERT is about context, the context in which we talk about things such that just because i say "land rover" here doesn't mean I am going to turn up really well in search for that term. It's out of context for anything, but in years gone by as an authority website random keywords could see random rankings appear, context is everything.
So in 2020, content returns to being king.
A quick few hints for updating your content if you've had a few months off …
Quality remains the name of the game, be an expert and authority.
You can still do this whilst being concise though.
Articles should be expert in nature and do link to sources where required.
Often length of article relates to quality and ranking.
Write to your target audience not some imagined person.
Test your content on someone before you release it.
Refresh your static content every 3 to 6 months, force a index update.
Technical SEO as a Metric is Coming!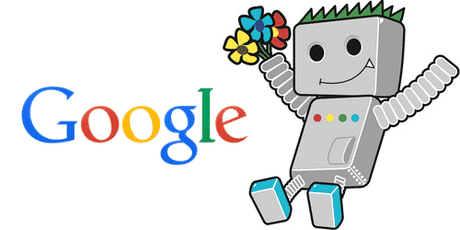 This is something that some SEO's will disagree with me about, I am happy to have a conversation because I have seen the affect that great technical SEO can have on a website.
Over the past year Martin Splitt of Google, has pushed and pushed those who follow towards better technical standards overall.
Martin has been clear that whilst Google can and does often overlook bad technical foundations, such as missing canonical tags, correct hreflang tags etc it shouldn't be seen as being the norm – nor that it will always be the case. Indeed I recall in one webmasters call, it was fairly clear that the more parsers passed through by a website the more issues it may have at some point, this was mainly because it could strip information from the website and not because Google would penalise it but just as errors get made it this manner.
It therefore follows, that minimise technical issues to correct or even look at minimises this error count or potential.
Further to this, my experience with many websites small to enterprise to global is that fixing technical issues can have a huge impact on organic search impressions and CTR, additional to the user expiernce impact.
Pro Tip: Don't use the "free seo audit" tools online (the ones where you stick in your url and get an instant repsonse) they will look at one or two pages for basic details and not give you very much info on what to fix or how. If you are looking for a real audit reach out to a professional and ask for an audit, often they are limited if free, though they may come at a cost. Eitherway, doing so will achieve better results than an automated system and give you more insight. If you are looking for an SEO audit get in touch today.