When we talk about bedrooms what comes foremost to our mind are taking a rest and going to sleep. It is also the part of the house where we get dressed and change clothes. For lovers, the bedroom is a sanctuary for romantic indulgences.
Because the bedroom is personal and private it is essential for the occupant to make it comfortable, harmonious and inviting as much as possible. When grooming your own room it isn't really necessary to consider what visitors have to say. They will not be the ones who'll spend time in your bedroom anyway.
So, your bedroom decorating ideas should conform to your own taste, interests and needs; not to that of others.
I have some tips and ideas that will serve as guides to make your bedroom a cozy place to be.
Make the Headboard as Focal Point
Most designers will agree that adding a headboard to the bed would serve as the focal point of the bedroom. I have discussed this in my previous post. You can read it here.
A headboard made of wooden materials
The importance of the headboard as a focal point is that it is where all the furniture and other objects in the room will be directed at. What it means is that the headboard will be the center of eye attention whenever you or a visitor will enter the room.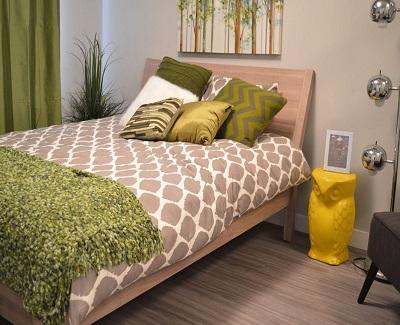 I would suggest that you choose a wood material as your headboard. I had noticed generally, that furniture made of wood has a refreshing look in the eye and has a calming feeling. You can look in wide array of furniture online for the kind of style you prefer.
Apply Feng Shui in Furniture Placement
Feng Shui is an ancient Chinese practice that if applied in furniture placement will bring harmony and even good luck. The principle behind it is there are forces (or energies) in nature called chi which can either be good or bad. The way they affect your life depends on how they are utilized.
For example, the headboard should not be sharing the wall with the toilet. It will not induce the right balance of energy. It is also not right to position the head of your bed against the window. The cool breeze coming from the outside might affect your health.
The right bedroom position according to feng shui
The proper placement of your bedroom should be that its position is not directly in front of the door. This is called the feng shui in commanding position.
Choice of Color
Choosing the appropriate color scheme for your bedroom will make an impact in your decorating project. If you prefer a muted color as the theme of your room, I would say its okay. Muted colors tend to induce a relaxed feeling. However, they should not become too bland lest you will be disgusted rather than relaxed.
For small size rooms it is better to apply light and natural colors. Emerald green, sky blue and white are the perfect colors. To make a uniform color scheme, the walls, flooring, curtains and bed sheets should conform to the basic theme.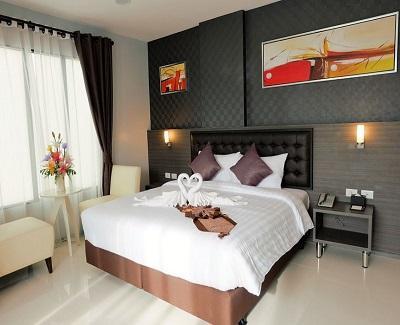 Installing Windows Curtains
Installing window curtains add extra style and distinctive style to your bedroom decorating ideas. But many decorators pay little attention to this aspect. Some consider installing window curtains as finishing touches to their decoration project.
Lined curtains for the bedroom
Bedroom curtains help keep away sunlight into your bedroom and give you some privacy from the outside. For these reasons it is wise to choose lined curtains. Lined curtains also have longer life and more enhanced look than unlined curtains. You can conveniently shop online for the curtains you want at amazon.com or at target.com.
The benefits of having bedroom curtains installed are:
Controls the amount of sunlight entering your bedroom.
Give you some privacy with a bit of style and romance.
Creates a visual effect in your bedroom such as if you choose a curtain with vertical linings it will make a higher ceiling illusion in your room.
Selecting the Right Bed Sheets and Linens
The one element of the bedroom that requires scrutiny is the purchasing of bed linens. Picking the color of bed linens should be compatible with the overall color scheme of your bedroom.  Choosing a more natural tone of bed linens will achieve a modest elegance accompanied with a sense of peace in your bedroom.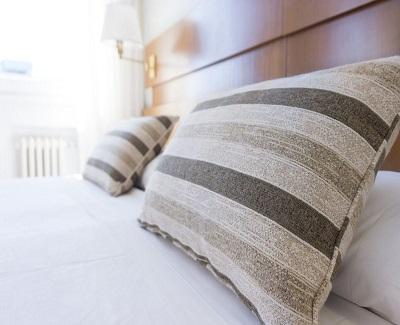 The right choice of bed sheets are not only vital in decoration but in having a good sleep as well. Their color should mix with that of the comforter and the bedroom. The type of fabric must also be taken into consideration. There are several fabric varieties of bed sheets, from cotton to polyester and silk.
We spend one third of our life in bed, so we must make the most out of our relaxation in bed. Do not go for the bargain cheap bed sheets as it creates a false sense of economy. It will only give you itchy discomfort and unpleasant sleep environment. Instead go for relatively inexpensive luxury like the silk fabric type.