One of the aspects of starting a business that receives the most attention is branding.  You create your logo. You come up with a tag line. You go back and forth over your website colors and the layout of your business cards.  And then you're good, right?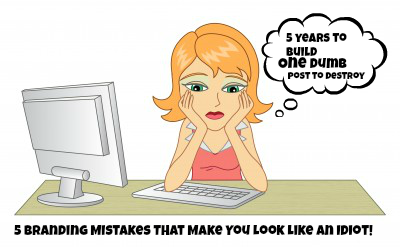 Well, in a word, no.  Here's the thing. Your brand is really made up of all of the emotions people have around your brand.  And when you look at it from that perspective, the act of branding your company is something that takes part with every piece of content you produce. It's the result of every communication you have with your customers – whether via social media or one on one.  And the act of branding happens whenever your customers comment about the value your brand provides as well. 
In short – branding your business is an act that takes as long as your business is in business.  
This also means that the opportunity to make a mistake that makes you look like an idiot is also there for as long as you're in business. No matter how careful you are, it's nearly inevitable that you will communicate something, in some forum, that is contrary to your overall message as a brand. 
These things happen, you know.  
Sometimes, though, having an idea of the potential mess ups is just enough information to avoid them, or at least to make entirely different mistakes.  So in that spirit, here are 5 branding mistakes that make you look like an idiot. (Please avoid these, okay?)
How to Avoid Branding Disasters

1.    Don't jump on a trend just to jump on it. 
It's always great when you can piggyback on a social trend going viral, but in order for it to "work," there needs to be a good strong connection or a creative reference to the trend – not necessarily just a literal use of it. 
Here's what I mean. Remember Gangnam Style? Marketers tried to make this work for their advertising, and several just came up with their product dancing.  Is your branding boosted by, say, gangnam style pistachios?  I think not.  
If your marketing department is counting on random references to viral trends that end up making you look ridiculous and desperate, it might be time to look for a new strategy. 
2.    Don't be offensive. And have multiple opinions to help you check. 
Offensiveness is in the eye of the beholder. And it's easy for something that seemed innocent to go viral if it is found to be offensive. 
Does anyone remember the furor over Bic for Her?  Bic designed a line of pens with smaller barrels meant to be designed for women. But instead of seeming like a long overdue idea, it seemed gimmicky – at best. And when Ellen lampooned their marketing in one of her sketches, there was just no recovery.  
The folks at Bic likely didn't intent for their product and marketing to come off as so offensive. Getting a diverse range of opinions before the product went into production might have been useful in this case. 
3.    Don't use a tragedy to toot your brand's horn
This issue came up after the Boston Marathon shooting; brands once again wrestled with what to do with their social media marketing. Some chose to suspend regular marketing, while others chose to engage in business as usual. The latter position runs the risk of seeming callous, insensitive, and just plain bizarre, as Gap found out.  
4.    Don't forget to have someone double check your work
Most people are just too close to their work to be able to check it. It's nothing against you – it's actually a brain thing. Our brains like to fill in missing pieces, or to interpret things according to what we think should be there.  It's just tough to catch everything, so as often as possible, you should have someone go over your content and graphics to catch any inadvertent mistakes or unintended gaffes. 
I learned this lesson the first time I had professional business photos taken for my branding. My photographer chose a great location on the bank of the South Yuba River in northern CA, and we got some stunning photos.   
But we also managed to get a random guy diving off some rocks in the background of the best pictures – it took a computer graphics person seeing the pictures for the very first time to notice that.  
5.    Don't be dishonest
Don't make up tweets for your advertising. Don't make up fictitious customer accounts on social media platforms to say what you wish your customers would say.  And for that matter – don't trust every screen shot of a tweet you see, either. 
Dishonesty is the worst form of idiocy out there, and the quickest way to destroy the credibility of your brand.  Lie about a tweet and you look like an idiot indeed!
What are your most hated branding mistakes? What's that one design you wish you had never seen? Share in a comment below!