Hi all, it's Lara! I've just started working at MiaFleur, if you missed my post a few weeks ago where I introduced myself, have a read. Since beginning at MiaFleur I've had the chance to research blogs and explore the online world of interiors, so today I thought I'd share my 5 favorite interiors and lifestyle blogs with you. Enjoy!
1. Swoonworthy
Swoonworthy was a favorite of mine from the beginning of my blog exploration. With helpful how to's and inspirational room reveals, it's one I visit frequently for the vibrant posts and updates. Her "eclectic boho glam" style literally is (pardon the pun!) swoonworthy! Have a read of Kimberly's Spring One Room Challenge post, revealing a mouth-watering study laden with pinks, patterns and the perfect amount of gold!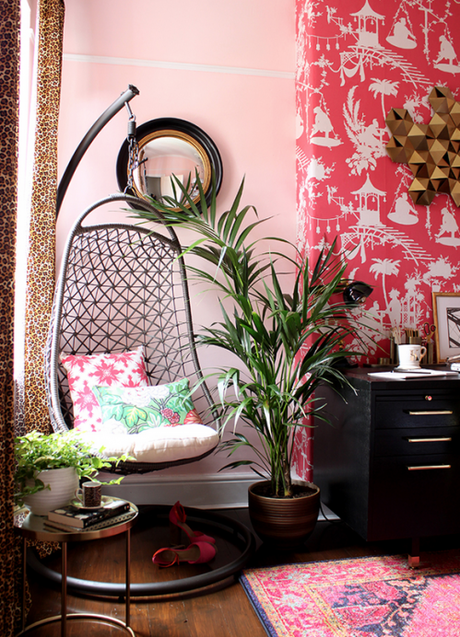 Image credit: Swoonworthy
2. Mad About the House
There's a lot of praise flying around for this blog, and rightly so! Mad About the House features room makeovers, brilliant buys and even a look into author Kate Watson-Smyth's stunning kitchen. I particularly enjoyed the recent '10 Beautiful Homes' post, displaying some stunning rooms (I'd live in them all!) and décor. Have a read.
3. Little Green Notebook
Little Green Notebook is another I enjoy browsing through. There's an abundance of DIY tips to encourage even the laziest of people (me!) to get decorating. Jenny's blog is friendly and inviting, with smart, affordable ideas on perking up your home. Check out this post on DIY Yarn-Wrapped Cords, a refreshing idea to perk up old cables, I've just taken this advice to my desk lamp!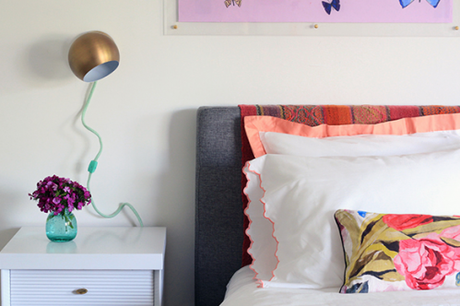 Image credit: Little Green Notebook
4. The Gathered Home
Brynne Delerson's blog The Gathered Home is a thoroughly enjoyable read. With DIY pieces, room makeovers and (my favourites!) the thrift score posts, it's easy to get lost just browsing! The 'Nautical Naturalist' Bedroom Makeover is a favorite post of mine, the color scheme and vintage curtains are gorgeous.
5. Polly Rowan
This blog by Polly Rowan is a lovely read. From the inspiring lifestyle posts to the gorgeous interiors, there's definitely something for everyone! I especially enjoyed Polly's August post 'I'd Like to Live Here', a collection of stunningly open and fresh spaces. Or as she writes "floorboards, mismatched French linen, lots of light, soothing artwork, and most of all no clutter!"
Have a lovely weekend!
Lara x