I am sure many of you must be confused about why I wrote this post on sunscreen when it is wintertime. Let me tell you that sunscreen is a must product throughout the year and is the most important skincare tips one should follow.
Even though we don't feel sun rays- "UV rays that cause skin damage are present year-round, rain or shine or any season. About 70-80% of UV rays reach earth, even in winter.
We are daily exposed to rays- UV rays, Infra rays. UV rays we get from direct sunlight and Infra rays from tube light, TV, laptop and so on.
So apply sunscreen cream or lotion with at least SPF30 (Sun protection factor) every day ESP in winter for healthy skin.
To make it easy, I have curated the best sunscreen in India, which is easily available online on Amazon.
1) Neutrogena Ultra Sheer Dry-Touch Sunblock, SPF 50+, 30ml
One of the best sunscreen in India which is quite effective. When I used to work in a skin clinic, the dermatologist always recommended Neutrogena as it is good and pocket-friendly compared to the other medicinal sunscreen.
It is suitable for all skin types and leaves skin soft & smooth. I have used Neutrogena and it worked well.
Price: Rs169 for 30ml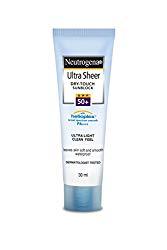 Click on the image to shop Now
2) Derma Essentia Sunscreen SPF 50 gel | Anti Pollution | Sunscreen gel SPF 50 (50g)
I am currently using Derma sunscreen for my oily face and it's not only protected from UVA & UVB but also pollution.
This sunscreen is esp for oily to acne-prone skin. It evenly spreads without leaving any greasiness or white cast.
Price – Rs395 for 50g
View this post on Instagram

Derma Essentia – a new skincare brand which believes in nature-inspired scientific products for the protection and nourishment of our skin. . . Sunscreen is an essential product and With Derma Essentia SPF 50 sunscreen, using it once a day is enough to protect ourselves. . . Also another essential product is Anti-Ageing Vitamin C Serum. As we age, skin moisture can drop significantly which makes the skin lose its elasticity thereby exposing the signs of ageing on the skin. So it is very important to add Vitamin C to our skincare regime. . . So do check out the complete review about @derma.essentia – Link in Bio ! . . . . . #shaandaarjenie #love #tweegram #instagood #bestoftheday #instacool #instago #all_shots #follow #webstagram #colorful #style #swag #allshots #amazing #smile #follow4follow #like4like #instalike #tb#picoftheday #food#instadaily #sunsreen #vitaminc #serum #smilensmiletolive

A post shared by Jenifer $ayyed (@shaandaar_jenie) on Jul 24, 2018 at 1:32am PDT
3) SebaMed Sun Care Lotion, 150 ml
Sebamed is costly, but safeguards against sun-induced damage & aging, shields against sunburn.
It is a dermatologist favourite and recommended for people having very sensitive and sun intolerant skin. It is Water and sweat-resistant for up to 6 hours.
Price – Rs1340 for 150ml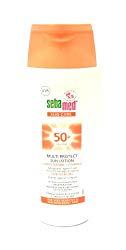 Click on the image to shop Now
4) Lotus Herbals Safe Sun 3-In-1 Matte Look Daily Sunblock, SPF 40, 100g
I have used Lotus sunscreen too, which protects and gives a matte finish to the skin. It reduces oiliness & refines pores.
Its SPF 40 protects skin from the harmful UVA / UVB sun rays.  Suitable for all skin types, this sunscreen is a must-have for every woman.
Price – Rs296 for 100g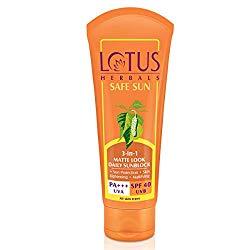 Click on the image to shop Now
5) VLCC Sunscreen
VLCC has many variants of sunscreen to choose from according to one's requirement.
I had used VLCC Water Resistant Sunscreen Gel Crème ESP during my visit to the water park.
It didn't help much from tanning, but was comparatively better from others. Due to its water-resistant formula, it makes it ideal for use for long duration sun exposure.
It is Paraben-free and has broad-spectrum protection from the sun's UVA and UVB rays.
Price – Rs349 for 100g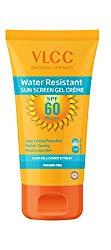 Click on the image to shop NOW
I hope this list will help you to choose the right sunscreen. Except for Sebamed, I have used all 4 and found it good.
Which sunscreen do you use and why?
---
You May Also Like To Read:
Summer complaints: Beat The Heat
5 Best Lipsticks Under Rs.500
Gift a piece of Love to your Man
---
*Disclosure: This post contains affiliate links and I may receive a small commission if you
purchase through them at no extra cost to you.