Stuck with your squat? Squat wedges can help you smash through. Here's a breakdown of the best squat wedges and blocks for powering up your squats.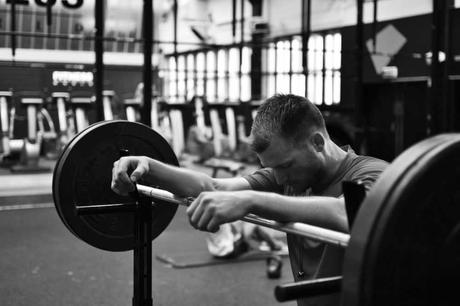 Squat wedges are an excellent tool to help you improve your squat.
Raising your heels, whether through a squat wedge or through hard-heeled weightlifting shoes, does a few key things.

Compensates for poor ankle mobility. A lot of  lifters and athletes struggle to get into full squat depth because of lousy ankle flexibility. A squat wedge helps to increase your range of motion during your squat.

Engages the quads more. Squats tend to be quad dominant to begin with, but a raised heel ends up pushing the knees forward, placing more emphasis on the quads to complete the lift.

Not just for squats. Squat wedges can be used for a variety of other exercises to add variety and versatility. The change in heel position changes the biomechanics of the exercise, including calf raises, hip thrusts, and all of your squat variations. I also love using my squat wedges to work on ankle dorsiflexion.
While squat wedges are simple in function, there is a huge variety in format.
Here's a breakdown of the best squat wedges, including key features, materials used, price points, and much more.
Read on, pick the right squat wedges for you, and take your squats to the next level.
Harderwill Squat Wedge Blocks

Best overall squat wedges
Designed for more serious lifters, the Harderwill Squat Wedge Blocks are made of high-density silicone.
One of the benefits of squatting shoes is that they don't have any bounce or "give" when you descend with heavy weight on the barbell. You want the same thing from your squat wedges—something that is sturdy and not going to create more distance for you to travel when completing your lift.
Harderwill ships these as a four pack of wedges that can be rigged for three different height options (1.3", 2.2" and 3.3"). The silicone is odourless (unlike some of the smelly rubber gym equipment that you see on the market, including bumper plates) and completely non-slip.
While they retail for around $60 (check Amazon for current pricing and availability), the Harderwill Squat Wedge Blocks check all the boxes: Dense, options for different degrees of lifting, and non-slip.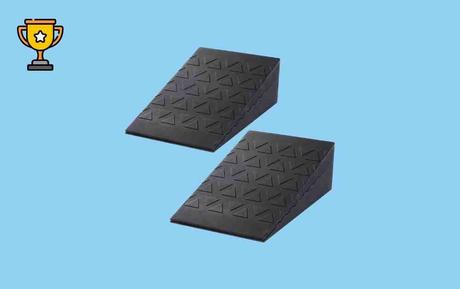 Iron Bull Strength Squat Wedges
I am a huge fan of Iron Bull Strength and their gear. They are one of the few brands that I consistently rely on for making awesome stuff, whether it's their barbell pad for hip thrusts, weightlifting hooks, or their bumper plates (which I bought eight of this year, I liked them so much.)
Iron Bull's squat wedges are another top-tier wedge for serious lifters who want to crank up their squat game. 5 inches wide, with up to two inches of heel elevation, they feature a textured anti-slip surface for safer foot placement. Sold in a pair, these high-density rubber wedges won't compress or slide when lifting.
The only issue?
These things are very frequently sold out. They are sold (when in stock, obviously) through their website and on Amazon, but the last two times I checked they were out of stock. Still, if you have a chance to pick up a pair of these wedges, don't hesitate. Your quads and squats will thank you.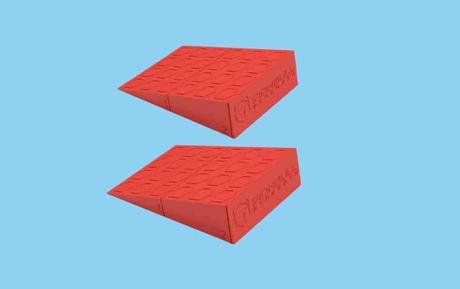 XII:XI Steel Squat Wedges
Most squat wedges are made of rubber, silicone, or a high-density EVA foam. The XII:XI wedges try something different—a squat wedge or squat ramp that is made of steel. There are some things to like about this kind of construction and also some things to not like.
For starters, the wedge is powder-coated to prevent rusting and corrosion, and the nine slits on the top of the wedge provide added grip and traction while working out. They are easy to stack for easy storage between workouts. And they are rated for up to 800lbs.
While these wedges are pretty good, they don't have much anti-slip treading on them to keep the wedges from sliding around. Smooth metal isn't an ideal finish for a wedge. One reviewer added some tread/traction tape to further help prevent slipping.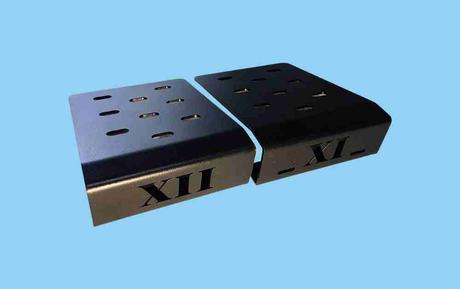 TSTS Barbell Squat Block and Heel Lift
Squat wedges often come in two pieces, which is handy as you can customize foot angle and placement. But these can also feel a little less secure compared to a one-piece squat wedge.
The TSTS Barbell Squat Block is a perfect example of a one-piece wedge that nails the basics.
Made of high-density rubber, the wedge is angled at 20 degrees, with just under two inches of lift at its highest point. The wedge is surprisingly sturdy, weighing 14 pounds, which is ideal for heavy lifts and the sense that your feet aren't going to slide around when you are working out.
In terms of cost, the TSTS wedge is a bit pricey, costing over $100 (check Amazon for current pricing and shipping options), which may be out of most people's budget for something as small and as simple as a wedge.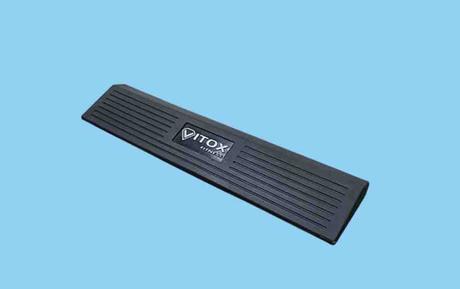 StrongTek Foam Squat Wedge

Best large foam squat wedge
Looking for a foam squat wedge that is a little wider? The StrongTek is a lot wider than most wedges, with a 13" width.
For lifters who are a little nervous about using wedges for the first time, or want lots of flexibility on foot placement, this high-density foam wedge has your back.
Stiff enough to be used for squats while also soft enough to use as knee pads, the StrongTek squat wedges are durable, stackable, and come in a pair for in either black or blue.
Available for about $26 (check Amazon for current pricing and availability), the StrongTek Squat wedges are an excellent tool for better squats.