Original content: 5 Best Ranch Wedding Planning Tips In 2019
Approximately 1 in 5 Americans live outside of big cities. For us rural folk – and many city slickers with down to earth values – a ranch wedding beats a fancy banquet hall every day of the week.
ADVERTISEMENT
There are a number of reasons for choosing a ranch style wedding, but some of us have trouble picturing exactly how the transform a barn into a gorgeous wedding venue. Read on and we'll show you just why a ranch chic wedding is ideal and how to make it an unforgettable event.
Why Ranch Venue
If you have access to a barn, it's easy enough to transform into the wedding venue of your dreams. If not, there are plenty of rustic ranch locations that have been repurposed specifically for wedding and event celebrations.
Many engaged couples choose a barn for their wedding due to the much lower cost. Others choose a chic ranch wedding because a traditional church and banquet hall just doesn't feel quite right, or simply because they love the thought of a rustic wedding theme.
If any of this sounds like you, ranch weddings may be the perfect way to make your dreams come true.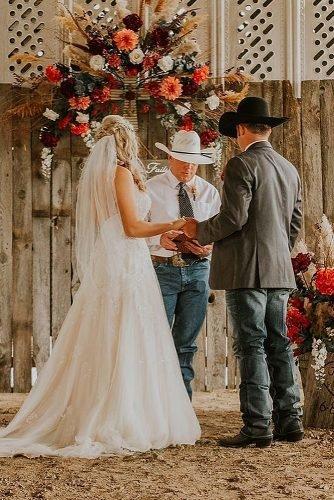 Source: missmillers_photography
If you still need convincing, consider these other bonuses that are hard to find elsewhere.
Huge indoor space
Abundant outdoor space
So much free parking
More decorating opportunities
Fresh air, and peace and quiet
Low cost (or even free) accoutrements
Combine inside and outdoor ranch wedding ideas
How to Style Your Ranch
There are plenty of ranch wedding ideas to suit many styles. Rustic and Bohemian are the go-to themes, but there's no reason you can't bring whimsical, period, or even traditional wedding themes to the farm.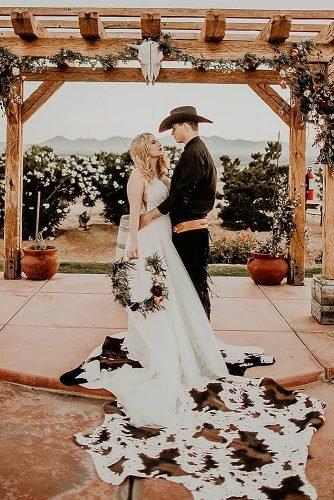 Source: kaylavphotography
If you're not sure where to start, simple is often better when it comes to ranch decorating ideas. Make use of as many natural elements as you can such as old wood for signage, hay bales as seating or strategic flooring, burlap for party favors and other gifts, and antique tables and chairs.
Don't Miss
Engaged?
Get Miss To Mrs Bridal Subscription Box!
Say YES to less wedding planning stress!
30% OFF 1st month with code "BOX"
Ranch Wedding Décor Ideas & Inspiration
Using natural and nearby items sets the stage for a great ranch themed wedding. But, you'll want to kick it up a notch to make it uniquely yours.
The three additional critical items are:
Color pallet
Fabrics
Lighting
Natural browns, greens, and beiges look fairly good, but don't exactly scream "it's my wedding day!" Choosing a color pallet makes everything else POP, and gives some harmony to your ranch wedding attire and continuity to your decor. Because this is a ranch style wedding, we don't suggest going crazy with color. Choose a single swatch or 2-3 closely related colors that can tie together smoothly.
Natural decorations and seating are sharp to the eye and rough to the touch. Weddings are a beautifully romantic thing. Soften things up with plush fabrics. Make use of drapes, table cloths, and soft pillows to make everything more beautiful and inviting.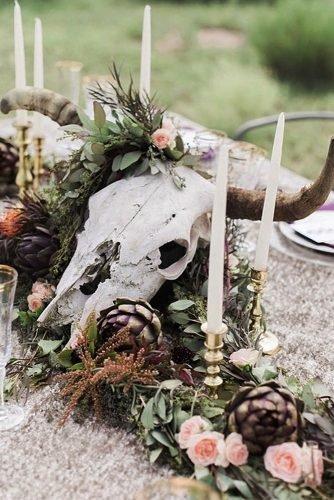 Source: luckymalone
One of the few downsides to a barn wedding is how dark things can get. Over-indulge in lighting wherever you can to bring the brightness your wedding deserves. Candles throughout the tables is a nice start, but to really set things off we suggest some gorgeous rope lighting. The contrast of raw wood beams and magical lights floating throughout the high ceilings is a gorgeous look you just can't get anywhere else. For outdoor decor, put on some antique lanterns for seating areas and light a bonfire for your guests to gather around for intimate conversations.
Ranch Wedding Dresses & Attire Ideas
Planning your ranch wedding dress and wedding party outfits can be a lot of fun with a ranch wedding.
When it comes to your wedding gown – the most important part of wedding attire planning – you can choose a flower-centric boho style, a casual country dress style, or – our favorite – combine traditional with rustic.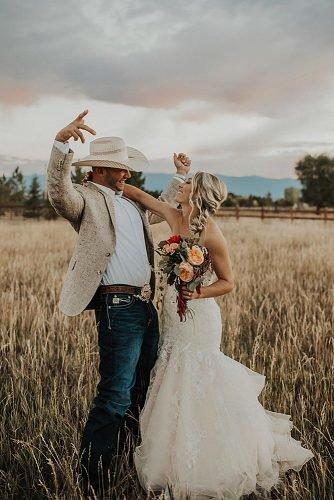 Source: josie.england
This involves choosing a gorgeous traditional wedding gown, and pairing it with cowboy boots and a country coat or sweater. Things can get a little cooler out of doors, so it's already recommended that you have something to throw over your gown. Play into the theme with plaid or denim for the best ranch wedding dresses.
We suggest planning this first. Once your decision is made, craft your invitations around this style as an indication of what your guests should wear.
Food & Drinks to Serve
It's great fun to contrast the country feel. Since your saving in so many other places, surprise your rough and tumble guests with high-end gourmet food. Speak with local restaurants to find the finest dining.
But, if you're trying to save your dollars you're still in luck. Due to the atmosphere and theme, it's perfectly acceptable to serve up a lower-cost BBQ. Spit roast a pig or fire up the grill for kebabs, burgers, and steaks. You can't really go wrong.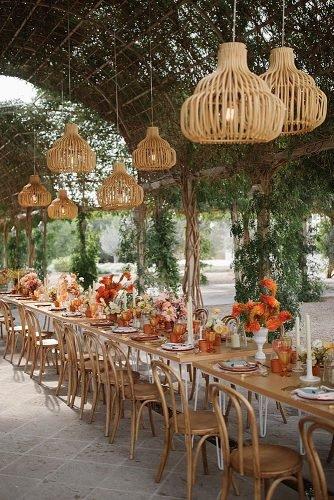 Source: normanandblake
When it comes to drinks, opt to replace wine with beer and whiskey served in old timey mason jars. This is a fun way to capture the tone of the evening. Of course, not even the most seasoned cowboy can resist raising a glass of Champagne on your wedding day. So feel free to reserve a bottle or two for the toasts.
By now you're thoroughly convinced on the idea of a ranch wedding. Not only will you be saving a huge amount of your wedding budget on venues and decor, you'll be opening yourself up to a lot more options. We hope that this how-to guide has opened your eyes and inspired you. As always, happy planning!