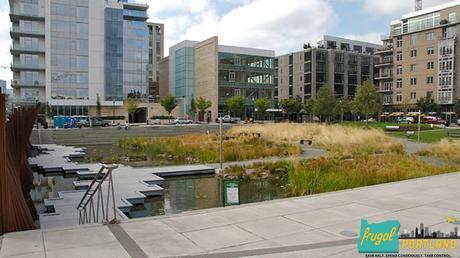 You're on lunch. You have a burning desire for quiet and Vitamin D, and little time to appease it. A squishy chunk of grass would be bliss. Few people preferred. Inner-city traffic is insane and parking an added stress, so your feet or bike must take you there.
Here's a list of 5 best Portland parks for your lunch break. Each escapes the bustle amidst the hustle. And the list is varied by taste and locale to ensure every Rose City nine-to-fiver an ideal chunk of green, regardless of work's address.
1. Laurelhurst Park: SE's Classic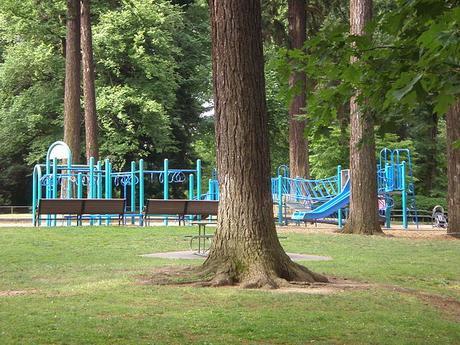 Almost every local has been here, but you can't recommend Portland parks without including this expansive and heavily wooded Mecca. What's not to love? There's delicious shade even in summer's most sweltering days, and in fall, it's vibrantly aglow with painted leaves. Fancy a mid-day jog? Well-paved trails traverse grassy hills and circle a large pond. Looking for a place to relax? The grass is forever lush and cozy. Maybe you want somewhere you can be alone. With so much space to meander, solitude is relatively easy to find and keep. Laurelhurst Park is a city staple for a reason, so if you plan to lunch on the eastside, consider this your hideaway.
Location: SE Cesar E Chavez Boulevard & SE Stark Street
More Information: Portland Parks & Recreation
2. Tanner Springs Park: NW's Balance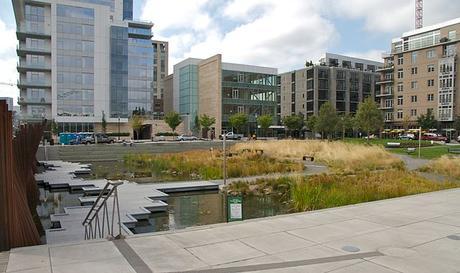 If you work near the Pearl District, Tanner Springs Park is your ideal square of repose. Small and unassuming at first glance, this pocket-sized park offers a taste of the now-industrial Pearl district's natural past. Its charms include an art installation made of salvaged railway tracks and Portland hand-painted glass, a Tetris-like walkway, a verdant meadow of tall grass, nesting birds, and reincorporated wetlands; and a waterscape reminiscent of the springs that once flowed freely through the space. If you're looking for a combination of naturalism and design, ingenuity and simplicity, this is it. All conjoin to inspire a sort of pensive tranquillity. Bring a book, write a letter, or stretch out between the high-rises.
Location: NW 10th Avenue & NW Marshall Street
More Information: Portland Parks & Recreation
3. Lovejoy Fountain Park: Downtown's Cement Jungle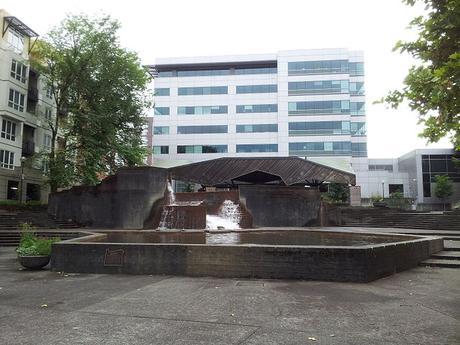 If you're tired of the usual grassy knoll and desire something a bit more structural, this plaza should be your next lunch stop. Flanked by modern apartments, glassy office buildings, and paved pedestrian trails, Lovejoy is a park of the geometric variety. Visualize a fountain unfolding in cement staircases. The location, though still downtown, is tucked away just enough to escape traffic (no street access), and limit the presence of usual park suspects (dogs, children, homeless). For the full-on experience, go ahead and interact with the architecture; count steps as you climb to the top, then wade in the clear pool and enjoy the view: endless traffic streaming across the Marquam Bridge, just far off enough to appreciate.
If time allows, you can follow 3rd Avenue north and pass through Pettygrove Park—a pure green lawn space, cute and quiet—and Keller Fountain Park—perhaps more structurally beautiful than Lovejoy, but teeming with screaming wet children most days. Both are worth the few-block stroll.
Location: SW 3rd Avenue & SW Harrison St
More Information: Portland Parks & Recreation
4. Peninsula Park: NE's Secret Garden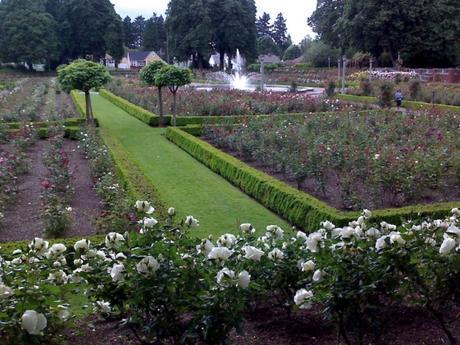 Portland's first-ever public rose garden is not the test garden of Washington Park, as most suspect, but instead a portion of Peninsula Park—an unassuming block tucked within a residential chunk of NE Portland. While half of this park comprises the usual features (playground, tennis courts, picnic tables, a circuitous trail), the other half is an aromatic blanket of whites, yellows, pinks, and reds. Massive trees and an open field serve as a divider and help maintain the garden's Eden-like quality. Steps lead down to hedged-in rose beds, interwoven grass paths, and a large oval fountain. There's even a gazebo. This is the most picturesque park of the list, and can't be beaten on a sunny afternoon. It's rarely busy, but you may catch a wedding party mid-photo-shoot. Don't forget to stop at Sweedeedee for a pastry on your way back to the grind.
Location: 700 N Rosa Parks Way
More Information: Portland Parks & Recreation
5. Cathedral Park: The Not-So-Central Gem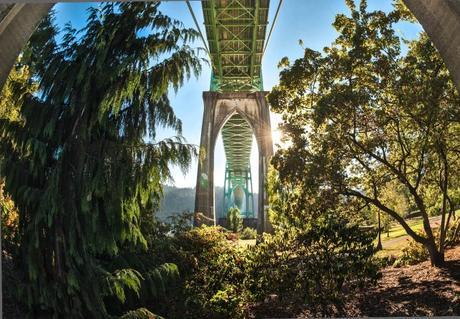 If you bike-commute and can manage a few miles' ride (or if you work in North Portland), head to St Johns, and soak in this park's idyllic waterfront view. Order the Sesame Peanut Noodles to go from Proper Eats, push your canoe off the boat launch, and dine afloat. If boat-less, stretch a blanket beneath the arches of Portland's only steel suspension bridge, and find spirituality beneath the church-like architecture. Perhaps you'll lounge in the very spot William Clark (Lewis' buddy) once camped before there was a nice seat of grass for personal reflection, or napping. Don't forget the Frisbee.
Location: N Edison Street & N Pittsburg Avenue
More Information: Portland Parks & Recreation
Now you have a guide to exploring Portland's open-space beauty, whether tucked away or sprawling. Any pleasant afternoon is no longer an office tease, but an excuse—or demand, really—to escape the stale and breathe in the fresh. Your perfect park may only be a few blocks away. So start walking.