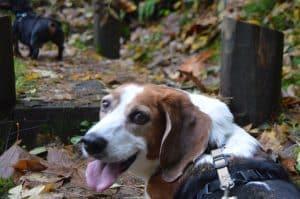 One of the most frugal activities you can do with you dog in Portland, is simply going on an off leash hike or a run at an off leash park. My dogs are reactive on leash but Shermie and Walter are great off leash. Sherm has outstanding recall and Walter does not… So we can rely on Sherm coming back when called and have explored a handful of off leash parks and places to hike over the years. Walter joins on a long lead since he enjoys wandering off and cannot be trusted when he's following his nose.
If your dog has a reliable recall and can be trusted off leash, then I recommend the following hikes and off leash parks!
5 Best Off-Leash Dog Parks in Portland
Areas of Forest Park – my favorite walk is the entrance off of NW Vaughn (note that dogs need to be on leash but it's pretty awesome so I'm keeping in this list). A lot of folks have their "under control" dogs off leash so if you have voice control over your dog you can likely get away with this…
Sandy Delta (10,000 acres) – the entire place is off leash and it's amazing. Watch out though for owners that are not paying attention to their dogs. From time to time I need to call out to an owner letting them know my dogs are just interested in a big hike.
Gabriel Park (there are summer and winter off leash areas) *in the Multnomah Village area. The winter off leash area is smaller so only visit if your dog has good manners and can stand to be around other dogs that are clearly there to play and chase.
Hazel Dell Ross Dog Park (NE Ross St at NE 15th Ave, Vancouver, WA 98663) A great place to run your dog in Vancouver!
Sellwood Riverfront Park -this is a favorite of ours and on the beach Shermie and the doxies run free!
Bonus 6th: Sauvie's Island
While the beaches at Sauvies Island are not "off leash parks" they are amazing in the winter.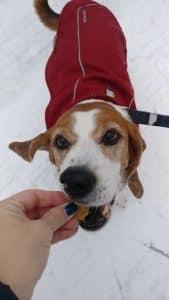 And you can always head up to Mt. Hood, unless you're already sick of the snow!
Resource: