During childhood, when the midwife used to come to massage my baby brother, he cried all the time and I hated it to the core and wept along with him. I asked my mother why you are making my little brother cry and she use to say, so that he becomes healthy and strong just like you. Of course, I was not convinced because my brother tears mattered most but, I couldn't stop it, so I started avoiding that baby massage time and use to go outside and play.
With time and growing old and then during medical college days, I started to understand that traditionally baby massage is good for baby's overall growth, but it is not that much necessary and medically not much benefit. In fact, my doctor friend who is a child specialist informed me that massage oil is meant for preventing skin dryness and providing relaxation which should be applied gently esp. in infants so that they don't get irritable.
Still, if you want to go for the traditional method of massage, there is no harm until your baby starts to cringe enough to control.
Now the second most essential thing is which baby massage oil should be used? Many brands claim that they are natural and safe, but how to decide which to choose for your newborn skin which is highly sensitive?
Do not worry; check out the following points which Parents should look at in the product.
Hypoallergenic

100% natural

Completely safe

Free from toxins or chemicals

No harmful side-effects
*NOTE: Always test any new skin product on your baby's skin by doing a patch test on the forearm for any allergies before using it.
Considering the above criteria, I have curated the 5 best natural baby massage oil available in India.
1) Mother Sparsh Baby Massage Oil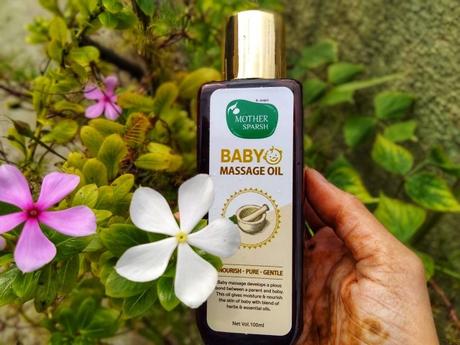 Mother Sparsh is a trusted brand that offers the best baby care and has the sparsh of a mother that will make your motherhood memorable.
Mother Sparsh Ayurvedic Baby Massage Oil is derived from the goodness of authentic Ayurvedic formulation which is 100% natural. It is made with 18 herbs and natural oils which help in nourishing, relaxing, and moisturizes the baby's tender skin. The oil is free from toxins and is completely safe for your baby. It aids in repairing dryness and enhancing skin texture.
Many moms I know use Mother Sparsh products and are completely satisfied. They trust the brand as their products are made considering baby's sensitive skin.
Let's know in brief about this Baby Massage Oil features:
1. Nourishment
The oil provides nourishment to your baby's sensitive skin.
2. Pure, Free from toxins and safe
It is 100% natural with herbal ingredients which make it completely pure, non-toxic, and safe for your newborn skin.
3. Gentle
The massage oil is very gentle onto the baby's delicate skin and also makes the skin feel soft and healthy.
BENEFITS of using Mother Sparsh Baby Massage Oil
It comprises the richness of 18 natural extract oils: The oil is formulated with the goodness of natural oils such as almond oil, coconut oil, sesame oil, and avocado oil.
        Therefore, your baby gets the natural oil benefits which are good for their overall development.
Authentic Ayurvedic Formulation: The Ayurvedic formulation makes it safe and healthy for the newborn skin.
Provides overall growth: As said earlier, the Ayurvedic ingredients in this oil have been proven beneficial for the baby's overall growth.
Soothes and moisturizes: Due to its 18 Ayurvedic oils extraction, the oil helps in soothing and moisturizing baby's sensitive skin.
Suitable for all Skin Types including extra sensitive skin: The massage oil is suited for babies having dry to sensitive to tender skin.
The above are the reasons why every mom goes for Mother Sparsh products.
*MRP: Rs 399 for 100ml
---
2) Himalaya Baby Massage Oil
Some of my friends are using Himalaya oil for their babies and are quite satisfied with the results.
Why use Himalaya Baby Oil?
Vegetable-based massage Oil with the Power of Herbs.

It is infused with Olive Oil and Winter Cherry which Moisturizes and softens baby's skin.

It has soothing and antimicrobial properties.

Reduces skin dryness and improves skin softness.

Clinically tested for safety and efficacy.

The ingredients (mineral oil & animal fat) which causes rashes & allergies, is NOT present in this oil.
*MRP: Rs 375 for 500ml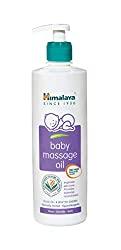 Click on the Image to Shop
---
3) Dabur Lal Tail
Dabur Lal Tail is Ayurvedic Baby massage oil which is quite old and popular among new moms, even one of my friends uses this for her baby and she is quite happy with the results.
The oil is made from a combination of enriched natural herbs and oils. It is 100% safe with proven benefits for babies. The oil nourishes the baby's tender skin and keeps it soft and supple.
Features
Clinically tested.

Protects against skin infection and prevents the baby's skin from getting dry or wrinkled.

Induces better sleeping pattern.

Herbs have proven medicinal values that have multiple health benefits.

Nourishes muscles.
*MRP: Rs 350 for 500ml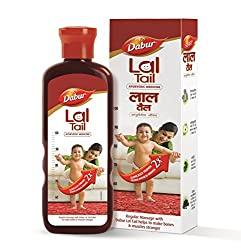 Click on the Image to Shop
---
 
4)  Mamaearth Soothing Massage Oil for Babies
Do you know mama earth is Asia's first 'Made Safe' Certified Brand? It is 100% Natural Oil and the oil is infused with Olive, Sweet Almond and Jojoba oil which have been clinically studied for mildness and safety. The brand claims that the oil helps in moisturizing dry skin and enhancing baby's skin.
Why to use Mamaearth Baby Oil?
Hypoallergenic.

Clinically and dermatologically tested.

No harmful chemicals.

Safe for sensitive baby skin.

Can be used by infants, grownups, and school-going children
*MRP: Rs 399 for 200ml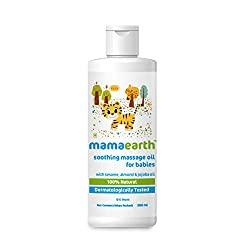 Click on the Image to Shop
---
 
5) The Moms Co. Natural Baby Massage Oil
The brand claims that all their products are clinically tested and gentle for baby's sensitive skin.
The baby massage oil is blended with 10 POWERFUL AND NATURAL OILS that help nourish soothes and relax the baby.
Features
100% Natural and safe.

Hypoallergenic.

USDA-Certified Organic Ingredients.

Chemical-free
*MRP: Rs 474 for 200ml
How to Use: Massage baby's body with Baby Massage Oil, before bathing and for moisturizing after bathing.
PIN THIS POST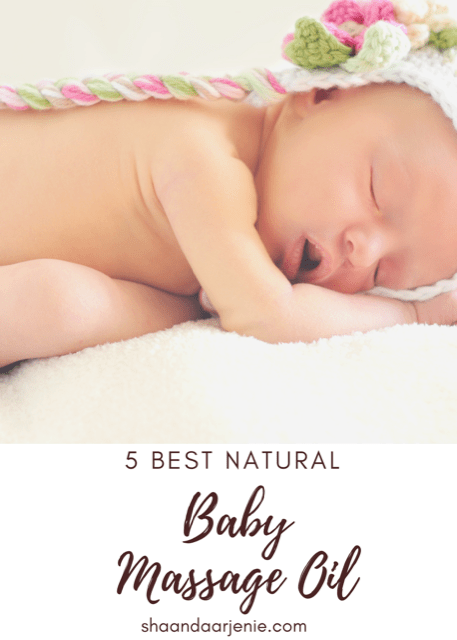 These are the 5 best natural baby massage oil that every parent should check out. Massage time helps to develop an emotional bond with your little munchkin apart from physical benefits.
Rest you know better what works best for your baby? Also, if you have experience with any of the product or any other suggestions, then kindly comment down below, we would love to know it.
#mothersparsh #telpakritual #madeinindia #babymassageoil #mothersparshayurvedictel #babyoil #ayurvedictel #ayurveda #mothersparshbaby #babymassage #ayurvedicbaby #deeplynourishingbabyoil #ayurvedicoilmassage #ayurvedicbabyoil #ayurvedicbabymassage
---
---
---
You May Also Like To Read:
Top 5 sensitive wipes in India

Baby Colic–causes, symptoms and what you can do about it?

Why New Moms should go for Mother Sparsh Water wipes

Top 5 best baby powders in India

Protect your child from Meningitis- A serious and deadly disease
---
*Disclaimer:

 This post is sponsored by Mother Sparsh. Kindly consult your pediatrician before 

using the product

.
*Disclosure:This post contains affiliate links and I may receive a small commission if you 

purchase through 
them at no extra cost to you.Featured Image: Unsplash.