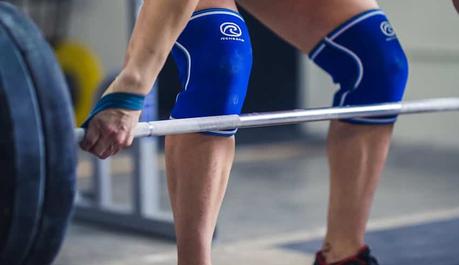 Protect your joints and protect your knees. Here are my top picks for the best knee sleeves for keeping your joints healthy.
Knee injuries are a frustratingly common injury in sport and recreation, and one of the main tools athletes, gymgoers and everyone in-between have been using to help protect the knee from wear and tear is compression gear.
More specifically, knee sleeves.
Knee sleeves are an excellent way to keep your knees healthy, happy, and performing well.
When you pick up a pair of the best knee sleeves for your workout, they'll perform two functions:
First, they'll help keep the knees warmer. They are tightly placed around the knee and this will ensure that you receive maximum blood circulation and that heat is kept in. The compression that comes along with knee sleeves promotes blood flow. A warm knee tends is a better lubricated knee.
Second, they'll also help to provide some support as well. While they won't provide support like knee wraps will (that's a totally other product that is primarily designed to provide support and help increase how much weight you can lift) or a knee brace, knee sleeves do give a little bit of support to the knee.
Let's have a look at some of the best knee sleeves.
PowerLix Compression Knee Sleeve
If you want a full coverage knee sleeve that's great for combating pain associated with arthritis and other knee injuries, this one is a top pick. It can be worn both during your workouts as well as on a day-to-day basis as it's comfortable enough to go from the gym to the office.
Made with tight but breathable compression fabric, this knee sleeve will maintain its elasticity for months of wear so you won't have to worry about it slowly becoming looser and looser like you do with many other knee sleeve products.
One of the biggest complaints many have about knee sleeves is how itchy they are, but you can side step this because there is no neoprene found in this particular product.
The PowerLix knee sleeve is unisex, has an anti-slip construction, and gives the compression support you are looking for.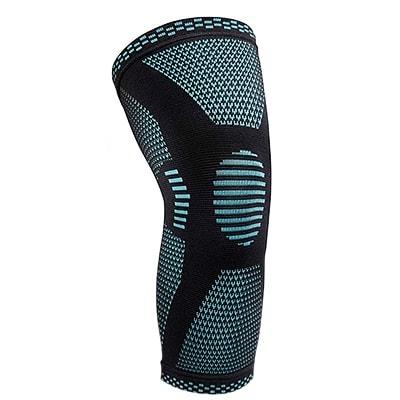 Mava Supports Knee Compression Sleeve
 Get pain relief fast from tendonitis, strains, and sprains, or enjoy getting being able to get back to your normal activity post-surgery when you wear the Mava Supports Knee Compression Sleeve.
This sleeve is designed to help speed up recovery as it promotes muscular circulation within the knee and also features a no slipping or rolling design.
Priced right at less than $20, it's an affordable choice for everyone.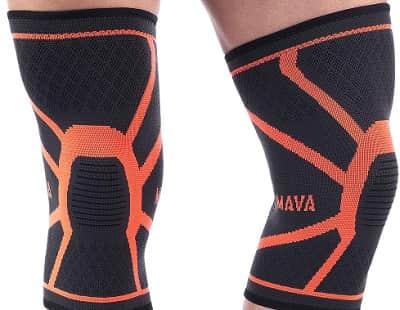 Cambivo Knee Brace Open Patella Support
Want something that lets your knees breathe a little better? The Cambivo Knee Brace is a great option as it has holes where the knees are placed so you don't ever feel so trapped in. This said, that does not mean it sacrifices on support.
The nice thing about this knee brace is that it doesn't slide over, but rather adjusts with two adjustable straps so you can get it fitting exactly as you want it to.
It also washes and dries quickly so is easy to maintain.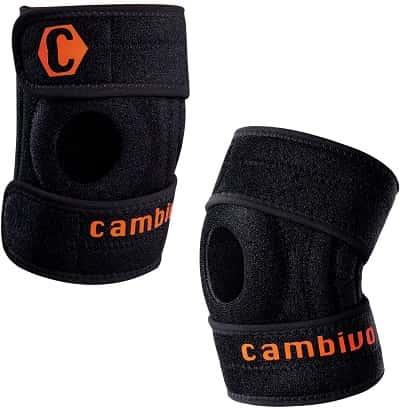 Sable Knee Brace Support Compression Sleeves
The Sable Knee Brace Support Compression Sleeve is another budget-friendly option for those who are looking for a little extra support and want a product they can put on and be done with.
The Sable Knee Sleeves slip on easily and will stay up during all your activities no matter whether you're playing sports or hitting the gym.
This knee sleeve comes as a pair, so there's no need to purchase a second one, which makes these ideal for those who are simply looking for all-around joint care.
They're made to be lightweight and less irritable on the skin, so are great for those looking for comfort and support.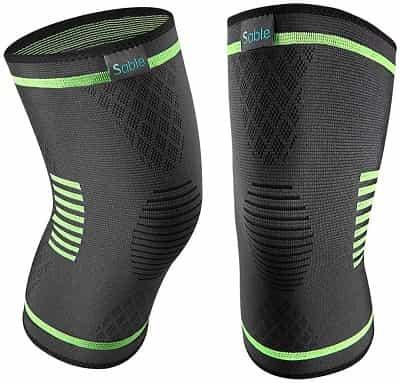 Nordic Lifting Knee Sleeves Support & Compression For Weightlifting
If it's a knee sleeve for weight lifting you're after, the Nordic Lifting Knee Sleeves are a great choice. These knee sleeves are shorter in length than other conventional knee sleeves and are ultra-thin, so won't feel bulky or heavy while you are wearing them.
For someone who wants that barely there feel and who needs just that extra bit of support as they go about their lifts, this is a fantastic choice.
They can be used for any style of weight lifting or Crossfit exercise and will also come in helpful when doing powerlifting as well.
They are a little more expensive than some of the other brands listed here but if you are serious about staying in the game, a small price to pay for any lifter.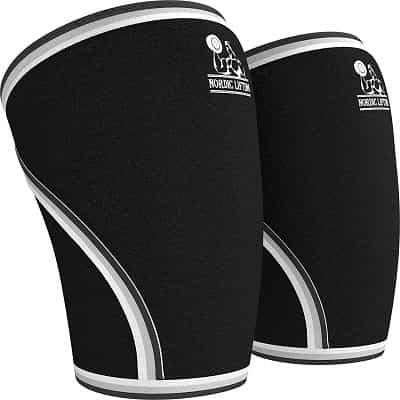 ---
More Gear Guides
Compression Gear: What It Does and Does Not Do. Unsure about the hype surrounding compression gear? I took a look at some research and studies that tested the effectiveness of wearing compression garments while exercising.
7 Best Home Gym Essentials. Looking to get started with working out at home? Here are my home gym essentials for beginners.