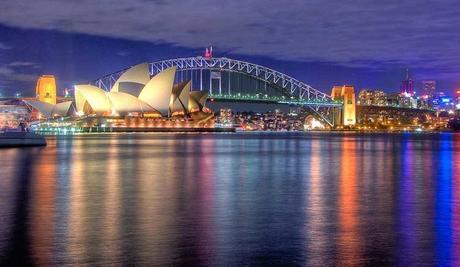 This guest post about her favourite places to go in NSW is by a friend of mine, Olivia, a fellow adventurous traveller who wants nothing more than to explore this incredible world we call our home. Originally from the States, she now calls's Australia her home. She loves to explore this ever so scenic country, one city at a time.
Places to go in NSW: SYDNEY
I thought about leaving Sydney off the list because it's such a well-travelled city...but I just couldn't! At five million (more than double the size of Perth), Sydney is the largest city in Australia, and there really is so much this city has to offer, obviously it's number 1 on the list of 5 places to go in NSW!
You'll need a few days to really get a sense of what Sydney is about. Firstly, make your way down to Circular Quay, it's easy to see why the Sydney Harbour Bridge, Sydney Opera House, and harbour are all individually amazing places to go in NSW, these alone make it easy to see why Sydney is such a great destination! This is definitely a postcard moment in your trip. Around Circular Quay you'll be able to check out the Museum of Contemporary Art, and take a stroll around the Rocks, which host markets on Saturdays.
Once you're done exploring Circular Quay make your way around the Opera House and head up to the Royal Botanical Gardens and the Domain. This is the perfect spot to grab a bite to eat at a cafe, or even better, plan ahead and pack a picnic lunch!
If you're feeling cultural, the Art Gallery of New South Wales is just a short walk from the botanical gardens. The gallery is one of the largest in Australia and is home to a wide variety artworks from contemporary to Aboriginal and Torres Strait Islander art. Additionally, the gallery hosts exhibitions and events, and conducts research and programs.
No visit to Sydney is complete without a visit to the iconic sands of Bondi Beach, another must do Sydney experience that makes the top places to go in NSW. Remember to pack the sunscreen, and spend the day diving into the waves, and laying in the sun with a book. If you really want a view of Bondi, walk up towards Bondi Icebergs, from there you'll see the waves crashing onto the beach, and all the aquamarines, and blues the ocean has to offer! If you're feeling fit, take the Bondi to Coogee coastal walk, a walk that will take you through Tamarama, Bronte, and Coogee beach.
Other great places to go in NSW: Sydney Tower Eye, shop around Newtown, brunch in Surry Hills, Heritage Foreshore Walk, Watsons Bay.
Places to go in NSW: WOLLONGONG
One of the best places to go in NSW within about an hour and half drive from Sydney, Wollongong is fun day trip or weekend getaway from the hustle and bustle of the city. The drive from Sydney to Wollongong alone is worth the trip. When making the journey, you'll be on the Grand Pacific Drive, one of Australia's most scenic drives! You'll see a bit of everything, from the national parks, to the coastal towns. The Sea Cliff Bridge will be stand out as the road follows the curves of the coast, and you'll be travelling with panoramic views of the ocean on one side, and the coast on the other side.
Wollongong is the perfect place for adventure, test your boundaries with skydiving, or stop by Stanwell Park and try your hand at Hang Gliding. I would recommend stopping by Stanwell Park for a break as it's got fantastic views, and there is something very calming about watching people hang gliding across the sky as you sit on the grassy hills.
For those of you that want some culture, the Nan Tien Temple is only a ten-minute drive from Wollongong. The temple is the largest Buddhist temple in the Southern Hemisphere. You'll be impressed by the grand architecture, and the delicious vegan and vegetarian food options. If you're looking for something more spiritual, the temple also offers weekend retreats where you'll stay on the grounds at the Pilgrim Lodge, and take part in a variety of classes like tai chi.
Places to go in NSW: JERVIS BAY
If you keep driving south from Wollongong you'll reach the beautiful Jervis Bay. Jervis Bay boasts the whitest of sands and the clearest of waters. In all honesty, Jervis Bay offers all the activities that most other coastal towns offer like jet skiing and paddle boarding. However, my advice is to just spend the time in Jervis Bay with some good old R&R. - makes for a different break from the Australian tradition of boozing it up in Bali.
This is one of the best places to go in NSW to unwind. You're away from the city and you'll be surrounded by a breathtaking environment. Unlike Bondi, Jervis Bay is relatively undisturbed and doesn't have the crowds of Bondi! I would recommend just spending the day swimming, lounging the sun, and bringing a good book. There is even white sands walk which takes you on a loop around the area.
Additionally, from May to November during whale watching season it's worth booking a whale watching tour as you'll be able to spot various whales on their migration path down south.
Other places to go in NSW when you feel like laying on a beach: Hyams Beach, Chinamans Beach, Warrain Beach (for the surfers)
Places to go in NSW: THE BLUE MOUNTAINS
If you're looking for a more nature-focused and adventurous weekend trip, one of the best places to go in NSW are the Blue Mountains. This world heritage listed site contains the iconic Three Sisters and their surrounds. Scenic World is a great place to visit in the Blue Mountains; you'll feel like an explorer. In Scenic World, you'll take the world's steepest incline to the national park. From there you'll have plenty of choices for walks that take you around the area, including a waterfall walk!
You'll also want to check out the Jenolan Caves. They are one of the most ancient cave systems in the world, and you can choose between different guided tours. The tours range from easy walks suitable for all ages to more adventurous tours that entail confined spaces and safety gear. You'll simply marvel at the limestone cave formations!
The Blue Mountains are a great place to get out and about so keep an eye out for local events happening in the area!
Places to go in NSW: HUNTER VALLEY
The Hunter Valley is one of Australia's most well-known wine regions, so if you're a wine lover there are no better places to go in NSW for wine. There's a vino for everyone from the wine connoisseurs to "just here for the samples" sort of person. Although on the pricier end of activities, the hot air balloon experience is well worth starting the day with. You'll be treated to a bird's eye view of the orchard with a sunrise backdrop!
My recommendation is to leave the car back at the hotel and explore the area via bikes, that way you'll get a better view of the vineyards. Another option when it comes to enjoying the Hunter Valley are the tours that take you across multiple vineyards during the day. This is well worth it as you won't need to be worried about who's going to drive when you've all had a bit of a drink. After a long day of visiting different wineries why not continue the R&R theme with a luxurious spa visit.
For more awesome posts, visit the Nomadical Sabbatical homepage.