I just realized that I've visited 35 countries in all parts of the world, but Cape Town, South Africa still remains my number one travel destination and nothing has toppled this place off the top of my list yet. The city located on the southern tip of Africa has this magical energy surrounding it—it's almost impossible to describe. But once you're there, you'll know what I'm talking about. It is the unique concoction of breathtaking views of nature, legendary history, and wonderful people that will fascinate you. Here are some tips on what you absolutely cannot miss while you're visiting Cape Town.
1.  Gear up for Table Mountain.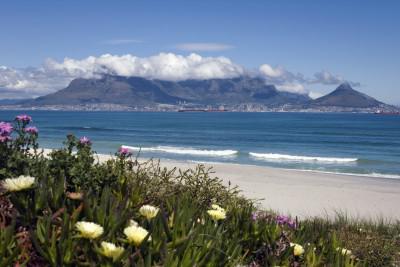 Table Mountain is definitely a must-see attraction in Cape Town. It is a unique natural phenomenon that encompasses a mountainous formation with no peak—just a flat top—overlooking the city of Cape Town. To get to the top, you can either use the Table Mountain Cableway or begin your ascent on one of the numerous hiking routes. If you choose the cableway, you'll be rewarded with magnificent views of Cape Town and the oceanfront, as well as speedy access to the top of the mountain. Hiking, in turn, is a hugely popular activity among fitness junkies and nature lovers, as you can contemplate the beautiful flora and fauna of Table Mountain National Park, accompanied by a rigorous workout. The top features a lovely botanical garden where you can relax and enjoy spectacular views of the surrounding countryside and the merging oceans.
2.  Visit the Cape of Good Hope.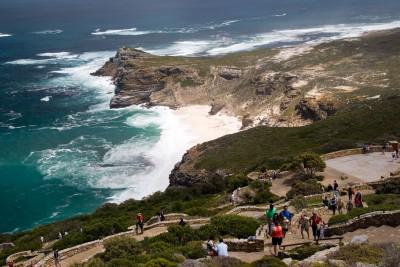 Located only 50 km (30 miles) to the south of Cape Town, the Cape of Good Hope is an indispensable part of Table Mountain National Park. It is a rocky ledge hanging above the Atlantic waters. Along with Cape Point, the Cape of Good Hope is part of the Cape Peninsula, a popular tourist destination. It offers breathtaking views of wild, untouched nature. Climbing to the cape's pinnacle also requires some physical exercise, but once you've reached it, you'll be astonished by the view of the raging elements below. The place is very romantic, especially when you realize how many sailors have vanished in the nearby waters and how their beloved ones kept coming to the shore with hopes they will come back. The Cape of Good Hope is also famous as a home to the legendary Flying Dutchman, the ghost ship with the trapped souls of the sailors lost at sea, which is forever destined to cruise the ocean waters and never reach land.
3.  Drive to Stellenbosch for a Winery Tour.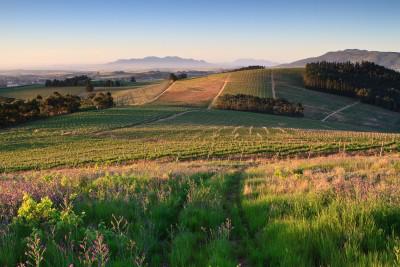 Stellenbosch is a cozy town located 50 km to the east of Cape Town that is most known for its popular Stellenbosch Wine Route established 30 years ago for curious wine enthusiasts. Stellenbosch wineries boast beautiful colonial architecture, scenic vineyards, and exquisite wine tasting. Most wineries function as an open house, which means you don't have to make a wine tasting appointment in advance. They also feature on-site restaurants that offer delicious dishes of local cuisine, or picnic lawns where you can relax in the shadows of ancient oaks and enjoy your basket of rustic South African food and house wine. My favorite wine was Pinotage, the aromatic wine that combines the best qualities of Pinot Noir and Cinsaut (formerly Hermitage) grapes.
4.  Immerse Yourself in the Safari Wilderness.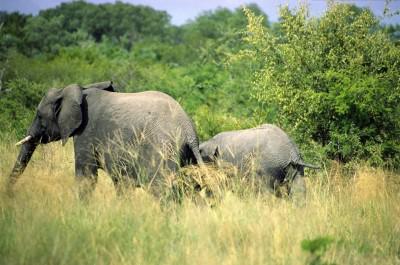 It was my favorite activity in South Africa. The biggest and most famous safari destinations in South Africa are Kruger National Park and Hluhluwe Game Reserve (the oldest one). But they are located more than 1000 km (600 miles) away from Cape Town, so if you decide to fly to Durban, you should visit at least one of them. The closest safari spot to Cape Town is Aquila Game Reserve, which is also home to the Big Five (lion, elephant, buffalo, leopard and rhino). The whole safari experience is wonderful but a little chilling at the same time, especially when an angry elephant starts running toward your jeep making threatening noises and your safari guide suddenly becomes pale and confused. Oh well, everything worked out eventually. The safari tour can be definitely a day trip, but if you want to catch a glimpse of the nocturnal animals, it is worth staying at a cozy safari lodge to embrace the picturesque scenery and endless, starry sky from, let's say, your own hot tub.
5.  Enjoy Snorkeling or Chill Your Blood with Shark Diving.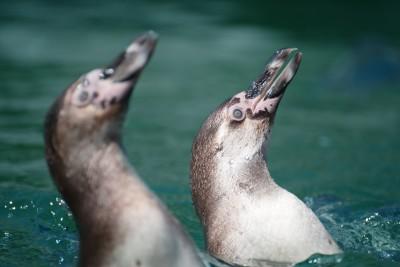 Cape Town is well known for Great White Shark cage diving. To be honest, I didn't have the guts to face the sharp-toothed beasts, but snorkeling and scuba diving were just as exciting. The beautiful marine life, which features all kinds of exotic fish, shellfish and sea animals, makes Cape Town a scuba diving paradise. If you're lucky enough, you can even spot humpback whales playing in the water. The best time for whale watching runs from late summer to late fall.
Disclaimer: Unfortunately, as I lost most of my pictures from Cape Town, some of the images above were purchased from a stock photography site. They are still nice and vivid though.