Thank you for supporting the not-for-profit notloB music series.
For the Winter and Spring seasons we are returning to our roots, presenting only at a small, intimate venue, a private home in Watertown.
The home owners have been very gracious but wish to present artists of their own choosing, and I respect that.If you have a home that you could open to screened arts lovers and could accomodate at least 25-35, please contact me at 781-643-1586 or email
[email protected]
OUR SEASON
PLEASE NOTE, THE 4TET CONCERT IS NEARING CAPACITY AND WILL SELL OUT SOON. GET YOUR RESERVATIONS IN ASAP!

notoB Parlour Concerts presents....
Wednesday, February 12 house concert4TETBrittany, Cleek, Jordan and Nic share an interest in the championing of traditional music repertoire, new music composition, and the use of performance in both maintaining and critiquing the conventions surrounding folk music. They follow the work of mentors such as Bruce Molsky, Brendan Mulvihill and Eileen Carson-Schatz, in tandem with careful study of historical sources and inspirations outside of traditional music, and continue the legacy and lineage of traditional music. They're on a quest to probe the expressive and creative potential of fiddle tunes, traditional song, and vernacular dance.
Click here for more information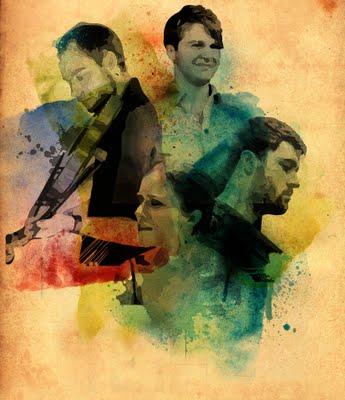 Friday, February 28house concertEvie Ladin and Keith TerryEnergetic and electrifying clawhammer banjo, bass, percussive dance, storytelling songs old and new, with nuanced, emotive vocals. An intimate, robust evening of acoustic music and dance, a skilled hybrid of American folk arts.Click here for more information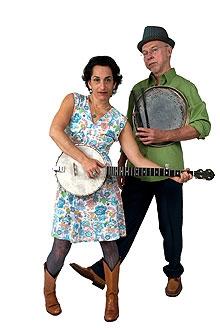 Monday, March 31house concert10 String Symphony10 String Symphony is an arena for mesmerizing acoustic innovation.  Although difficult to categorize, their music is instantly recognizable as a blend of two distinct but equally vivacious musical voices, encompassing "aggressive, almost discordant, celtic and dare I say punky string-chording experimentations" (The Bluegrass Situation).  Vocally, Rachel Baiman and Christian Sedelmyer lock in seamlessly, and their vocal duets often take center stage despite the fact that they are self-described fiddle players.
andTattletale Saints
Tattletale Saints are a New Zealand based duo described as a "masterful blend of Americana fused with jazz, soul and pop" and made up of Cy Winstanley voice/guitar/harmonica and Vanessa McGowan voice/double bass.
Click here for more information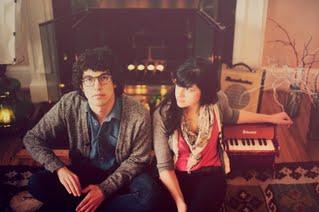 Saturday, April 19house concertThe Molly Tuttle Trio 
featuring John Mailander and Brittany KarlsonMolly Tuttle, John Mailander & Brittany Karlson create an honest and soulful mix of original and traditional music. They have a deep respect for the past, while also looking toward the future of acoustic music. This tight-knit trio formed after meeting at the Berklee College of Music in Boston, MA. With a unique blend of provocative songwriting, tasteful arrangements and instrumental virtuosity, they are more than the sum of their parts.
Click here for more information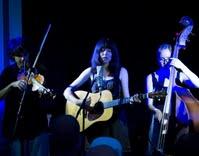 I am sorry to report the three concert experiment with the JP Unitarian church did not work out.
This was to have been our venue for larger concerts. Two of the bands have requested and date that we would love to give but cannot honor.
If you are associated with a non-profit with whom I could collaborate to present a benefit concert, please call 781-643-1586 or email
[email protected]
non-profit does not need to have a performance space, believe me I know of many fine listening rooms and small theatres in the greater Boston area we could choose from.
Keep your lamps trimmed and burning!
​
Jeff Boudreau
notloB Parlour Concerts

~ Facebook ~ Mailing List ~ Reservations/Information
Presenting folk, folk revival, folk rock, old time, bluegrass, Celtic, country blues, New England, Cape Breton and string band music at multiple locations. The series is volunteer-run and not 
for profit. 100% of the patron donations go to the artists and production expenses.
"In this era of pop-driven acoustic music, notloB is keeping the folk tradition alive." ~
Jack Hardy
​​
​Wednesday, February 12, 4TET 
(Brittany Haas, Cleek Sherey, Jordan Tice and Nic Gareiss)
​
Friday, February 28, 2014 ~  
Evie Ladin and Keith Terry
Monday, March 31, 2014 ~ 
10 String Symphony
 and 
Tattletale Saints
Saturday, April 19, 2014 ~  
Molly Tuttle Trio
 featuring, 
John Mailander
 and 
Brittany Karlson
Lord Geoffrey Presents

~ Facebook