The original can be found here: 48 Hours in Ostend, Belgium. Please read the original.
As a travel blogger based in Europe, I like to think my geography is above average.
But when I was asked if I wanted to spend 48 hours in Ostend (Oostende), I had no idea where it was and headed straight to Google maps.  Seeing its location on the North Sea and knowing almost nothing about it, made me want to visit it even more.  I love off-the-beaten-path places. In retrospect, I'm surprised I hadn't heard of Ostend. The city is a great place to spend a few days with lots of highlights along the way.
Ostend is a small enough city that it's easy to get around on foot.  A friend and I mapped out our itinerary for the day, hitting the main tourist attractions.
We started off with a short visit to the North Sea Aquarium. It's really small and only features critters found in the North Sea, but this makes it more personal.  I also liked that the critters are brought in by actual fishermen.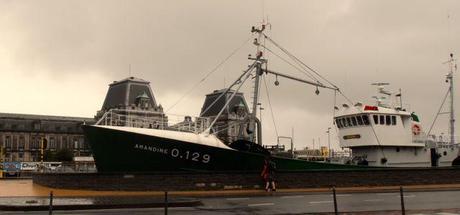 Amandine, an Icelandic trawler, now a museum
I'm not all that interesting in fishing, but my visit to the Amandine ended up being one of my favorite attractions in Ostend. Amandine sailed her last journey in 1995.  Fishing in the cold, stormy waters of the south coast of Iceland for months at a time was both physically and emotionally exhausting.  The men worked long hours, lived and worked together 24/7 in tight quarters.  So why did they do it?  The catches consisting mainly of Cod, Haddock, Pollack, Red Mullet, Red Sea Bream, Flounder and Scottish Plaice were HUGE – much bigger than what was found in the North Sea.  My visit to the Amandine made me realize that I had never really thought about what life would be like on a fishing vessel, let alone one in extreme conditions – well except for the movie The Perfect Storm. I love museums that make you think about things you hadn't previously considered and this one did.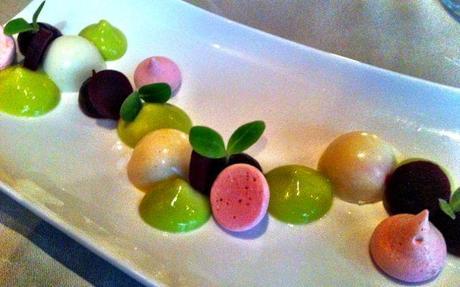 Beautifully presented (and tasty) appetizer at Finess.
Having so much focus on fish, we had worked up an appetite.  I don't eat fish, so I had seafood on my mind so we headed to Finess, a cozy, contemporary restaurant.  I LOVED this restaurant.  You can read my review here.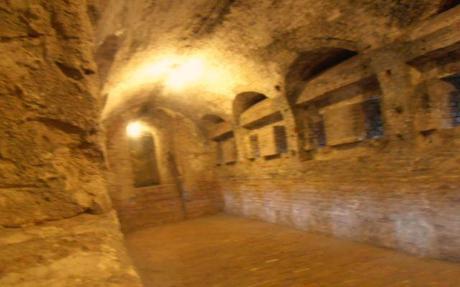 Tunnel in Fort Napoleon
Bellies full, we headed to Fort Napoleon. Built by Napoleon in 1810 Napoleon, the last stone was laid when his empire fell in 1814. A 10 meter high moat surrounds the pentagon-shaped brick building.  Despite its impressiveness, the fort never saw action. I'm sure the French soldiers must have been bored to tears.  During WW I it was used as a mess for German officers and later on as a museum.  Today visitors can tour the fort with a self-guided audio tour.  It's also used as an exhibit space, which is why photos of Paul McCartney greeted me when I entered – confusing me at first.  Napoleon and Paul McCartney aren't the most obvious pairing!  The exhibits change every few months or so.  Despite the lack of military action, or anything of historic significance, I still enjoyed walking around, exploring.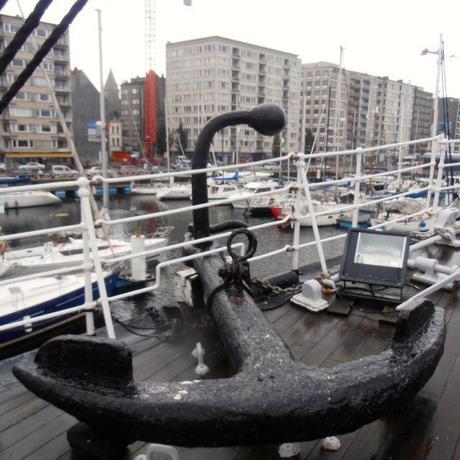 Anchor at the Three Master Mercator
Next up, it was time for a visit to another ship, but one that was completely different than Amadine.  The Three Master Mercator was a seagoing ambassador. It  attracted a lot of attention at world exhibitions and ceremonies.  It also participated in numerous races and won the Oslo-Ostend race.  Some consider it to be the crown jewel of Ostend!  We did our visit without the optional  audio accompaniment and this was a mistake.  There are very few signs, so unless you have prior knowledge of a three master, you won't really get what it's all about.  I highly recommend the audio guide.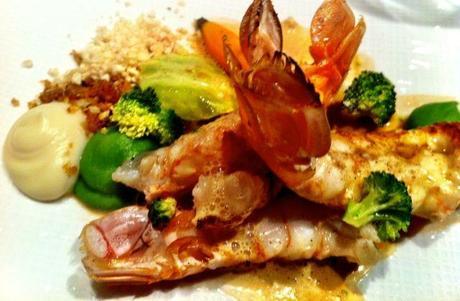 The langoustines were my favorite of the seven courses at Savarin.
Finally, after a full day of sightseeing, treat yourself at Savarin.  This is THE place for gourmets and foodies to go.  We had the 7 service Degustation (Tasting) menu with wine.  Each dish was unique, i.e. sardine ice cream, and beautifully prepared. Its seaside location makes it incredibly romantic, or the perfect place to celebrate a special occasion.  Dress smart. Three to seven service Degustation menus are provided ranging between €45 – €121 per person, depending on the number of courses and whether or not you have wine.  I highly recommend the wine pairings.
Nighty night!  The hotel we stayed in looked cool from the outside, but our room left something to be desired.  There were nails on the wall with no photos and a cracked toilet seat.  It wasn't terrible, just not something I would eagerly recommend, so I'll leave you to your own devices to find suitable accommodation.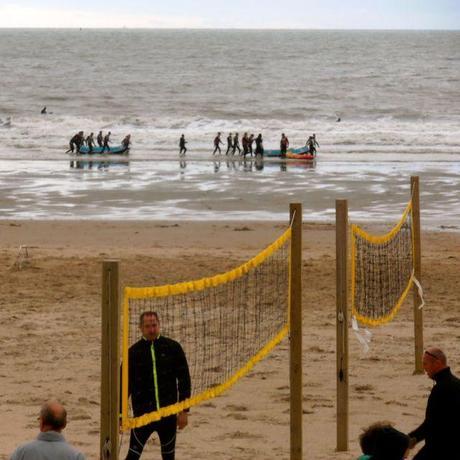 Take your pick: beach volleyball or rafting.
Rise and shine!  Today you're going to get some exercise!  If the weather is nice, you'll definitely want to head straight to the beach.  Ostend is a bustling seaside resort in summer.  I was impressed with the 9 km promenade.  You have several options: 1) Go swimming or hang out at the beach 2)Check out one of the many seaside restaurants for breakfast or enjoy seaside views from a cafe or 3) Walk to the Atlantic Wall. We did the latter.  I LOVED the promenade!  It was my favorite part of Ostend.  Belgium may not be famous for its beaches, but it should be!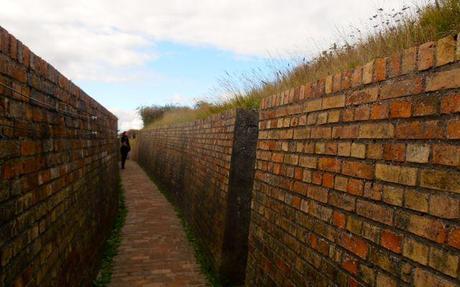 2km of trenches at the Atlantic Wall
We walked along the promenade to the Atlantic Wall which took about 90 minutes.  Don't worry, there's also a coastal tram if that's more your style. The Atlantic Wall is an open air military museum.  It's also rated the #1 attraction in Ostend, according to TripAdvisor. It was previously a fortification used by the Germans in both WWI and WWII.  I'm not particularly interested in military history, but found walking through the 2km of trenches to be absolutely fascinating.  You can read more about the Atlantic Wall here, where I dedicated an entire post to it. You can also combine your visit with a trip to the nearby Raversyde Anno 1465,  a recreation of a medieval fishing village.  A reduced combi ticket is available should you choose to visit both attractions.  Note:  Rayersyde Anno is only open from 2:00 – 5:00, so plan on visiting the Atlantic Wall late morning/early afternoon and then visit Rayersyde Anno. Due to poor planning on our part we missed it. You can return to Ostend either on foot or by the coastal tram, which stops just outside the Atlantic Wall.
Finally, after walking around Ostend, you'll notice that tea shops are much more numerous than coffee shops.  Choosing which one to have tea in was not an easy feat with so many choices, but the perfect way to end our trip.
After spending two days in Ostend, I left feeling impressed with how its attractions reflected its history and culture.  There's a sense of pride – not boastful, but one of respect and acknowledgment.  It felt like a unique city, not like one that could be anywhere in the world. That, in my opinion alone makes it worth a visit.
Know Before You Go to Ostend:
The easiest way to get to Ostend is by either car or train.  Unless you're arriving by chartered jet – in which case there is an airport.  We flew into Brussels and took a car from there.
I highly recommend purchasing the Ostend City Pass.  We more than made use of ours.  A 48 hour pass costs €15.
Visit Oostende Tourism for further info.
Thank you to Oostende Tourism for making my visit possible.  As always, all opinions expressed are my own.
Monkeys and Mountains | Adventure Travel Blog - Travel adventures from Germany and around the globe from a female travel blogger.