There's Paris, London and New York City but what's the deal with Istanbul? How can one city span two continents? 

I know Paris has the Eiffel Tower, but Istanbul has the Hagia Sophia! Let's keep things fair because like people cities are all beautiful and individual in their own way. Istanbul is waiting!

Let's hit the ground running, I chose to fly into Istanbul's Sabiha Gocken Airport with Pegasus Airlines. Time waits for no one; take the Havatas bus from SAW Airport to the heart of Taksim Square. I made my way through the electric Taksim Square, passing by Gezi Park all in pursuit of my hostel. Eventually finding my hostel the Taksim Istanbul Apart I dropped my belongings and took my sense of adventure to get back to this crazy, beautiful and vibrant city! Now, I have one thing to say that Istanbul has had some bad press but it's all about seeking your own view to make your own opinion. Do you think I'm right or wrong?
Captured to the left is Taksim Square, it's at the epicentre of all things that make this city cosmopolitan and real at the same time, it's hard to explain but this square definitely puts the cat amongst the pigeons! I like a bit of adventure so I chose Istanbul, this visit 
wasn't
 my first as I had visited here before when I was about fifteen. Enough of that chat it was time to get my exploring on, I had some work to do! So, I guess you could say it was off to the waters of the Bosporus Strait! Grabbing some dinner and catching a glimpse of the crimson sky slowing turning a darker shade I knew it was time to get some rest as the next day would bring some big time discovering!
It has to be destination Sultanahmet, for 

this part of Istanbul holds the key to a whole other world! Making my way to the Hagia Sophia, a testament to this city's blend of Islam and Catholicism this once functioning place of worship acted as a church and Mosque, hopefully not at the same time! It was awe-inspiring to see such a mix of patterns and stories housed in this fully working museum. The Blue Mosque is also a great place to visit but I had been there before so it wasn't on my list. Getting to grips with the transport is quite easy in Istanbul but I kept to a route that I was familiar with and had no problem walking most of the way, its easier to see more on foot. 




Keeping things fresh I made my way to Topkapi Palace, a sultan's paradise. I didn't want to take any chances because I wanted to get the best of this city. I was very impressed by the magnificent gardens through the palace grounds. If I were to be a Sultan I would have felt very at home with the vast amount of jewels and plush living quarters to luxuriate in everyday! Topkapi Palace became extremely busy so its advisable to keep things short but sweet. Sultanahmet is the most concentrated area in Istanbul for all the key Ottoman points of interest, plus its all located on the European side of the city. Istanbul is a city that has a great amount of history; it's a whole different ball game here in this Turkish city!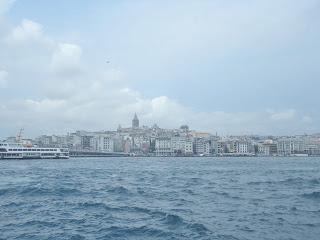 It's all about the Bosporus, within the show that is Istanbul this aspect is the starring role. In the distance captured to the left is the Galata Tower, the Turkish answer to Rapunzel's Tower. Reaching each sides of the Bosporus is only easy if you know where to go! This strait of water holds many tales that sets Istanbul apart from New York City's Manhattan Island and London's Thames River. The Galata Bridge connects Sultanahmet with neighbourhoods like Galatasaray and Beyoglu. Crossing the Galata Bridge is an experience in itself due to the sprawling path of interesting fish restaurants that try their best to taste their offerings.
Reaching the Asian side of Istanbul means a ferry boat trip over the Bosporus Strait to Kadikoy for example. Getting a train could prove to be nearly impossible because the Marmaray Tunnel has not been completed yet. Projections are for a September 2014 date of completion so it looks like the ferry is the best option. I wanted to see what all the fuss was about so I went to Sirkeci Railway Station to see where the Orient Express once brought inquisitive tourists of yesterday to experience the gateway city to Asia. 
The cool kids in Istanbul know where to go, so I made my way back towards my hostel to be at the center of Istiklal Caddesi. Istanbul's equivalent to London's Oxford Street because it's a shopping mecca! This international avenue has more eateries than I have ever seen, ranging from KFC, Starbucks Coffee to Turkish Kebab shops and sweet centres. Shopping can be the best in this part of town due to a Topshop store being present amongst other reputable establishments. Watch out for the Galata tram because it passes through this avenue. Also through the corner of my eye I noticed there are two beautiful Catholic churches, which can be visited for a small fee.
Istiklal Caddesi is the gateway to Taksim Square and Gezi Park, the places where my Istanbul experience began. I must admit that things got crazy on my second night in Istanbul, as I was walking back up Istiklal Caddesi something to do with the protests but it never affected me. Danger is where you find it and also life is far to short for us to restrict ourselves from experiencing places that have a hint of danger. Istanbul is a fast paced city which has been put to the test recently, but one thing I do know is that Istanbul will soar and be at its best! Istanbul, a city that is on the edge of glory!


Joseph Harrison