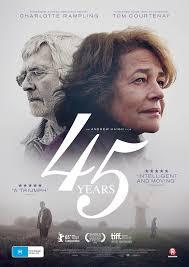 28 August 2015 (UK release)
It's autumn a time for harvest and a time for ghost stories. The film
45 Years--
about a couple taking stock of their lengthy marriage-- delivers both.
I first watched this film a month ago, but it still haunts me daily.
Charlotte Rampling and and Tom Courtenay play Kate and Geoff Mercer, who are preparing to celebrate their 45th wedding anniversary in a town hall filled with their friends.  About a week prior to this event, Geoff received notification that his girlfriend's body from fifty years prior has been found emerging from a melting glacier. 
And there you have the central metaphor: people, places and events frozen in the past that unexpectedly emerge into the present.
Rampling must come to terms with the person her husband was when he was intimate with this other woman, Katya, and how his relationship with her and his reveries about his youthful romance still affect who he is today. 
The pacing may seem slow to some viewers. However, anyone who has been in a long-term relationship will perceive the tensions, the deep feelings, the profound significance of a turn of phrase, an old photograph, a long abandoned book, a wistful glance away from the present moment. 
After I finished the film, I immediately went back and watched Rampling's expressions over three key scenes in the film. She's conveying a great deal of thought and emotion in the most understated yet powerful ways. You can watch her recalibrate her marriage, her husband's character, and her own values.
It's riveting to watch. 
Don't read any spoilers. Just rent this movie and prepare to think about the nature of long-term relationships and the complexities of the human psyche.
Related:
Films about Aging
Movies about Love and Sex for People over 50
The Sense of an Ending