As I mentioned at the end of " 45 Hours in LA, Part III", there were pub crawl rumblings afoot for my last night in town. We knew where we'd be starting the evening's festivities ( Tom Bergin's Public House in West Hollywood), but the rest of the night was up in the air. Would we head to another bar in West Hollywood? Would we grab an Uber to meet Bino at a bar in Venice Beach for some drinks and live music? At this point in the evening, stops two, three, and maybe four didn't matter. When Lee, the West Coast Office (WCO), and I left Torrance in a plush, late model Honda Odyssey for our first destination, all we cared about was meeting up with Whisky Guy Rob and securing some prime seating at the bar.
Now I'm no stranger to a pub crawl, but to do them properly, you need rules. Back in March of 2013, we discussed the Proper Pub Crawl Rules that the good people at Esquire pulled together with the help of their All Things Drinking Grand Poobah, aka David Wondrich. Interestingly enough, Esquire's rules require twelve steps. I guess it's a good thing that I don't do many pub crawls throughout the year, otherwise, I might need a very different kind of Twelve Step Program.
Rather than the usual blow by blow retelling of what happened during my last night in LA, I thought that I would instead rate our pub crawl based upon Esquire's Twelve Step Guide. Each step will be worth 5 or 10 points which means that a perfect score will add up to 100 points. Here goes...
Step 1 - Theme: Whether it's hitting all the newest cocktail bars or determining who makes the best manhattan, a sense of common purpose, is essential to maintaining focus. 5 points
Step 9 - Eat: Real food. Make dinner - by which we don't mean bar snacks - your second or third stop. Watch the wine. You also might want to stop tweeting. 10 points
Total Score: 66.5 out of 100
If my memory serves me correctly, a 66.5 is equivalent to a D on the high school grading scale. While we may have failed miserably as far as Pub Crawls go, does that mean the entire evening was a failure? Au contraire Mes Amis!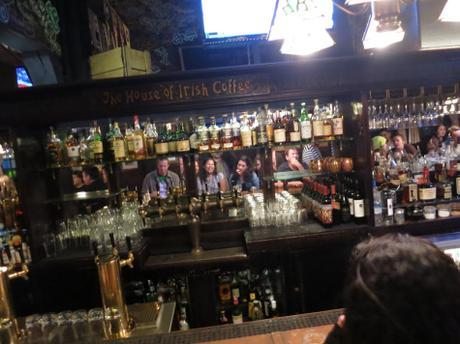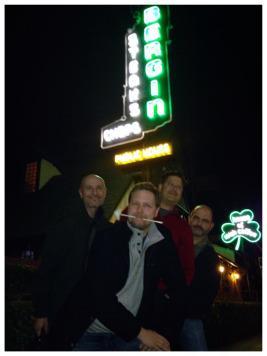 While we didn't bar hop that night, arriving early and staying late at Tom Bergin's allowed us to watch the ebb and flow of customers throughout the night. When we arrived, it was very much an after work crowd. Then things got quiet for a bit between 8 and 10 until it picked up again when the "late shift" stumbled in. Watching the crowd demographics shift over the course of an evening as we chatted, ate, and drank was great fun. Factor in that we had prime seating with a great view of both sides of the bar and a superb bartender that was taking excellent care of us, and you now know why we denied our pub crawl urges and simply stayed put. It would have been fun to Uber our way to Venice Beach or some other LA location, but sometimes you just have to embrace the vibe and live in the moment.
Categories: Booze Banter
Tagged as: Bars, Craft Beer, Drinking, Drinkwire, Food, Los Angeles, Photos, Pictures, Pub Crawl, Tom Bergin's, Travel, West Hollywood, Whiskey, Whisky