Hard to believe it's been that long but on April 17, 1970, the ill-fated Apollo 13 splashed down safely in the South Pacific ocean after a harrowing trip to the moon and back.
What might not be so well known is the related towing bill that was sent by Grumman Aerospace to Rockwell International.
Pretty funny stuff:
One result of the flight of Apollo 13 was more humorous than substantive. After the successful splashdown and recovery of the crew, engineers at Grumman Aerospace, the Bethpage, New York, based contractor that built the LM, sent Rockwell International, the builder of the CSM, a $400,000 bill for "towing and road service" for the use of Aquarius as a rescue craft. Word of the joke eventually reached the news media; for months after the flight, Grumman received hundreds of dollars in contributions from private citizens who wanted to help Rockwell pay its debt to the builder of the LM.
Click on the image of the bill below for a larger pic.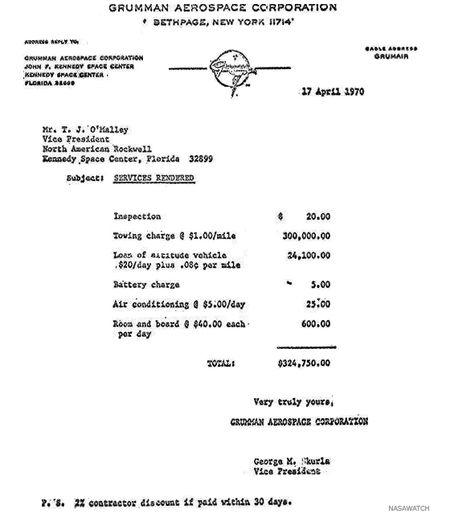 H/T to
NASAWatch
.