42 healthy crockpot soup recipes that are easy to prep and will warm you right up! Includes soups, stews, chili, vegetarian options and more.
When it comes to easy, veggie-packed meals, soup is where it's at! And what makes soup even easier to prepare? Your slow cooker!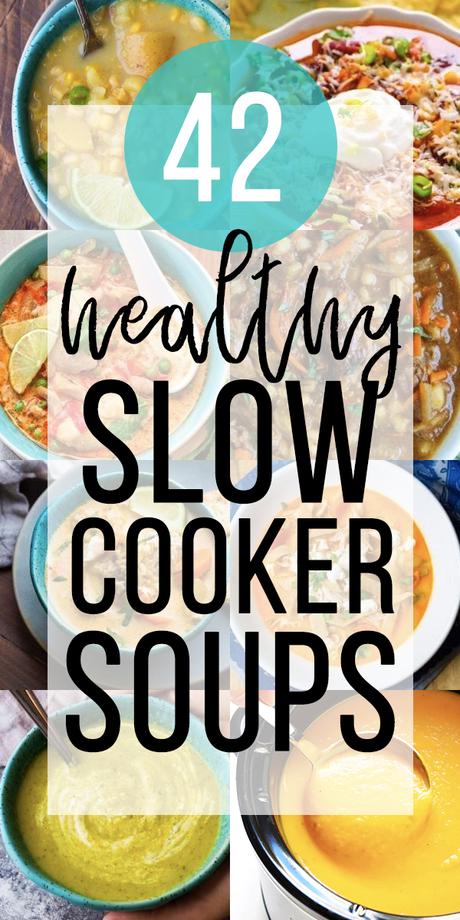 Crockpot Soup Recipes
This post is an update on a 2015 post…we've added 23 brand new slow cooker soup recipe ideas and tips for prepping these meals!
When it comes to meal prep, soups are a real hero: they are often freezer-friendly before and after cooking!
Soups are often a nutritional powerhouse, packed with veggies and protein. Using your own homemade bone broth will up the nutrition factor even more!
Tips for getting the most flavor out of your slow cooker soup recipes:
Sometimes cooking low and slow can strip some of the flavor from a soup. Here are some tips to get the BEST flavor & texture from your crockpot soup recipe!
use the right herbs– a general rule is to add hardy herbs like rosemary and thyme at the start of cooking. Reserve soft herbs like cilantro and parsley to add just before serving
add acid at the end– most soups can benefit from a boost of acid (lemon juice, lime juice, balsamic vinegar etc) at the end of cooking. It really brings out extra flavor!
taste for salt– always taste test before serving and stir in more salt if needed
use the right cut of chicken– chicken breast cannot handle over 5 hours (on low!) in the slow cooker. If you need to cook for longer than that, consider boneless skinless chicken thighs. Bonus: brown the thighs first and they will hold together even better!
coconut milk– in my experience, light coconut milk curdles in the crockpot, whereas full-fat coconut milk can withstand cooking up to 8 hours on low.