This past week, I turned forty years old.  My birthday was a completely delightful day.  It actually turned into a completely delightful two days by the time the partying was over.  Brandon started the morning off right with homemade churros (something that he's turned into an art form), and I got to go riding with the children in the morning.  Any day when I get to ride is a good day, so riding on my birthday is exactly how I wanted to start my day off.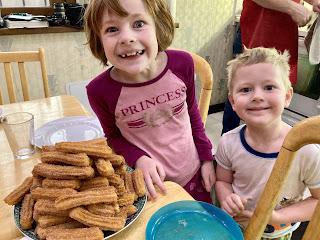 When Brandon asked what else I was going to do in order to celebrate my new stage of life, I told him that I was going to do all of the other things I normally don't have time for.  So I got a massage, read a book, and took a nap.  I actually have time to take a nap every day, but a birthday nap is even better than a regular nap because you know that there aren't any unpleasant things to greet you after you take the nap.
The children are old enough that we can leave them overnight, so we did, checking into the local Hilton for the night.  As I've gotten older, my dreams in life have gotten more modest, so having two meals - in a row - that I didn't have to cook, clean up from, or feed to anyone but myself made for a great weekend.  And when you throw in a late check-out so that I can have a little more reading and napping, it makes everything that much better.
Saturday also included at two-hour meetup with a friend, followed by dinner (made by Brandon and the kids) and birthday cake (made also by Brandon and the kids).  I got two take two days off from making food, chasing children around, or really doing any work at all.  I think that it was probably one of the best birthdays I've ever had, thanks to the hard work of Brandon and the children.  Having eight people who want to make your birthday great is pretty amazing.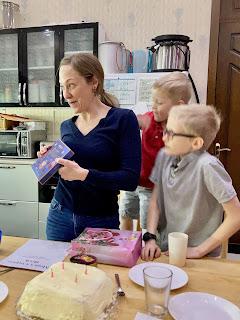 Now that I've finally reached forty, I confess that I do find it a little disconcerting.  I've never been bothered by aging because aging is something I have no control over.  It happens to everyone, so why get distressed by it?  There's no point in trying to stop something that started the minute you were born.
But it turns out that those were the thoughts and words of someone who was young.  I'm not sure why forty is such a daunting number, but there is something quite visceral about leaving the last gasp of youth behind and stepping into the second, less attractive and glamorous, part of your life.  I don't look any different than I did the day before I turned forty, but now when I say that I'm forty, I don't see myself the same way as I did only a few days ago.  
I haven't exactly been trying to pretend that I'm any younger than I am - after all, having seven children does imply that one has been living for a reasonable amount of time.  And as I watch my older daughters beginning to come into their own as young adults, I have no desire to compete with them in the beauty department.  But there still is that little sting when I realize that my youth has definitely and completely come and gone.  I guess it's probably because I've spent my who life young and now I get to spend the rest of it old, getting older each year.
But I still would never go back to being twenty, or thirty, or even thirty-five.  I may now have more wrinkles and a saggier face and even several gray hairs (that was a shock to see those), but I also have all the experience that I've gained from being alive for forty years.  There are so many dumb choices and difficult lessons and work that I've put in to be the semi-reasonable person that I am.  And I'd never want to go back and have to learn all of those over again.  
I remember asking my mother once if she'd like to go back to being twenty-one.  I was in college and was afraid that I would always miss those years and think of them as the best years of my life.  "Oh no!" my mom laughed, "I would much rather be forty-seven!  Life is much, much better now than it was when I was your age."  I felt a lot better after that conversation.
Although I'm not yet forty-seven, I'm a lot closer to being forty-seven than I am to being twenty-one.  And I definitely have to agree with my mom.  Getting older isn't always a picnic, but it sure as heck beats being young.