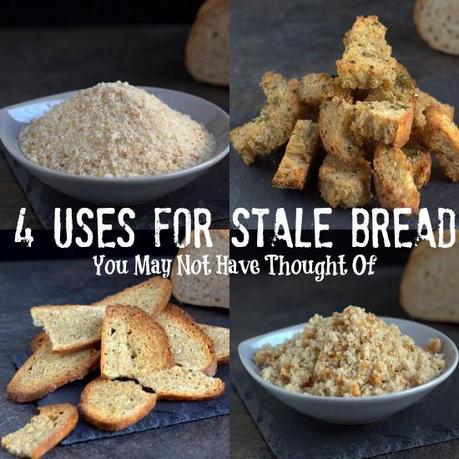 Apparently the end piece of a loaf of bread is poisonous.  At least it is in my house.  Whilst the majority of a loaf will be demolished, there are always a few bits that are seemingly not edible.  Rather than sending them to landfill, I have a few ways of repurposing the raggedy bits so that every last crumb is used.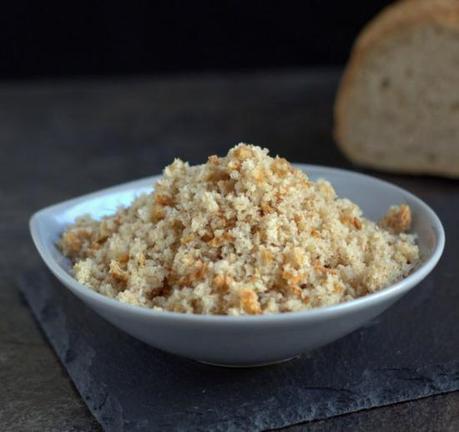 1. Fresh Breadcrumbs
It doesn't get simpler than this. Tear fresh bread into pieces and blitz into crumbs in the food processor. I freeze any I don't intend to use straight away.  Fresh breadcrumbs are handy for stuffings, for mixing into sausage rolls and meatballs, and for making pangritata, a crispy pasta topping used in place of Parmesan.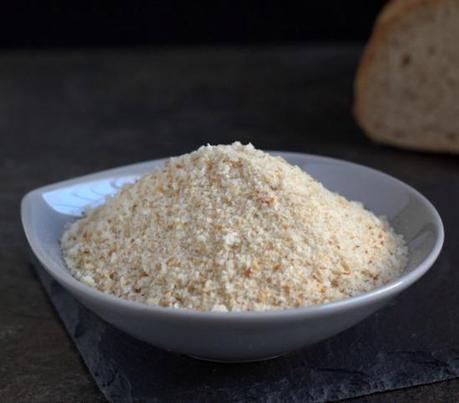 2. Dried Breadcrumbs
Not as instant as fresh breadcrumbs, but just as versatile. The simplest way to make dried breadcrumbs is to leave slices of stale bread to air dry. I do this in a paper bag in my kitchen (also known as the 'Oh I forgot that bread was there' method). You can also dry slices of bread at a low temperature in the oven or in a dehydrator. Once the bread is dry and crispy, break it into pieces and blitz in a food processor. The crumbs will be finer than fresh breadcrumbs, and are great for crumbing foods like chicken schnitzel or leftover mashed potato cakes.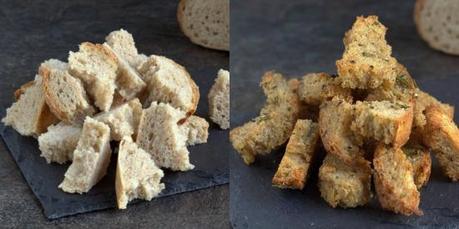 3. Croutons
Did you know you can buy croutons? They come in a lovely box, are cut to a uniform size and taste like rancid oil. I prefer to make my own. I am happy with rough, nuggety croutons a la Jamie Oliver but if you prefer them to be all the same size and shape then just slice them with a bread knife. If I have a large amount of stale bread left over I make a bag of crouton shapes and store them in the freezer.
To make croutons, preheat the oven to 180C. Tear or cut your bread into pieces and toss in olive oil seasoned with salt and pepper.  I sometimes get fancy and season the olive oil with other flavourings: crushed garlic, finely chopped rosemary or thyme, cayenne pepper, smoked paprika.  The options are endless. Spread the oiled bread pieces on a lined tray and bake for 10 minutes, tossing once or twice, until golden brown and crispy. Keep an eye on them as croutons can burn easily. Remove smaller pieces when they start to brown to prevent them burning. Allow the croutons to cool then use as desired. They are great on top of soups and tossed through salads to give texture and crunch.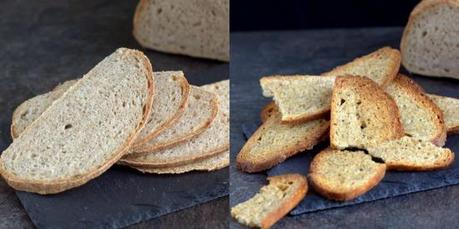 4. Crackers
You can also by bread crackers in a box. They taste like rancid oil too. To make your own, slice stale bread into 3mm slices.  Brush both sides of the slices with olive oil and place in a single layer on a lined baking tray.  Bake at 180C for about 5-7 minutes until golden brown. Allow to cool then store in an airtight container for up to a week. You can also slice the bread and freeze so you have crackers at a moments notice. For larger slices of bread, bake as a single slice then break into pieces for serving. Crackers are a great addition to a cheeseboard, and are good for dips and spreads.
Bonus Ideas
If you find yourself with larger amounts of bread, soak slices in eggy custard for French Toast or Bread and Butter Pudding. You need never throw out a half eaten loaf again, and you can save yourself a fortune on pre-packaged options. Best of all you know exactly what you are eating.
You may also like these posts
Fried Cabbage with Pancetta

Kitchen Basics: 20 Minute Poached Chicken

Spicy Kale Pesto