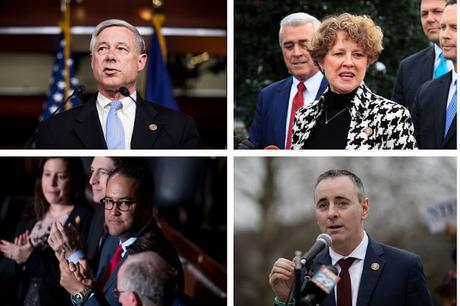 (This photo of the Republicans voting against Trump last Tuesday is from The New York Times.)
On Tuesday, the House of Representatives took a stand against racism. They voted to condemn Donald Trump for his obviously racist remarks about four women members of Congress, Ever Democrat (and 1 Independent) voted for that condemnation resolution.
Only 4 Republicans had the decency and courage to take a stand against Trump's racism. They were (clockwise in the photo above) Fred Upton of Michigan, Susan W. Brooks of Indiana, Brian Fitzpatrick of Pennsylvania, and Will Hurd of Texas.
Although I'm sure I disagree with these four representatives on most issues, I commend them for taking a stand against racism. It took some courage to oppose Trump on his racism, and they are probably now on his enemies list. They also probably angered many in the Republican base (who seem to be OK with racism).
The other 187 Republicans in the House voted to support Trump. They voted to support racism.
It's a sad day for this country that 43% of the members of the House think racist comments coming out of the White House are acceptable. They have shamed themselves, their party, and this country.