Try these 4 easy bento box ideas that have a variety of proteins, vegetables and flavours! These will get you so excited for lunch…build your 'open-faced' sandwiches on crispbreads and enjoy.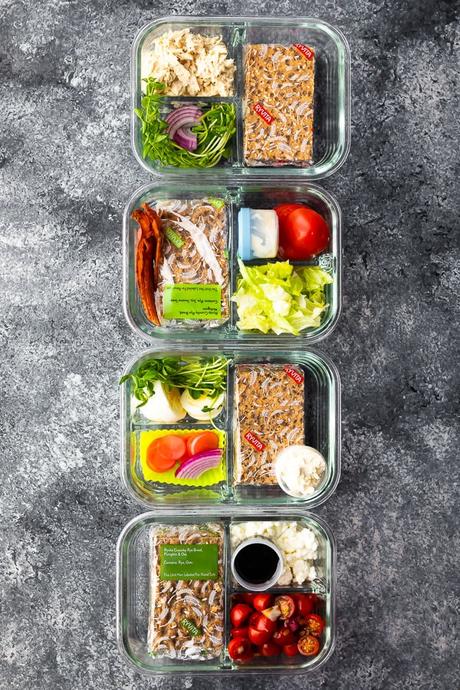 This post has been generously sponsored by Ryvita Canada. As always, the opinions and language are my own. Thank you for supporting the brands that I love!
When it comes to lunch, it's easy to get stuck in a rut.
Today, I'm partnering with Ryvita Canada to share four delicious bento lunch box ideas that will kick you out of a lunch rut and give you something tasty to look forward to all morning long!
Ryvtia crispbreads are a delicious, fibre-rich alternative to bread and are the perfect canvas to get creative with! They are made with natural ingredients including wholegrain rye, and are a great way to introduce more fiber into your diet.
Ryvita now has an amazing array of flavors! My favorites are the Whole Grain Snackbread (which is so light and crispy) and the Red Quinoa & Sesame Rye Crispbread. I love that the crispbreads are sturdy enough to fully load with my favorite toppings.
Find more topping ideas and information about Ryvita crispbreads at Eat Outside the Breadbox!
Why you'll ♡ these bento lunch box ideas
they are simple and require little to no cooking
they are delicious and will get you excited for lunch
you can mix and match for some variety in your lunches
Continue reading:4 Bento Lunch Box Ideas