Want to see all the sights of a big city without the expensive price tag? While it may sound exciting to jet-set to New York for a stay at the Four Seasons Downtown, or slumber peacefully at the Champs Elysees Plaza in Paris, there are better ways to spend your money in some of the worlds most expensive cities. Here is where to stay on the cheap, so you can splurge on the experience.
11th Arrondissement, Paris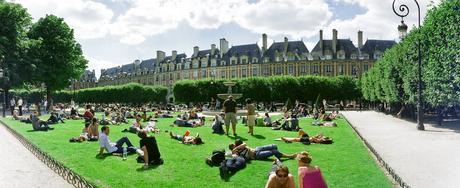 Image via Flickr by Ivan Bolshakov
Paris is broken up into 20 arrondissements (districts), each with its own charm and sights. Those on a budget can find a reasonably priced hostel, hotel, or apartment in the 11th arrondissement, called Bastille. Bastille is hip, safe, and one of the more affordable districts in the city proper. Restaurants and small shops abound in this thoroughly French district, but the real treat is that Bastille is served by major metro lines that make it a breeze to visit some of the city's best-known attractions, such as the Louvre, Eiffel Tower, and the Notre Dame Cathedral.
Mission Valley, San Diego
Of all the vibrant San Diego neighborhoods, those on a budget should turn an eye to Mission Valley. Located near the San Diego airport, Mission Valley is the perfect home base to explore everything San Diego has to offer. Mission Valley is full of affordable accommodations, great dining, and plenty of shopping. The area is also close to famous Balboa Park and the San Diego Zoo. A trolley runs from Mission Valley to downtown San Diego, making this budget-friendly location a no-brainer.
King's Cross, London
Many joke about a busy location being like "King's Cross," but few realize just how busy King's Cross St Pancras Tube station in London really is. 50 million commuters pass through the station every year, which should be music to the ears of any budget traveler. So many commuters is a sign that almost every rail line in London passes through the station. The King's Cross area is trendy, with underground music venues and plenty of street markets. Accommodations are affordable, and the Tube will take you wherever you want to go without a fuss.
Gramercy Park, New York City
Gramercy Park has a small town feel bundled into busy and exciting New York City. The area is full of casual restaurants, parks for exploring, and enough bars to keep the scene lively but not overwhelming. While you may not find yourself with keys to Gramercy Park's namesake private park, the area has stylish and reasonably priced lodging; including boutique hotels, apartments, and rooms. The area is serviced by the 4 and 6 subway lines and is an easy mile-long walk to the Empire State Building.
Visiting an expensive city doesn't have to cost a fortune. By staying in safe, affordable, and charming neighborhoods in some of the costliest cities in the world you can save your budget for the experience, and not spend it on your overnight accommodations.