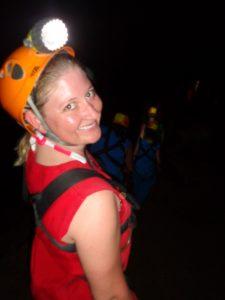 Repelling and Caving
83 miles northeast of the historic town of Santo Domingo you'll arrive in the western part of Hato Mayor dotted with Dominican conucos – small family farms that raise cattle and harvest bananas, cassava, corn and citrus in micro-fields. Meandering down pothole-filled roads about 20 miles from the provincial capital of Hato Mayor del Ray you'll descend upon Rancho Capote. In operation since 1996, the ranch is home to the Fun Fun Cave – one of the largest caves in the Dominican Republic. Guests enjoy a sampling of local fruit and coffee on arrival, followed by a 20 minute horseback ride and 45 minute hike deep into the rain forest all the while dressed in bright-colored onesies and rubber boots. Harnessed with professional-grade gear guests repel 65 feet down in to the underground river-filled cave. The hour-long journey below ground leads you through large tunnels and underground corridors filled with impressive stalactites and stalagmites, lava columns, petroglyphs, rock art and stunning crystals formed by the limestone dissolving in the water. The adventure is topped off with a local cerveza, a horse ride back to the ranch and a late lunch of rice, beans and pork sure to please even the pickiest of palates.
Kite Surfing
White Water Rafting
Cabarete is a small, laid-back Caribbean beach town located on the northern shore of the Dominican Republic. The location of the offshore reef, combined with the direction of the trade winds and low-lying hills behind the picturesque village, form a thermal effect that results in remarkable wind and wave conditions. The tireless and persistent winds of Cabarete make it an exceptional spot for kite-boarding and windsurfing. Top-notch surfing can also be found at the nearby beach, El Encuentro.  Kite Beach is likely the best area for beginners to try their hand at these extreme water sports due to its flatter water and smaller waves. Cabarete has numerous schools that offer beginner and mid-level lessons for those wanting to test the wind and waves. The 5+ hour courses range from $50-$80/hour with gear rental running about $70-$100/day.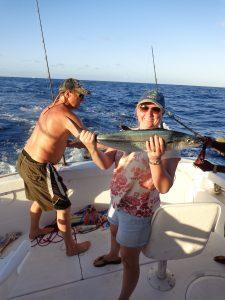 Fishing
On the easternmost tip of the island lies the town of Punta Cana, widely known for its 20 miles of azure coastline and white-sand beaches. The Bávaro area and Punta Cana combine to form what's known as La Costa del Coco, or the Coconut Coast, filled with lavish all-inclusive resorts. Punta Cana abuts both the Caribbean Sea and the Atlantic Ocean making its warm and tropical waters a highly sought after fishing destination for anglers. Popular throughout the region for marlin, wahoo, tuna, red snapper, red drum and yellow tail you have an excellent chance of reeling in an amazing fish. You will be reminiscing about this adventure long after your flight home!