Data-driven marketing is not just an approach followed by companies, it is the basis of many successful marketing strategies. Our article today is focused on all the nitty-gritty of data-driven marketing.
What is Data-Driven Marketing?
In a nutshell, a data-driven marketing strategy means the strategies that are built on the details that are extracted from analyzing the big data. The big data refers to the data that is collected through analyzing the consumer actions and the engagements that are forecasted on the basis of their interactions. 
A major part of the analysis is to understand the data that one already has regarding the customer interactions along with what data is being received and a methodological strategy based on how to organize and implement the data to yield better results. 

Why use Data-Driven Marketing?

There are several reasons why a company would use a data-driven marketing strategy. However, the foremost reason remains that companies want to enhance the customer experience they are providing and tailor it according to the needs of the buyer/user.
The main purpose of having a data-driven marketing is to make sure that it is effective. Knowing your customer behavior is extremely important before you launch a campaign or introduce a new product. Data can help you decide your goals based on the user behavior, their browsing activity, and their purchase behavior and so on. Collecting data will help with your analysis and lead to a more focused marketing strategy. 
A data-driven marketing strategy is bound to improve your performance and eventually the Return on Investment (ROI). Decisions based purely on intuition lead to trial and error which is not only a blow on the budget but also leads to a bad ROI. It has been deduced through the McKinsey analysis that companies which base their marketing decisions on a data-driven approach, acquire around 15 to 20 % greater ROI's. Moreover, this kind of marketing leads to an increase in productivity by 5 to 6%. 

How to Implement a Data-Driven Marketing Strategy?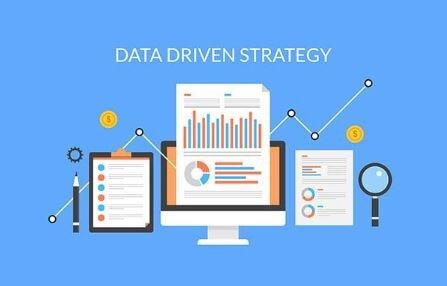 We can now come to the next part of our discussion. Since we are now well-aware of the possible advantages of a data-driven marketing strategy, let us discuss four actionable ideas that could help incorporate this kind of marketing into your company.
#1 - Develop a Culture based on Data 
It is not always necessary that you will get the support of your employees or staff when you are trying to implement a new strategy. Moreover, you may be completely convinced about a certain idea and your entire staff may not be on-board with you. The point is if you try to immediately implement a data-driven strategy because you are completely convinced about it could invite a lot of unwanted criticism. So, what is the way to go about it?
The first step – take all the stakeholders into confidence. Convince them of how and why a data-driven marketing strategy could help the company and generate more sales. Make them see the complete picture and use stats to support your argument. Moreover, it allows them to see every aspect of this marketing strategy. The importance it has on the sales team, the ROI and its importance in terms of improving customer experience. 
The next step would be to invest in big data analytics tools. These tools are designed to help the company align its marketing strategies and goals. They also improve the speed at which data is flowing between departments. If you are trying to implement a data-driven culture then it would be beneficial for you to incorporate it into all the departments of the company. 
Make the data accessible to all the departments associated with the company, you could use an online PDF converter to convert all your documents in the same format for uniformity. This could also help bridge the gap between marketing and product development. 
#2 – Create Personalized Content 
You would have often heard the emphasis on personalized content. But, how many companies are actually creating personalized content for their viewers? Conveying the right message, to the right audience at the right time is what will set you apart from your competitors in the long run. Over the last few years, there has been a demand for marketers to develop communication that is focused on the customers. The data derived through a data-driven marketing strategy can greatly improve customer interaction and lead to a much more enhanced customer experience. 
It does make sense when we say that data collected can help to predict future results. Therefore, it would help to send the right message at the right time. Developing an emotional connection with the customer is extremely important and this is only possible if you study their behavior over past experiences. 
#3 – Improve Lead Management
Data-driven marketing can improve your lead management considerably. Use the data extracted to help you understand what actions helped you generate more leads. This can help you decide which channels are most suitable for your company and are worth reaching. 
There are various tools that can help you extract data which is beneficial for your leads management. A modern way to detect lead trends is to use AI's predictive analytical capabilities.  AI-powered platforms have helped a number of companies improve their lead generation. 
#4 – Win your Customers
All marketing campaigns are focused on winning customer loyalty. However, getting your customers to trust you is not that simple. It is through carefully planned efforts that you can only plan out if you are aware of your customer's reaction. The only way to predict your customer's reaction is through – big data!
Another important aspect of data-driven marketing is that it helps companies to improve their customer services. The feedback given through the data is a great tool to analyze customer behavior. It is the best form of feedback and the most honest one too! 
Conclusion 
Using data to build your marketing campaign seems like a great idea. However, always ask yourself if your business is ready for the change before you incorporate any new strategy into your business.
---
Author Bio:
Arslan is an electrical engineer with a passion for writing, designing and anything tech-related. His educational background in the technical field has given him the edge to write on many topics. He occasionally writes blog articles for Classic PDF Editor.