The National Commission for Culture and the Arts, through the Musicological Society of the Philippines and the City of Tagum Tourism Council, in cooperation with the City government of Tagum and the UP College of Music, stages the Third International Rondalla Festival from February 12 to 19, 2011 at Tagum City, Davao del Norte.
Billed as "Cuerdas ng Pagkakaysa (Strings of Unity)," the week-long event gathers over 500 artists from some of the best rondalla and plucked string groups in the Philippines and other countries such as Russia, China, Singapore, Thailand, Mexico, Iran, India, Indonesia and Taiwan.
It features concerts, an exhibition, outreach performances, international conference, seminars, workshops and other special related activities. Likewise, the festival features indigenous groups from Mindanao participating in every concert, as well as performances in other municipalities in and outside the province of Davao del Norte as well as in Metro Manila .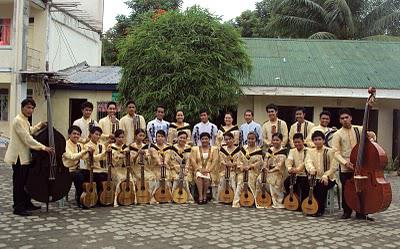 The 3rd International Rondalla Festival will also be mounted in Manila (for the first time) on Feb. 21-24, 2011 in partnership with UP Diliman. A performance will be held on Feb. 22 at the Cultural Center of the Philippines Main Theater.
The Third International Rondalla Festival "has drawn the participation of more foreign and local participants than in the past rondalla festivals in 2004 and 2007," according to Dr. Ramon Santos, project director of Cuerdas. He mentioned that the conference component of the festival features more foreign plucked string experts such as those from Germany, Singapore, Thailand, South Korea and Brazil, and that the UNESCO International Music Council is present to witness the festival.
Dr. Santos also said the festival organizers hope to present through the festival the other face of Mindanao, a venue of beauty and peace, a fitting stage for an international music festival.
For more details about "Cuerdas ng Pagkakaysa (Strings of Unity)," please call (02) 9260028; 0920-9266387; email [email protected], or visit www.cuerdasfestival.com.
[Photo: Tagum City National Comprehensive High School Rondalla]