36 years years ago, Master EK passed over to the subtle spheres – the day of his transition was 17th of March, 1984, on Pisces Full Moon day. See more here. See here the videos on Master EK from the series on "Music of the Soul" (from video 2 on).
At the celebration of Master EK's birthday 2019, Master Kumar said:
"Master EK left the physical in 1984. Though it was earlier than expected, we should not worry because wherever he is, he will continue to fulfill the plan and bless everyone who sincerely follows his teachings. We should not think that he is no more because all beings always exist and such ones can give their presence from anywhere just by recollection. He continues to inspire us to walk the path. We should keep recollecting him from time and time and be sincere in following his teachings. May he bless all of us.
Here is a short story from the discourse of Sri Kumar (Master KPK) at the celebration of Master EK's birthday 2019 and a picture of the Master:
"I used to drive Master EK in my car to many places. Once we going in that car and Master EK asked "What is this?" pointing to the car dashboard. I said it contains all the documents relating to the vehicle. He opened that dashboard and took out a picture of Lord Maitreya from it and told me to keep it with myself. I was shocked as to how he did it. I kept it in my room and used to feel very happy every time I saw it. Once Master EK was looking for a picture of Lord Maitreya and could not find any. He asked me and I said he could take the picture which he gave me. He asked, "Are you willing to give that away?" I said I will give if he requires it as it was given by him. Master EK felt very happy and said "I am happy that you give importance to Lord Maitreya without getting attached to his picture." He took that picture and sent to someone in Vijayawada who needed it. That person was losing his eyesight and no medicines were working. He was given the picture of Maitreya and asked to look into the eyes of Lord Maitreya every day. That person did not lose eyesight as long as he remained in the body. There are many incidents that like which we can keep discussing.
Master EK is a great saint who lived among us and we should be very grateful to have come in contact with him. We should be very sincere in following the instructions and teachings of Master EK."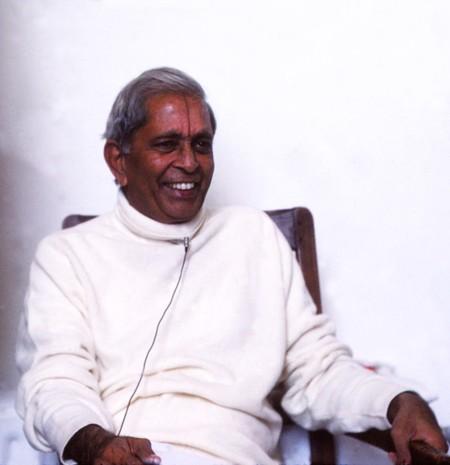 Master EK