Text Post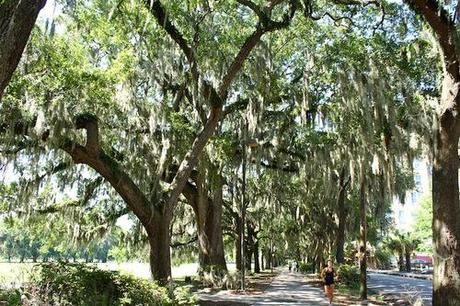 I have so many things to say about Savannah, that I'm all bottled up about where to begin. To make things easy for myself, I'm going to copy the fucking New York Times, and do a "36-Hours in Savannah." You should trust me, not them. Given that Caleb is from the city, as is his entire family, and 66% of my friends went to SCAD (at least 1/2 of those live in another dimension), I have the inside scoop.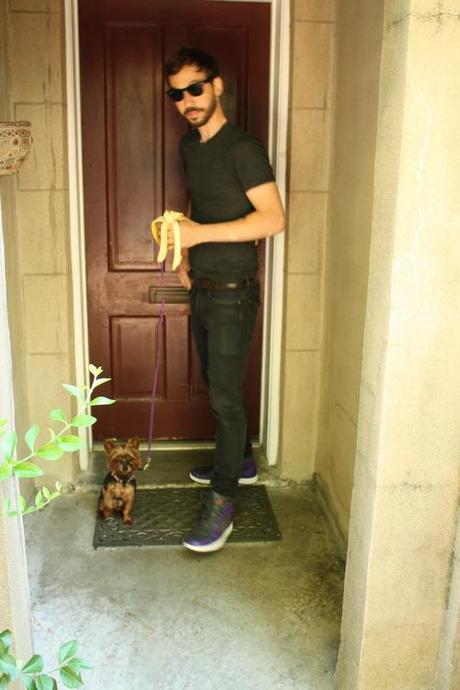 Most people know that Savannah has one of the most beautiful downtown areas of any city in the United States. Founded in 1733 by James Oglethorpe, blah blah blah, the town has preserved most of its original layout. It is arranged around 22 squares, each with their own flavor—some of them have gazebos, some have little parks, but all are filled with lush old oak trees draped with Spanish moss.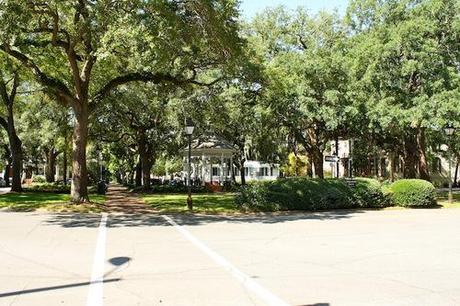 The squares are lined by grand mansions, as well as the row houses where the servants and dirty Irish lived, which range in style from colonial to Victorian to Belle Epoque. There are only two modern homes in the entire downtown, and they are both as ugly as shit.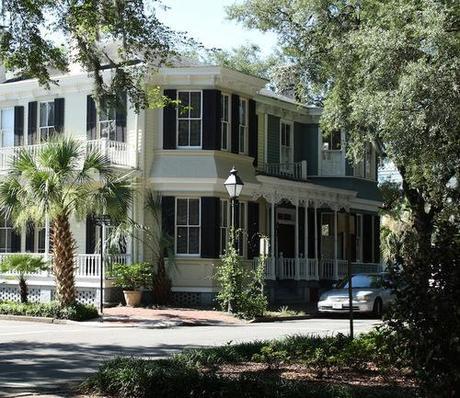 The houses are, for the most part, well preserved, decked out with sweeping staircases and wraparound porches.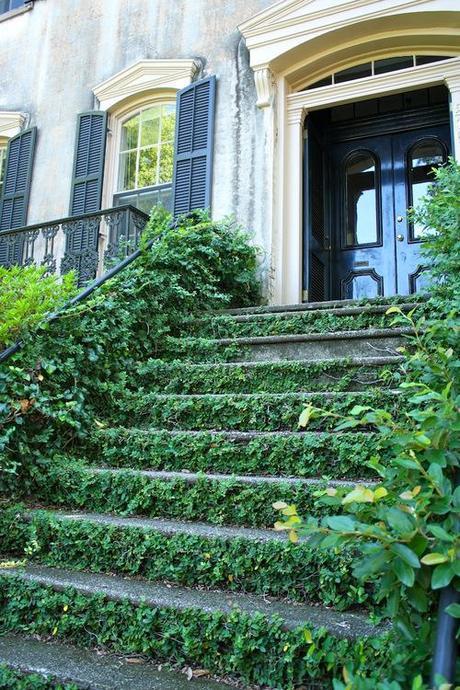 It's about as absolutely gorgeous as you can imagine, especially if you've ever read Gone With The Wind, or even better, the trashy sequel Scarlett, which is definitely one of my top 10 favorite books of all time. Remember the Atlanta mansion? You know what I'm talking about, girlfriend.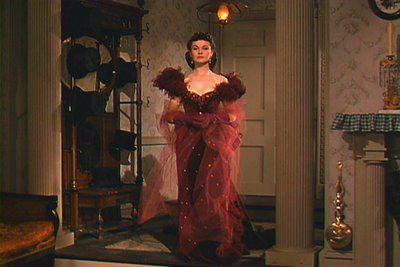 It is a city that time has frozen, almost miraculously.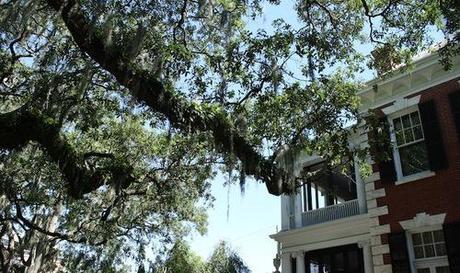 There are many reasons why Savannah is so much prettier than most cities in the US, two of the most important being:
1. Although General William Tecumseh Sherman, in his famous "March to the Sea" at the end of the Civil War, burned down almost every plantation in the Confederacy, as well as the entire city of Atlanta, he left Savannah untouched, as a Christmas Present to President Abraham Lincoln. In a telegram to the capital, he wrote, on December 21, 1964: "I beg to present to you, as a Christmas gift, the city of Savannah…" Either the city was so beautiful that he could not bear to destroy it—more likely—he wanted a place to rest and party after a long and brutal campaign.
2. The city was untouched by Robert Moses, the sadist who re-routed I-95 through most Eastern cities, making the Connecticut coastline one of the ugliest in the world.
That's probably not a real reason, I just wanted to call Robert Moses a sadist.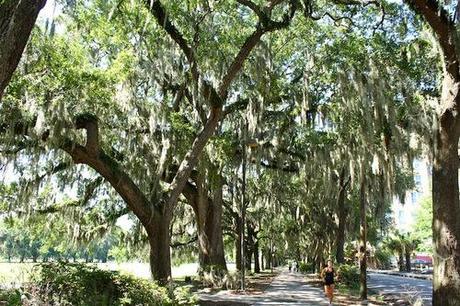 In the 1970s, the downtown area of the city largely fell into disrepair. People moved out to the South side, into ugly ranch homes near shopping malls. People fucking loved the suburbs back then, and they are stupid because of it. (Just kidding baby boomers, I love you!) The downtown became, quite literally, a ghost town. Cars drove directly through the center of the squares, and old mansions could be bought for as little as $70,000.
Then, the Savannah government was like, oh shit, now that we don't have cotton, slavery, and non-poisoned fish, we need to make money off of tourism! So they restored every original square, the last of which was finished in 2010.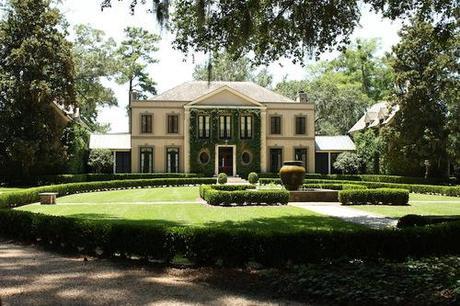 In 1979, the Savannah College of Art and Design was founded, which brought culture back to the downtown areas. Today, the university, through an aggressive capital funding campaign, attracts just as many wealthy trust fund kids as any major art school in the country. Kind of like how NYU first revived, and then ruined, the East Village in New York.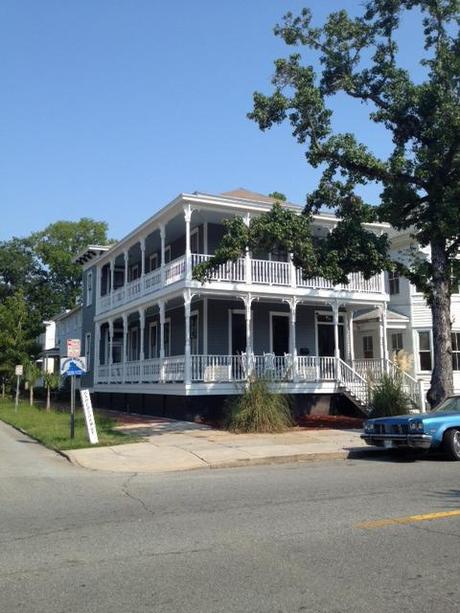 I'm making a lot of shit up, but it makes this boring guide more interesting to read, n'est–ce pas?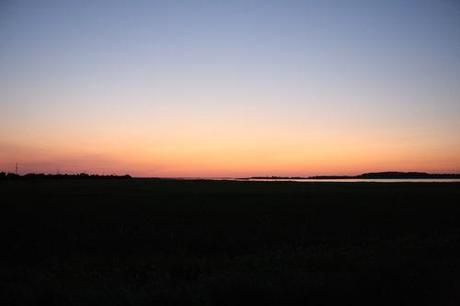 Something that I always hate about guides is that they never tell you to go to the place where you are staying FIRST, which is literally what any rational tourist does. So I'm going to rectify that by doing the following: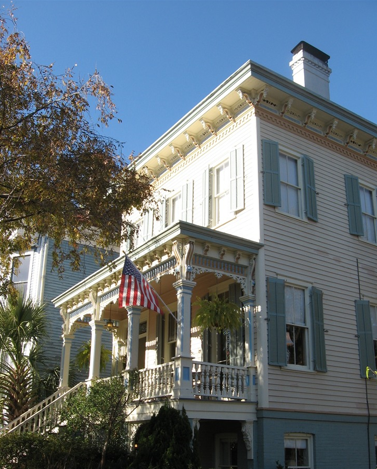 12pm: Check into the Catherine Ward House Inn on 118 East Waldburg House, half a block away from Forsythe Park. 
There are myriad bed and breakfasts in Savannah, but most have that creepy, stuffy, dusty feel to them on the inside, like they were decorated by old maids with doll collections. The first place we stayed in, in fact—an apartment in Troup Square—was owned by a secret doll hoarder, who stuffed her collection in the closet to prepare for our arrival. Throughout the week we stayed there, I frequently came upon them, dangling from the tops of cabinets, hidden underneath pillows, staring at me like they wanted to kill me. Although she claimed that the place was booked through the summer, when we turned on the water, it was so full of stagnant sulfur that it smelled like fucking Lagos, and I could poop in there without fear of grossing Caleb out. In other words, the dolls own that place, and I have a feeling they didn't fucking like that we were there.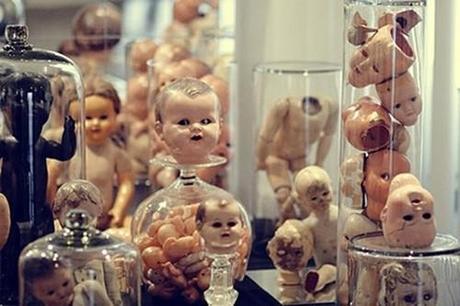 Killer dolls aside, the apartment was nice, but nothing compared to the Catherine Ward House, which was so gorgeously appointed that I showed Caleb a picture of it on my iPhone, and he said, "Wow, I could live in this place." And I said to him, "Caleb, we are sitting on a bed in this place right now."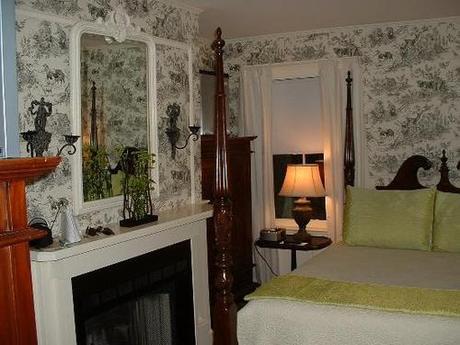 Caleb actually, in college, lived in the house next door to the inn, which at the time was owned by two bears who wore chaps and rode Harley-Davidsons. Today, it is owned by a woman from Seattle, who keeps it so clean that I literally would lick off the floors. It's in a beautiful, High Victorian mansion, with a carriage house in the back, and tons of porches. It has that kind of rich person, sleek interior feel to it, with more modern furniture dotted in among the many antiques.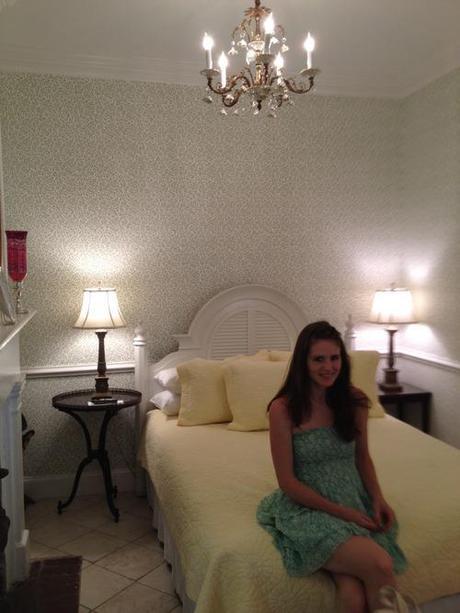 We stayed in the carriage house, in the smallest room, because we were with Franke. The room was tiny, but beautiful, all decorated in yellow, and lit by a crystal chandelier. When we first arrived, the owner took us to the room above us, just so that we could see it, which was pure luxury. It even had a flat screen tv concealed behind a mirror. Think Hamptons spread in Architectural Digest. Think good taste.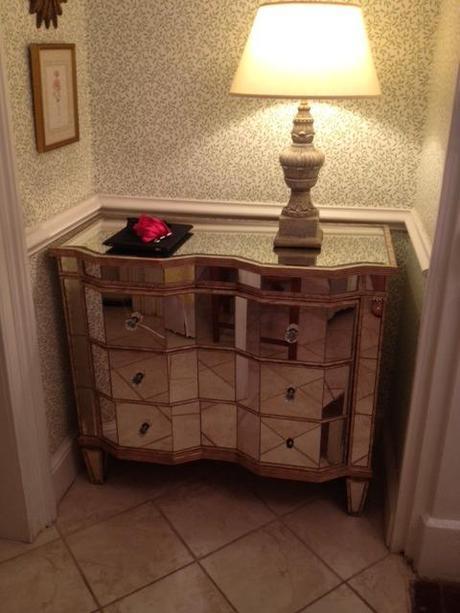 Every morning, a woman who works at the inn—I forget their names, which I feel terrible about—cooks a sit-down breakfast. She worked as a chef, and she is very talented. The meal started every day with fresh fruit topped by whipped cream, coffee, fresh squeezed orange juice, and water. Then, the cook served a main course. In the two mornings we ate there, we had praline french toast, and scrambled eggs with country bacon and fried potatoes. Delicious.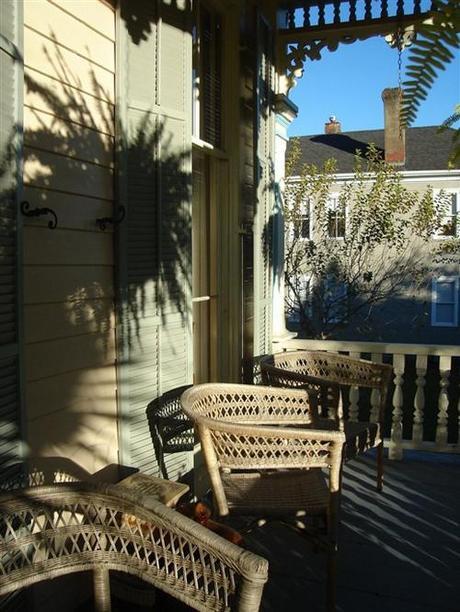 Not only is the place beautiful and clean, it's also extremely affordable. Our room was only $159. Suites, I believe, cost as little as $250. It's also very centrally located—Forsyth Park is located right in the center of town.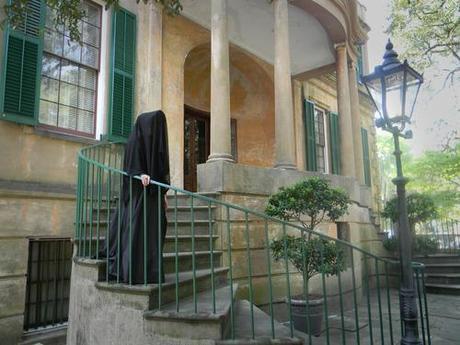 1pm: I personally find the interiors of most colonial homes to be dark, dank, and depressing, but you'll feel like an asshole if you don't go on a tour of a few of them in Savannah. If it's not too hot after you check-in, walk to the Owens-Thomas House, considered to be one of the finest examples of English Regency architecture in America, and buy a day pass from Caleb's sister-in-law, who works there.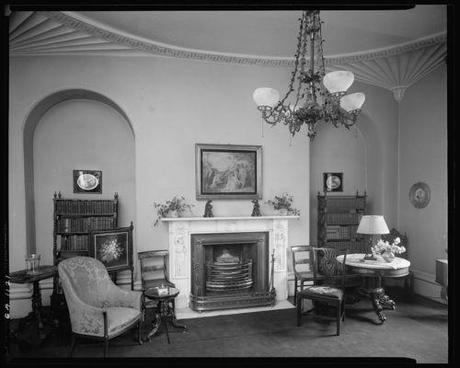 The house is owned by the Telfair Museums, so a pass will get you into the Jepson Center as well, which is 3 squares away.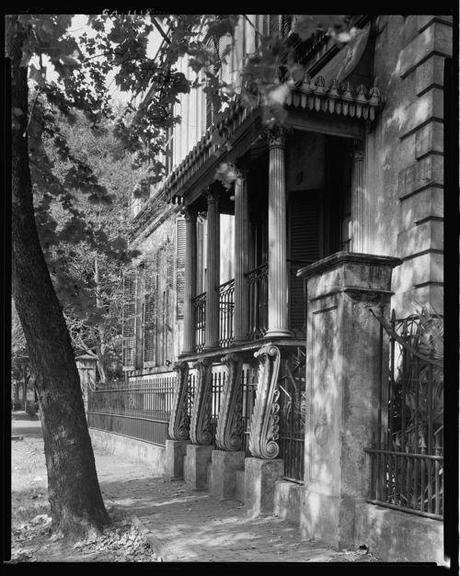 On the inside, it's mostly pretty symmetrical and dark, minus a few beautiful touches, including a bridge over the grand staircase on the second floor, and a yellow stained glass art deco window, built in the early 1820s, over the bar in the dining room. I suspect that once you've seen it, you'll have your fill of house tours, although you might also want to check out the Mercer Williams House, where an extraordinarily creepy Kevin Bacon lived in Midnight In the Garden of Good and Evil.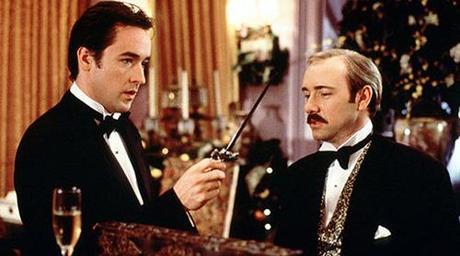 Apparently, the house was broken into apartments during the dark years in the 20th century—whereas the Owens-Thomas house was lived in by a single owner until the 1950s—but I'm sure it's fucking beautiful or whatever.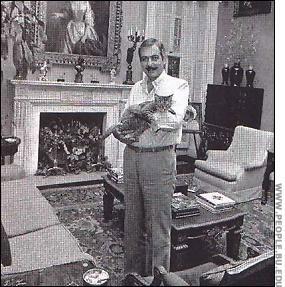 2pm: This is a little late for lunch, but why don't you stop complaining, and eat a fucking snack.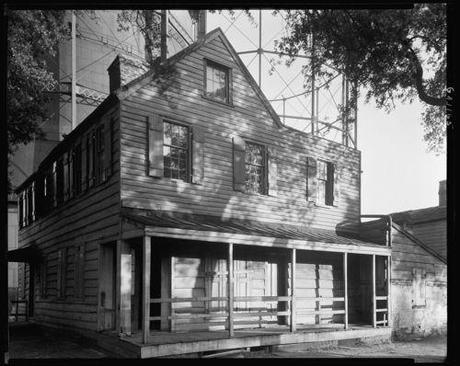 1790 Restaurant is located on the opposite corner from the Owens-Thomas House, which makes it a great stop for lunch. It's also the restaurant where Caleb took his date before his senior prom. It's located in one of the most famously haunted inns in Savannah. Apparently, a bride killed herself by flinging her body into the courtyard on the interior in the early 19th century. Today, according to our waitress, unsuspecting people will ask her if there is a wedding at the inn, because they'll see her ghost walking around the interior.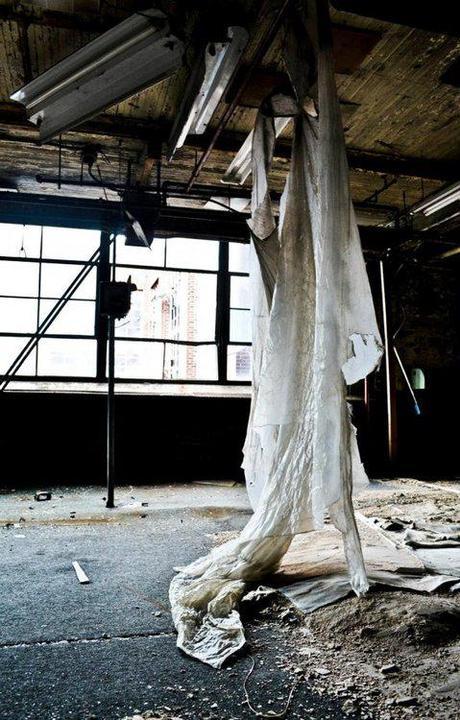 I kind of believe in that shit after a few spooky encounters during my time in Savannah. Our lunch at 1790 was relatively uneventful, however, but the food was quite good. Eat the friend green tomato BLT with the onion rings, which are beer-battered, and come out piping hot. The bar is also great for happy hour, but I'm sending you somewhere else on my 36-hours, so go there only if you have fucking 48.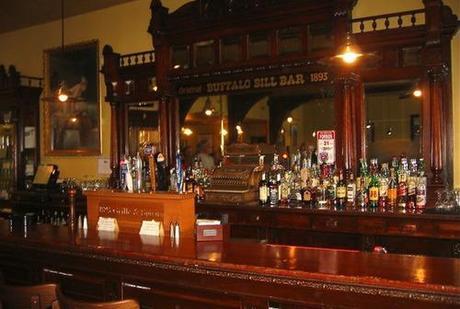 3pm: There are myriad cultural attractions that you can check out in Savannah. I personally would recommend spending the next two hours at the Jepson Center, which was designed by Moshe Safdie, an architect most famous for Habitat 67, a revolutionary housing complex built in Montreal during the 1967 World's Fair.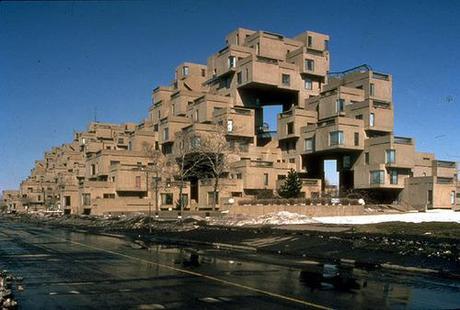 Currently, the Center is staging an exhibition of works by Howard Finster, who is a COMPLETE wackadoo.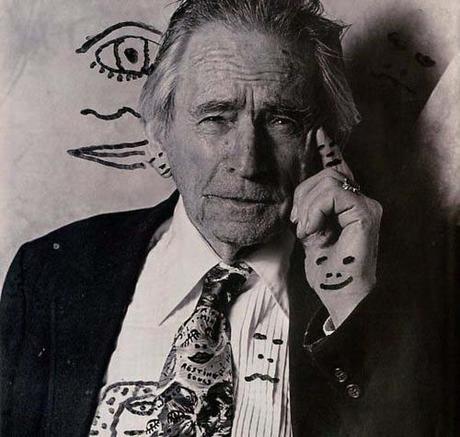 When I told Caleb I loved it, he told me: "You only like it because you like anything crazy people do." And I said: "So what."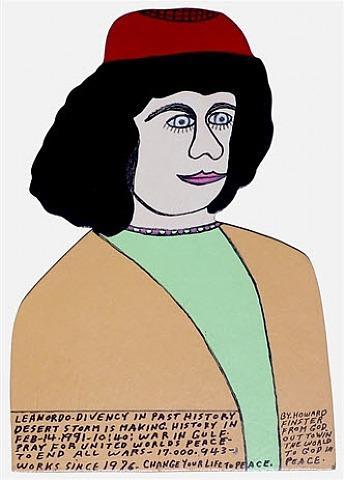 But Finster is for real. He was featured on the Johnny Carson show playing the banjo, for instance, and his art was used on a Talking Heads album cover. So there.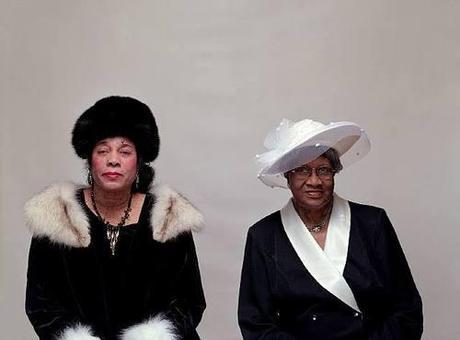 The Jepson Center also had a fairly decent photography collection, featuring many Southern photographers, as well as a few SCAD alumni. The one above is by Julie Moos.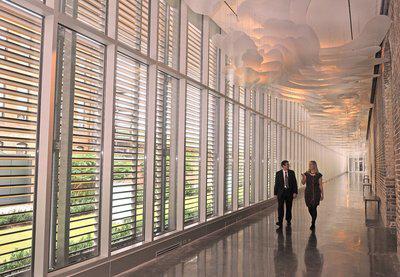 Some people will tell you to also check out the SCAD museum, which recently opened its doors after a huge renovation. I would say, unless you live in the boondocks, and have never seen an contemporary art exhibition, you can skip it. The programming seems 10 years dated, focusing mainly on textiles, easy installations, dated mediums, and Fred Wilson. The curators are wonderful, and the space has a lot of potential. They need to be more daring, however, and less taken by big names from New York.
4pm: After you go to one of the two museums—and seriously, who goes to a museum for longer than an hour, unless they are a masochist?—you should go to Red Clover, a store with extremely affordable prices. I got a killer maxi dress there for $50.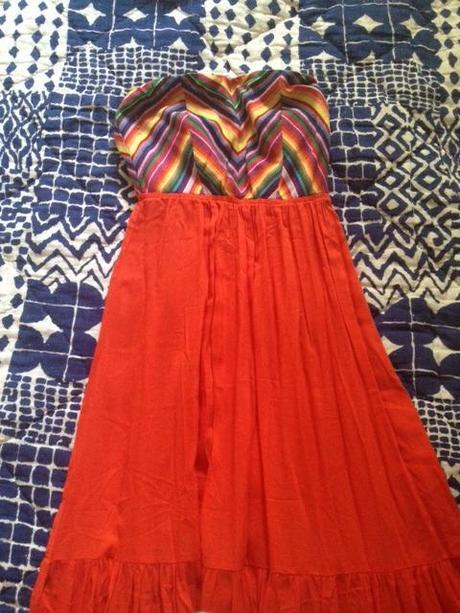 If you're a boy, and don't want to go shopping, there's a great little pub across the street. So shut your mouth, and stop complaining, but not while you drink the beer at the pub, because then you'll spill it all down the front of your shirt.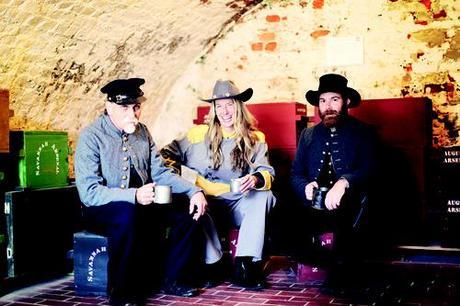 (How stupid is this picture?)
5pm: If you're in the South for more than 5 minutes, you'll quickly find that people down there drink at least 5x as much alcohol as people in New York. They do it slower, sipping Bud 55's in the afternoon, and then moving onto the stronger stuff when it gets dark. I say skip the bullshit light beers, and go directly for the grain alcohol at Wet Willie's, where you can get alcohol in cups to go. I was only allowed to have the strawberry daiquiri by my boyfriend, who recently discovered that my 10% functional mind-to-mouth filter becomes 0% when I've been drinking. But the "Call A Cab" is supposed to be delicious.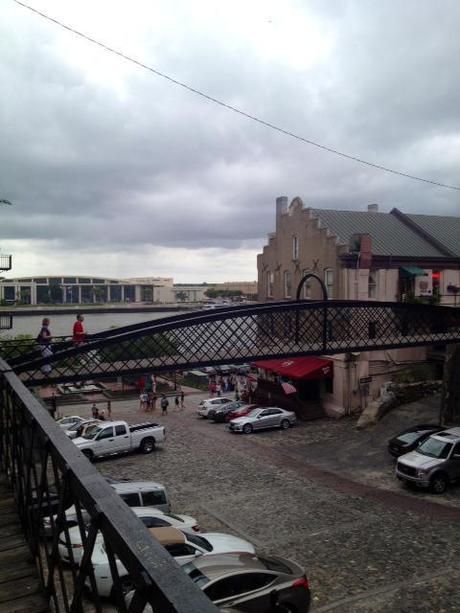 Bring your drinks to the river, where you can stroll along the waterfront. Trust me, you'll only need to spend a little bit of time there, because it's touristy as shit. Focus instead on the old staircases and iron bridges that connect the city, located on a bluff, to the shoreline. If you have time, check out the antique stores that line the river. I found a mink stole there for $95, which i regretfully did not buy.
6pm: Head over to Jinx, for Happy Hour, which used to be called the Velvet Elvis, and is Caleb's favorite dive bar in Savannah. There, you can watch great live music, admire people's tattoos, and sometimes catch a knife fight.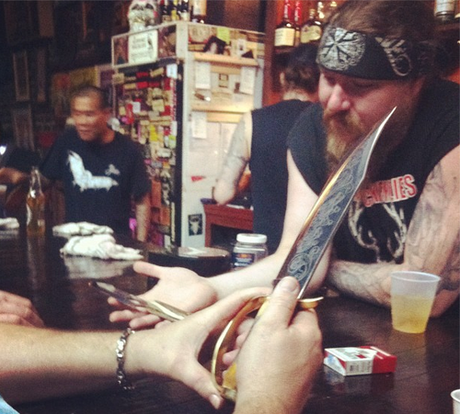 If you're in Savannah on a Saturday, don't miss Caleb's friend Igor's band, Damon and the Shitkickers. They play every week from 6-8pm. They're full on country—Igor plays the pedal steel, and the lead singer wears a cowboy hat—and they are awesome.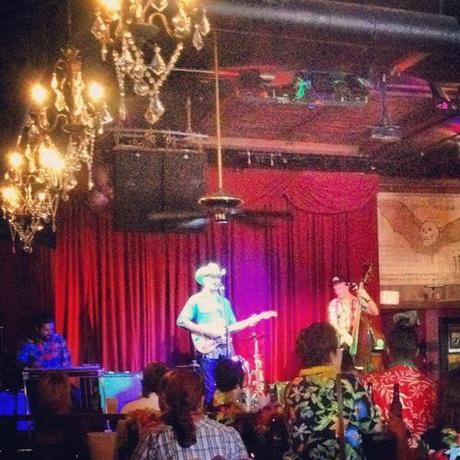 If you're not listening to country music when you're in the South, then listen to Southern Rap, and if you're not listening to that, then do you even have a right to exist?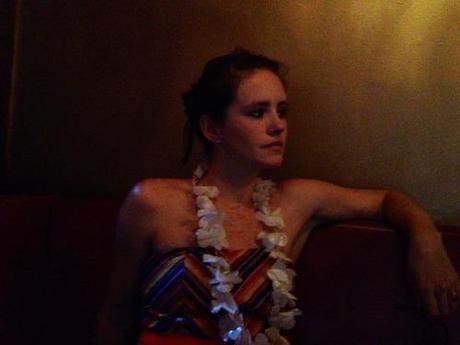 When Caleb and I were there, I was forced to drink cheap beer. But I also had a "Fireball" shot, which which down like a piece of candy, and was all-around delicious.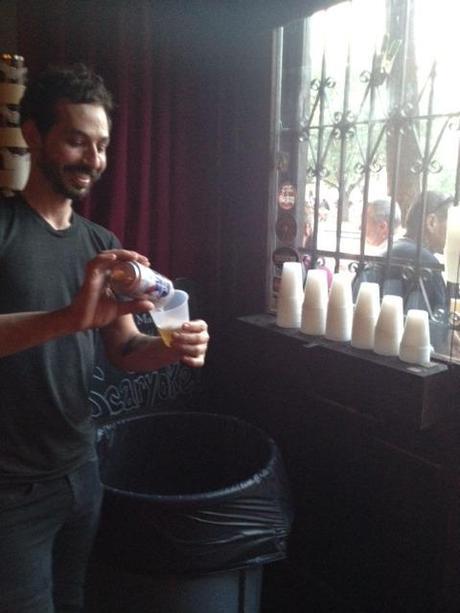 Oh, and also, if you don't finish your beer, they give you take-out cups at the exit. Savannah is one of the few towns in America where you can still walk around with open containers of alcohol.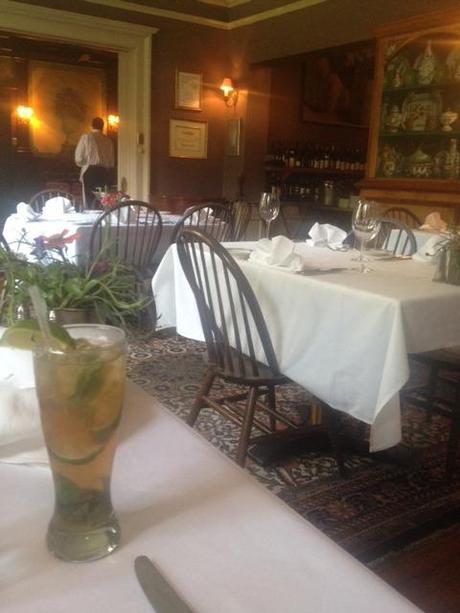 8pm: Usually, when I go to cities, I tend to avoid the restaurant that everyone says to go to, because it usually sucks. But Caleb and I ate at Elizabeth on 37th, a restaurant recommended in every tourist guide, during the senior citizen hour (6pm) one night, and the food was honest to god, fucking delicious.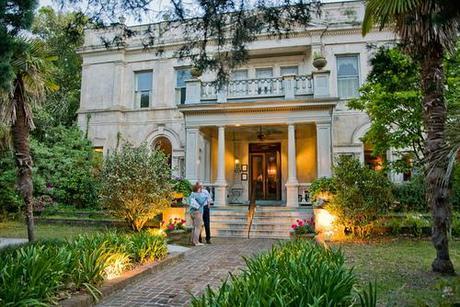 Elizabeth on 37th is located in an old, grand, white-columned mansion, and it's one of the only places in Savannah where it's appropriate to really get dressed up. The service is a little weird—I think that we had no fewer than 4 servers although the restaurant was almost completely empty—but the food is Southern Comfort gourmet.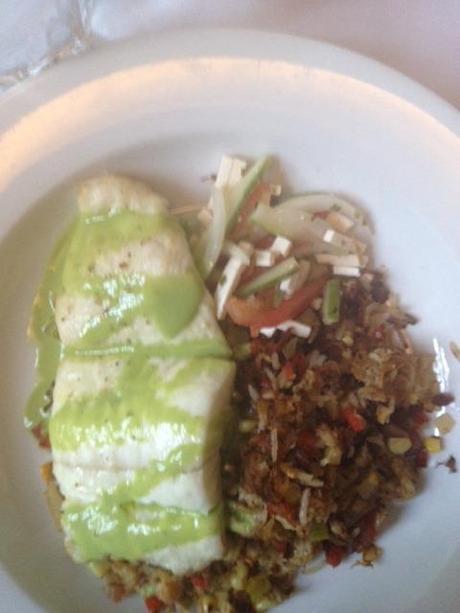 (Could I have taken a more disgusting photograph of my meal? Probably not.)
Caleb and I started with peach-based cocktails. Then, we had cheddar biscuits, mussels, a small green salad, an incredible gazpacho with crab, and fresh fish entrees. I'm the worst at remembering what I ate, but all that I can remember is that my fish was served over a bed of basmati rice infused with corn, bacon, and crab meat. I promise you, the meal is worth the steep prices. And the wine list, although it trends more towards sweet German whites, is definitely sophisticated.
Anyway, I'm not a fucking food blogger, so you probably shouldn't listen to me. Right? Wrong. You should especially listen to me because I'm not a food blogger.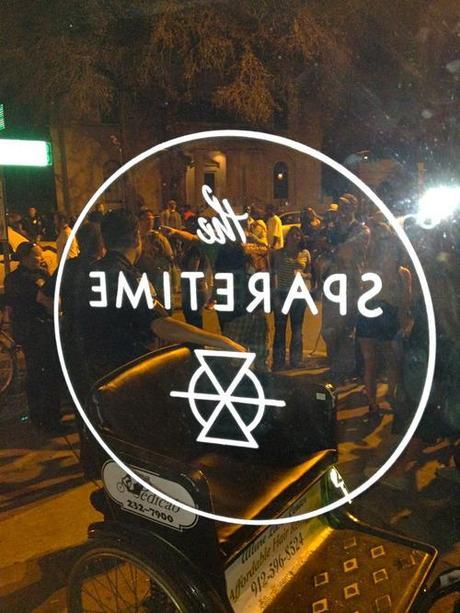 10pm: My favorite place to get drinks in Savannah was The Spare Time, which is owned by one of Caleb's dear friends, Clara. But you shouldn't go there because Clara is the epitome of cool, or because she is a friend of Caleb. You should go there because it's the only bar in town where you can get a truly great cocktail. It's also the place to be if you're young, cool-looking, and like to drink.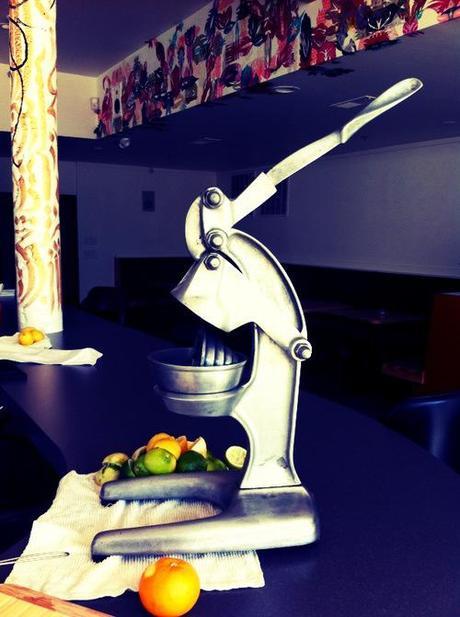 (PS I stole all of these pictures off their Tumblr! Sorry.)
Clara once owned a restaurant in Savannah called The Metropole, where Caleb was the head waiter. For a while, it was the only foodie place to eat in the city, but it got shut down when the building where it was located—an old Greyhound station—started to crumble. Although The Spare Time is technically a bar, they serve some light food, all of which is delicious. I recommend the pesto pizza most of all. Wash it down with the Corpse Reviver No. 2, or an Aperol spritz.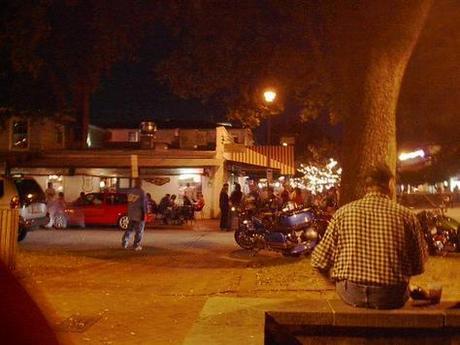 11:30pm: If you don't like fucking relaxing, you can cram in another activity before you go to bed—getting a slice of pizza from Vinnie Van Go Go's—to soak up all of the alcohol you're drinking. It's located at a diagonal from the Spare Time.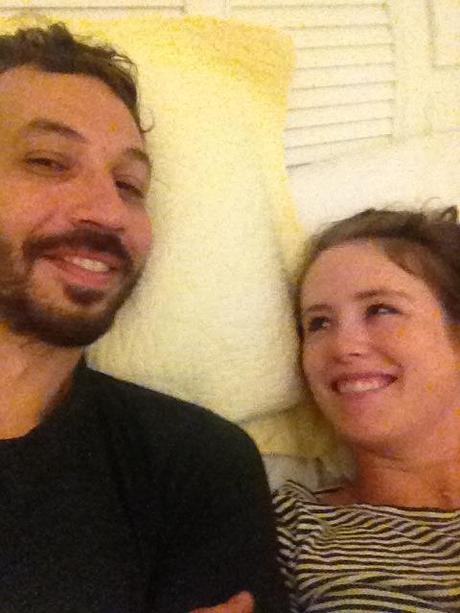 When Caleb was at SCAD, it was the place to be. Mr. R also worked there. In my humble opinion, as a true blue fucking New Yorker, the pizza sucks. But if you went to college—not a given in the South as it is up here—you'll feel the same kind of fondness for it as you did for your college town's late night pizza joint. When you went back there for a reunion it sucked too, be honest.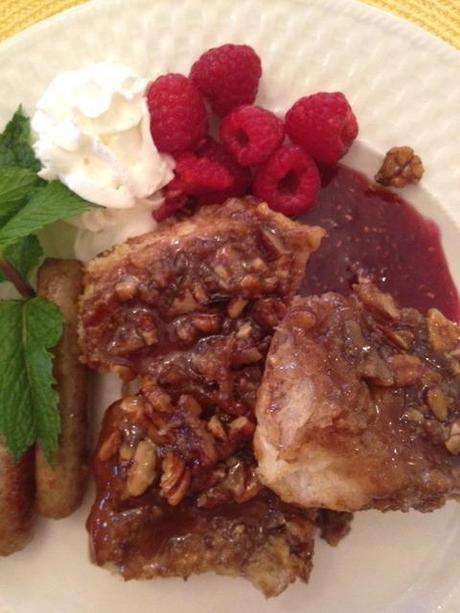 9am: Don't even ask me for a fucking brunch recommendation. Be honest with me. Have you really ever had a truly awesome brunch? No, because brunch is the worst meal. Secondly, I already told you that you're eating at the Catherine Ward House, which has delicious BREAKFAST.
10am: One of the most underrated things about Savannah is that it's located in Chatham County, right on the beach. It only takes about 20 minutes to drive from the dead center of town out the Tybee Island, which faces the Atlantic Ocean. The drive, which winds through the marshes, is absolutely gorgeous. During high tide—the tides in Savannah ebb and recede almost 9 feet daily—the sun glistens on the water, and during low tide, you can see the oysters, clams, and mussels breeding in the muddy banks.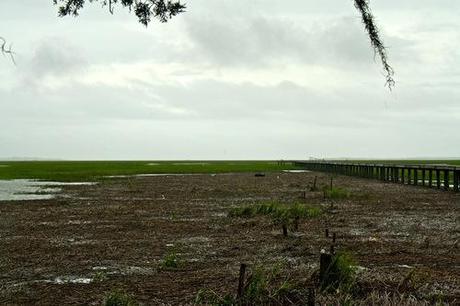 Start your day by driving out to North Beach in Tybee, which looks like any beach in the Northeast, only without the crowds or supervision. Located at the mouth of the Savannah River, during high tide, the waves are great for surfing, and during low, the beach is littered with shells. Unlike the waters farther north, the ocean feels like bath water, and, if you were so inclined, you could stay in it for hours.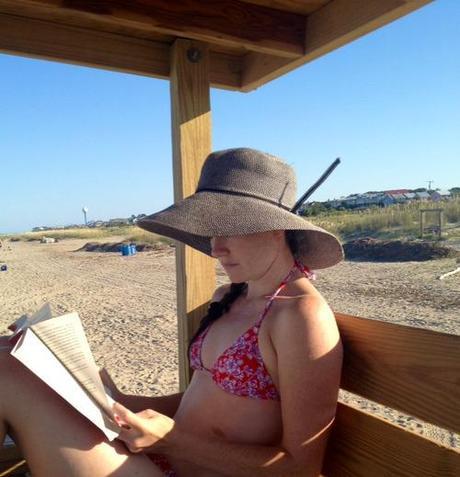 (Posting this picture just made me throw up. But it's the only one that I have of me reading.)
All across the beach are stands to rent chairs, and beach swings, as well as empty lifeguard stands that are perfect for reading.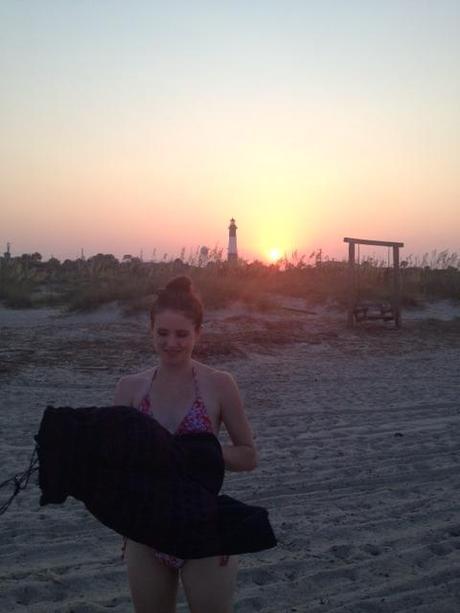 Caleb and I went swimming on Tybee almost every day. His Aunt Freaky and Uncle Lock live in a little bungalow a block away from the ocean, and they lent us bikes. Freaky likes to believe that we came to see her every day for that reason alone, but actually, it was because I loved spending time with her. She's super-sweet with an edge, and like me, she loves crazy people.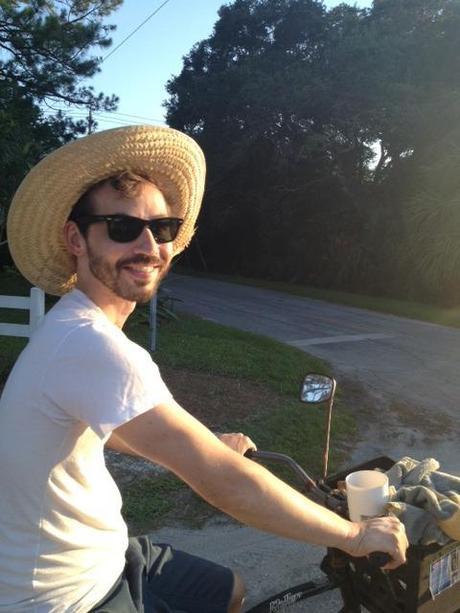 If you can rent a bike, do it. Otherwise, drive down the roads, lined with Spanish moss, that wind to the entrance to the beach, which is located next to an old Spanish-American war fort.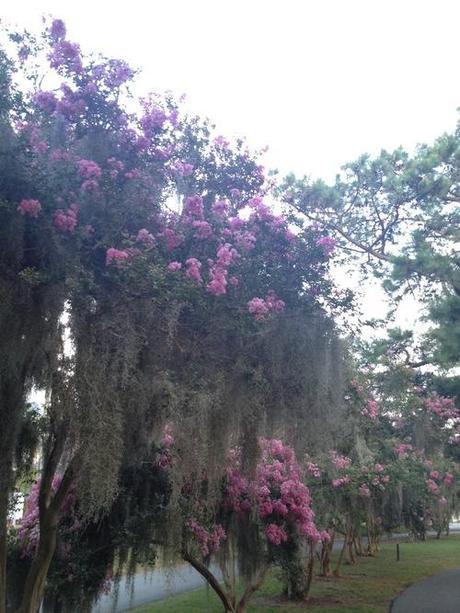 There's one particular road—Officer's Row—that is lined with gorgeous white mansions.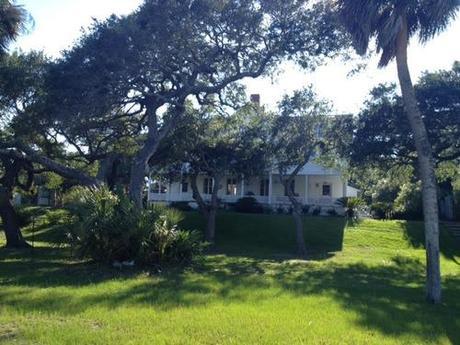 I swear to God, before I die, I will own one of those places. I'm already taking applications for handmaidens to accompany me.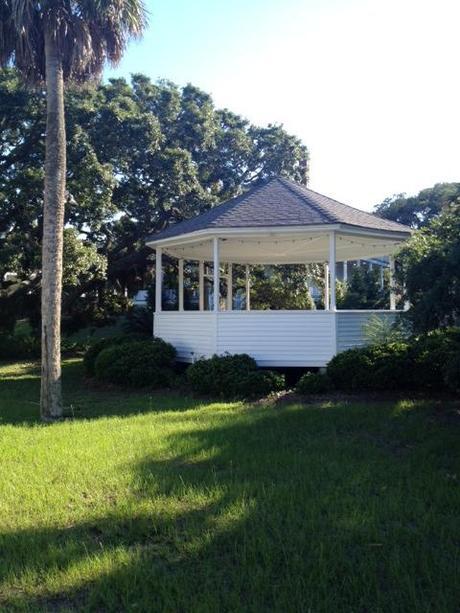 12pm: There are some places to eat on the beach itself—North Beach Grill, in particular, is supposed to be great. I personally would recommend the Sugar Shack, where I by accident ordered a mint chocolate chip ice cream cone that weighed over a pound. I ate all of it.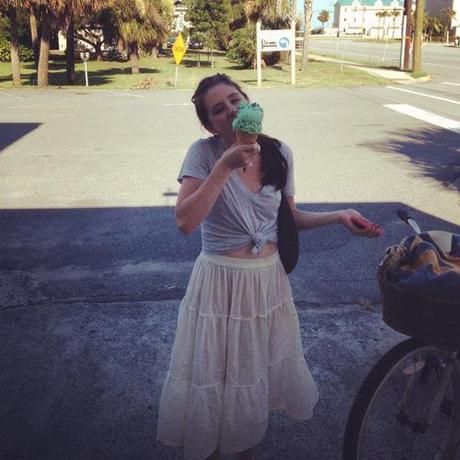 But you'll have to drive a little ways to get to the next place I'm leading you, so you might want to consider going to Tubby's, where Caleb and I ate a number of times. Before condos were built in front of it, effectively block it's view of the river, it was the place to be. It has wonderful fried shrimp and sweet tea, as well as a porch with rocking chairs if the weather isn't too steamy.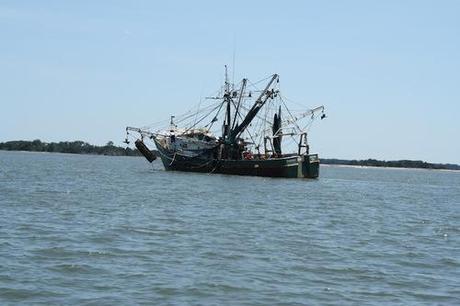 1:30pm: Finish lunch early before heading to Hogan's Marina, located on Wilmington Island, where you'll catch a boat. But take some time on the drive there. The waterfront next to the Marina is full of gorgeous old mansions with neon red roofs, one of which belongs to Paula Dean. It's also home to the former Sheraton Savannah Resort, which was built during the depression era. I find it to be an eyesore, but it was reputedly the clubhouse for a number of gangstas including Jimmy Hoffa, who is rumored to be buried underneath the helicopter pad.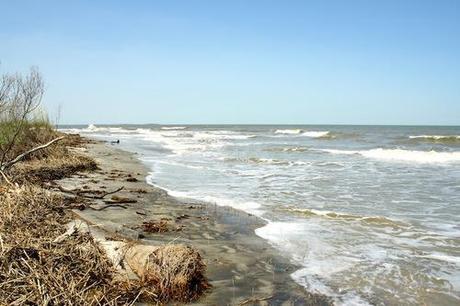 2pm: Renting a private boat at Hogan's Marina is expensive, but it's worth it to get out on the water, where dolphins literally will come eat out of your hands. The Savannah River is full of all sorts of ancient shipwrecks, many of which are now shark holes, and it bleeds, wide and quick, into the Atlantic Ocean.
Caleb and I went out with his brother's friend Brian, who owns a charter boat. I think I've mentioned it before, but Caleb is a twin, and his brother, Cage, was born and raised a fisherman. He still knows everyone with a boat in Savannah, so we were lucky to get a ride for free.
The fisherman in Savannah are delightfully leathered by the sun, and extremely laid back. Brian, during our trip, made his way through a six-pack of Bud Light, which was relatively light drinking for his kind.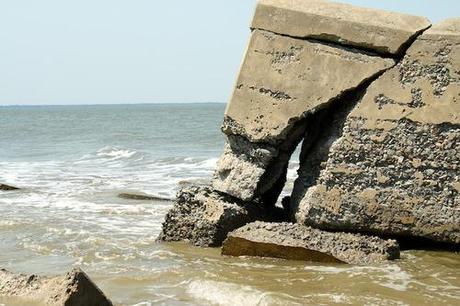 He took us to Wassaw Island, a wildlife preserve with almost 7 miles of undeveloped beaches. During high tide, the water met the forest, and the river met the ocean, in white-foam capped swells that roared over my feet. Brian left us for an hour, to go fishing, and we walked along the coastline, to an abandoned Civil War Bunker marooned in the low waters. It spooked me so much that whenever Caleb would get ahead of me, I'd get the chills, and race up to grab his hand.
There's almost no where left in the world where you can really experience wilderness. This was one of those rare places. I'm not necessarily one for braving it. You could have paid me $1,000,000, and I still couldn't have made it through the night on Wassaw. I would have swam back to shore, shark holes and all, just to escape the bunker, and the ghosts that live within it.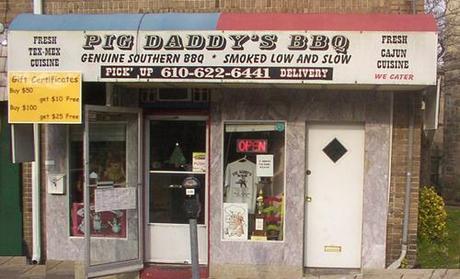 6pm: If your boat captain doesn't invite you to grill the flounders you've caught back at the docks, you should find yourself a great BBQ place in town. One place we particularly liked was Blowin' Smoke BBQ, although we didn't do much research. Get the pulled pork, mac and cheese, and fried okra there. Or go to Desposito, which serves all manner of boiled seafood, fresh off the docks.
Everyone told me to go to the Crab Shack, but Caleb maintains that it's the worst place on earth. He claims they serve frozen seafood. I'll hold my judgment until I get there, but it's worth mentioning that both him and Freaky vehemently recommend against it.
Your 36 hours are almost up, so you should head back to the Spare Time and get wasted. 
A few things that you could also do, that I didn't have a chance to mention: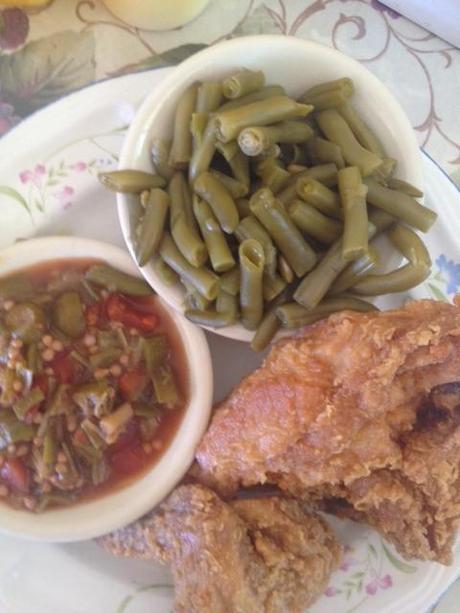 Go to a cafeteria style restaurant. There are many of these that are tourist traps, but also many that have great Southern comfort food. Caleb and I went to the Holland House, which had tasty fried chicken, but also kind of grossed me out. I drank mostly sweet tea there.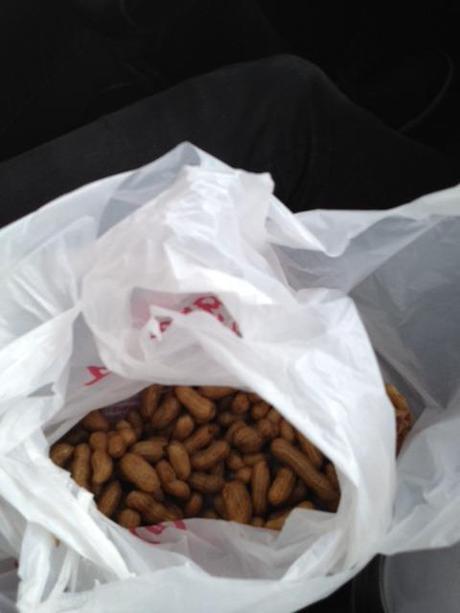 Stop by a roadside stand, and buy boiled peanuts (delicious), and ripe peaches.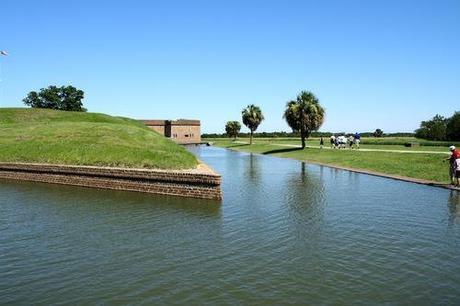 Fort Pulaski was my favorite ineffectual Civil War monument in the city. It's located on the causeway between Tybee and Wilmington, and if you want, you can picnic there.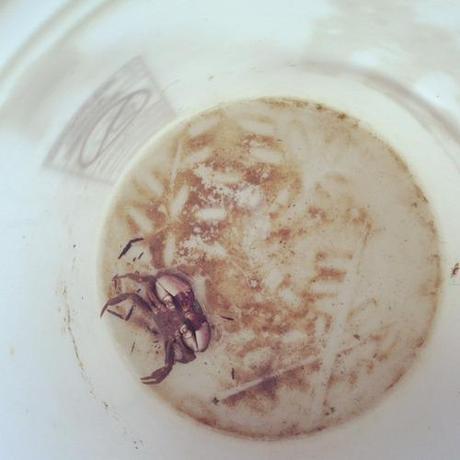 If you can get out on the creeks, rent a canoe or kayak. When you get back, cast crab nets off the dock, and drink a beer while you wait for one to bite.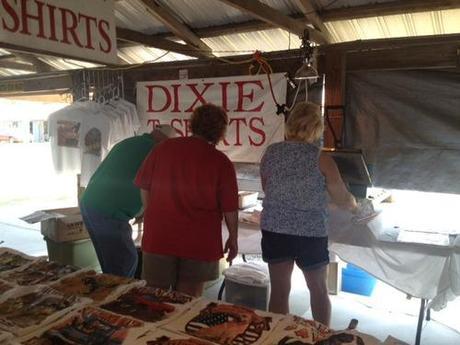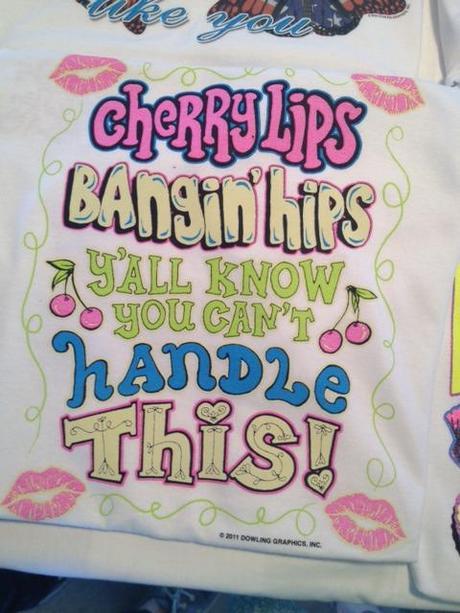 .
Keller's Flea Market is both disgusting and thrilling. It's a huge marketplace for red necks, and they serve all manner of things you don't need, from XXXXXXXL t-shirts, to puppy mill puppies, to home-made bullets, to fresh fruit.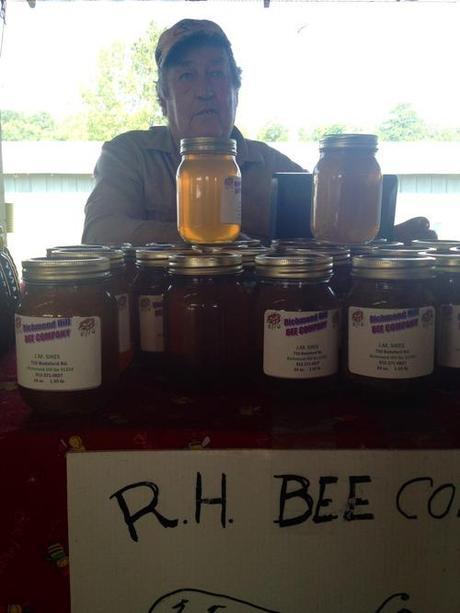 It's worth it to go to see how people live outside of the city.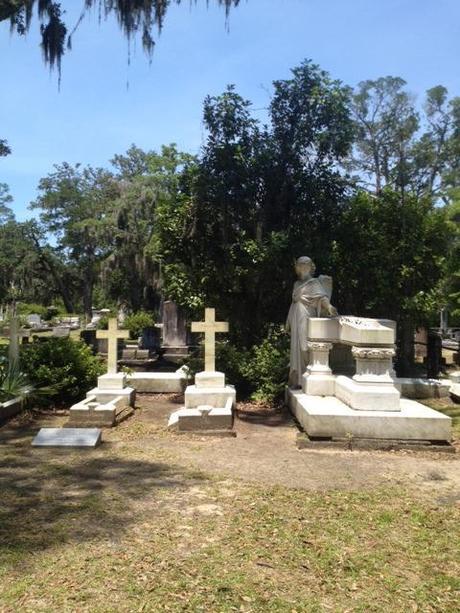 Avoid the ghost tours, but drive around Bonaventure after dark. Or during the day. Or never, if you're a pussy like me.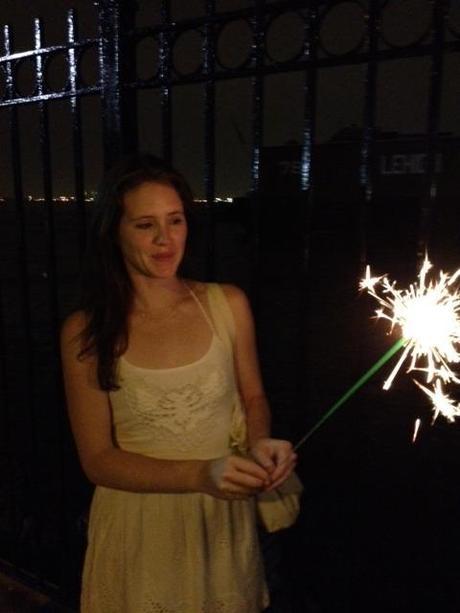 MAN I am fucking fatigued from putting this together. It took me the entire fucking day! There are like 100 pictures in this fucking post, most of them terrible. If you go to Savannah, I hope you find this helpful, and if you don't, then I'll come y'alls house and pop a firecracker under your ass for wasting my time. KIDDING. Minding myself.