30 minute meals that are perfect for Meal Prep Sunday! Keep your kitchen prep time minimal with these quick healthy meal prep recipes. Lots of protein options including chicken, seafood, beef and vegetarian.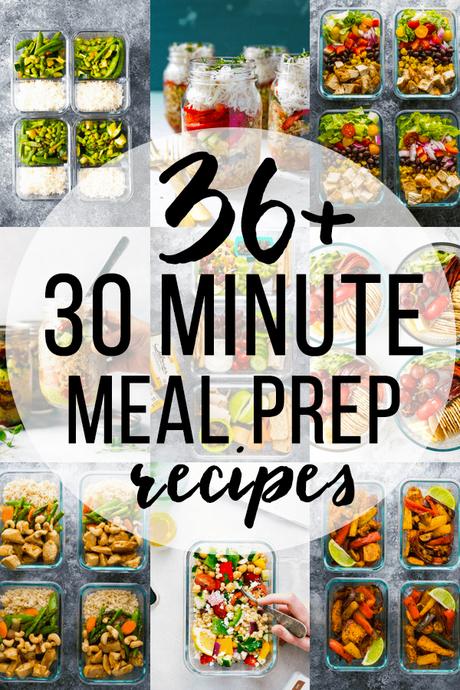 Looking to get your meal prep done and get out of the kitchen as quickly as possible? I'm with you there!
Especially when I'm prepping multiple meal components like breakfasts, lunches and snacks (you can read all about My Weekly Meal Prep Routine here, and you might also be interested in my How To Meal Prep for the Week post!), I really like to make sure the recipes I use are simple and effective. 30 minute meals? That's my jam.
Today I'm rounding up some quick meals from around the web. It's so great to see so many meal prep recipes out there these days, because back when I started meal prepping, there weren't so many great meal prep recipes…I saw a whole lot of poached chicken and steamed veggies. Today's meal prep recipes? They all look absolutely delicious!
Tips for 30 minute meals:
use your appliances- I love using my Instant Pot and my rice cooker to prep meal components while I'm busy with other things
use 'non recipes'- if I really want to be quick, I just assemble ingredients and call it a meal. Bento boxes with pepperoni sticks, cheese and veggies = a snack. Trail mix is another easy one. Overnight oats are great for breakfast.
purchase prepared ingredients- pre-cut vegetables or pre-made dips/sauces are super convenient
Let's talk about today's 30 minute meal prep recipes…because they are all so delicious looking! We've got sheet pan recipes, mason jar salads and stir fries. Some are served hot and some are served cold. Some of these meal prep recipes are vegetarian or vegan, some have seafood and some have chicken or beef. Basically, there are 30 minute meals for everyone out there!
And the best part is that these meal prep recipes are all quick and healthy. Should we get on with it already?
Let's check out these 30 minute meal prep recipes!
Continue reading: 36+ 30 Minute Meals for Meal Prep Sunday