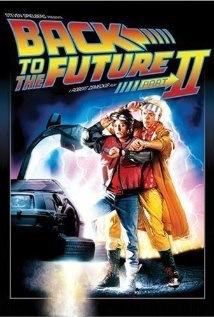 Director: Robert Zemeckis
Writer: Robert Zemeckis, Bob Gale (Screenplay)
Starring: Michael J Fox, Christopher Lloyd, Lea Thompson, Thomas F Wilson, Elisabeth Shue, James Tolkan, Jeffrey Weissman, Billy Zahn
Plot: After visiting 2015, Marty McFly must repeat his visit to 1955 to prevent disastrous changes to 1985… without interfering with his first trip.
There may be spoilers the rest of the review
Verdict: Adventure Continues
Story: Back to the Future Part II starts where the first Back to the Future ends with Doc Brown (Lloyd) Marty McFly (Fox) and his girlfriend Jennifer (Shue) going into the future, only this time Biff (Wilson) witnesses this happening. They travel to the year 2015 where Marty has to stop his son from going along with Griff's (Wilson) plan which ends up with him in jail.
With the plan successful and the future changed Biff gets his hands on the time machine where he goes back to a young version of himself handing himself a chance to make money and rule the town.
This leads to Marty having to go back to prevent this happening and putting everything back into place so they can end up living their normal lives again.
Back to the Future Part II continues the adventure that we all loved without making it all too over the top. We get to have a story that is built around the existing story without interfering in it and even ends up entering into the idea of questioning time travel. I think this is one of the best sequels that doesn't get as much love as it could do.
Actor Review
Michael J Fox: Marty McFly is the same teenage hot head that won't step away from a challenge, this time he goes to the future to stop his son getting into trouble only to get himself mixed up having to change the past yet again when Biff finds out about the time machine. Michael gives us a great performance as Marty that will still get known as one of his best.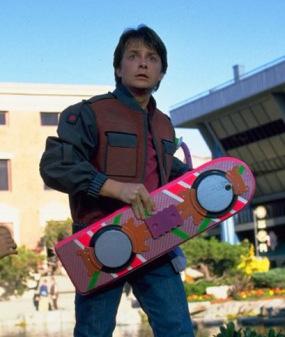 Christopher Lloyd: Doc Brown is our eccentric scientist who has created the time machine, he comes back from the future to help Marty change his child's future but when things have changed he has to find a way to correct the changes made. Christopher gives us a building on an iconic character that is now part of everyday reference.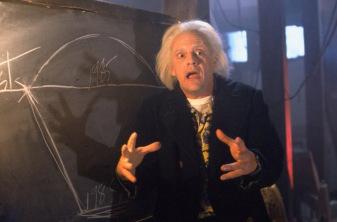 Thomas F Wilson: Biff is the high school bully of Marty's father who after the events of the first film is now finally just a slacker doing odd jobs, but when his older self learns of the time machine he travels back to young Biff to help him make him rich. Biff now runs the town and his Marty's step father controlling the whole town. Thomas gives us the best performance in the film and really should get more praise for these characters he has to play.
Support Cast: Back to the Future Part II has the supporting cast from the previous films through the time periods, be it Marty's parents, girlfriend of Biff's bully friends. They all help to increase the fun in the adventure in their own way.
Director Review: Robert Zemeckis – Robert returns to bring us a continuing chapter to the adventure that is left open once more.
Adventure: Back to the Future Part II brings us an adventure that goes through time itself reaching new levels to the previous outing.
Comedy: Back to the Future Part II has good use of comedy to lighten the mood in what is actually a very serious story line.
Sci-Fi: Back to the Future Part II has to be one of the best uses of sci-fi ever made with the use of time travel.
Settings: Back to the Future Part II creates the future, past and alternative reality really well to show the good and bad side effects of time travel.
Special Effects: Back to the Future Part II has brilliant effect for the time period showing they are still believable today.
Suggestion: Back to the Future Part II is one to watch but I would say watch them all in order first. (Watch in Order)
Best Part: Handling of Time Travel
Worst Part: Being picky, I don't like the cliff hanger ending.
Action Scene Of The Film: Hover-boarding.
Favourite Quote: Doc Brown 'Roads? Where we're going, we don't need roads. '
Believability: No
Chances of Tears: No
Chances of Sequel: Middle part of trilogy
Post Credits Scene: Yeah.
Oscar Chances: Nominated for One Oscar
Box Office: $118 Million
Budget: $40 Million
Runtime: 1 Hour 48 Minutes
Tagline: Roads? Where we're going, we don't need roads!
Trivia: Renowned scientist Carl Sagan considered this the greatest time travel movie ever made. He praised the accuracy in handling the multiple time lines as what would really happen if time travel were possible. In Back to the Future: The Game, Carl Sagan is the alias used by Doc Brown when visiting Hill Valley in 1931.
Overall: This is how sequels should be made.
Rating