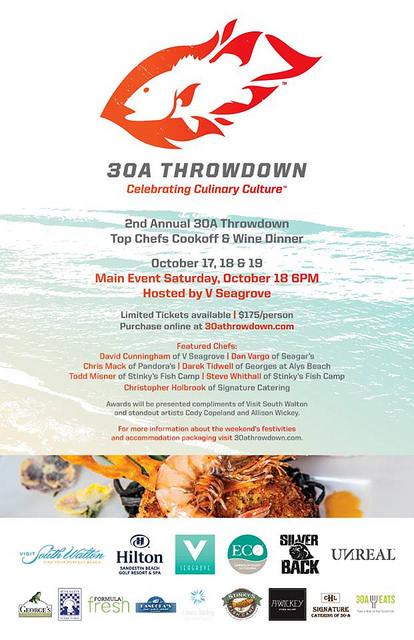 30A Throwdown Top Chefs Cookoff at V Seagrove: Oct 17-19, 2014
Local top chefs will compete at the upcoming 30A Throwdown 2014 Culinary Cookoff at V Seagrove.
The 3-day weekend event, slated for October 17-19, will feature award-winning chefs showcasing their creative takes on sublime cuisine including Gulf Coast seafood. On October 18, competing chefs will "throwdown" their exquisite pairings for the evening's ticket holders at V Seagrove. The dinner starts at 6 pm and will feature five courses paired with select wines.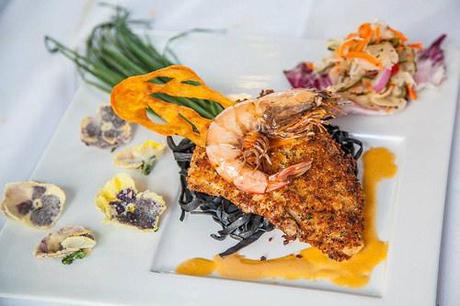 Featured in this year's lineup are last year's winning chefs, David Cunningham of V Seagrove and Dan Vargo of Seagar's, along with Chris Mack of Pandora's, Darek Tidwell of George's at Alys Beach, Todd Misner and Steve Whithall of Stinky's Fish Camp and Signature Catering of 30A's Christopher Holbrook.
Celebrated judges and locals will be on hand to decide the winners, and 30AEATS.com's Susan Benton will be one of those honored to sit on the panel. Awards, including People's Choice and Critic's Choice, will be presented compliments of Visit South Walton and standout artists, Cody Copeland and Allison Wickey will also be on hand.
For the complete weekend event schedule and tickets go here.

Friday, October 17:
Chef Collaboration VIP Get together with Chef Dan Vargo at Seagar's with Co-host David Cunningham of V Seagrove, 7pm
Saturday, October 18:
Top Chefs Culinary Cookoff and Wine Dinner at V Seagrove, 6pm
Sunday, October 19:
Yogimosa morning reflection, 9am
Yoga, juice session with special guest Prudence Bruns at The Green at V Seagrove
Tickets are very  limited and are available for purchase here. Make plans to attend this rare event and experience the taste of Gulf Coast seafood at its best.
To purchase tickets or for more info, visit 30A Throwdown.