If you have the privilege of being the maid of honor or best man, you will inevitably have to give a toast at the wedding reception. Writing the speech is one thing, but coming up with inspiration and touching wedding toast quotes can be a bit of a challenge.
The wedding toast is your chance to honor and show your love the newly married couple. So of course, you want your speech to be witty, sentimental and most importantly from the heart. Telling your best friend how much you love them when it is just the two of you is one thing. Making a public speech about it is another story.
Here are some helpful tips on how to prepare the wedding toast, including quotes and examples.
Who Gives A Wedding Toast?
Source: jabezphotography via Instagram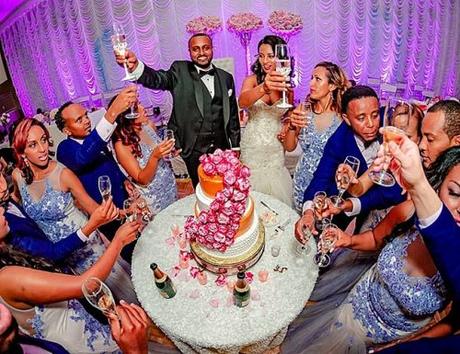 wedding-toast-quotes-ceremony-celebration-jabezphotography-min-500x385.jpg', null)" class="icon-facebook wwm_socialshare_imagewrapper facebook_custom">Facebook
The toasts given on the wedding day are the most memorable of all. The wedding toast is more meaningful than those at the engagement party, wedding shower, bachelor/bachelorette party or rehearsal dinner. Thus, wedding reception toasts are more formal. In this respect, you want to make sure that your toast is tasteful and eloquent. Keep in mind that you will be giving this toast in front of the bride and groom's families, friends and special wedding guests.
The father of the bride will open the wedding reception with his speech welcoming the guests and thanking them for coming. Traditionally the groom will then reply to this speech.
Modern weddings include a short reply by both the bride and groom.
Next, the best man will make his toast, followed by the maid of honor. And, the parents of the groom will often be invited to speak. Then the wedding officiant will say a blessing.
Following is a traditional breakdown of the order of wedding speeches:
Father of the bride welcomes everyone and makes his speech
Groom (and bride) reply to father-of-the-bride
Best man toasts the bride
Maid of honor toasts the groom
Parents of the Groom say a few words
Written greetings from guests who were unable to attend or any other special messages are read aloud
Special announcements are made
A blessing is given by wedding officiant
Whoever is hosting the ceremony, typically the bride's parents will ensure that the wedding toasts do not run over and flow accordingly.
Feel free to mix things up a bit. The bride and groom, as well as the Master of Ceremonies, should be aware of the order in which the toasts are to be presented.
Best Man Speech Wedding Toast Quotes
Source: firstcomeslovesd via Instagram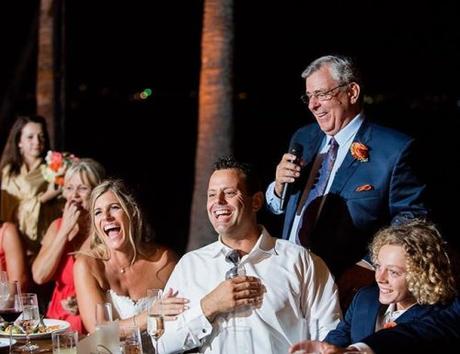 wedding-toast-quotes-guests-toasts-celebration-firstcomeslovesd-min-500x385.jpg', null)" class="icon-facebook wwm_socialshare_imagewrapper facebook_custom">Facebook
As the best man, you know the groom extremely well. You may be his brother, cousin, best friend or even his college roommate. You know may even know him better than he knows himself. He chose you to be his best man because you are one of the most important people in his life.
Thus, you will want to honor the groom in your best man speech by telling the groom just how much he means to you. Thus, you want to tell him how happy you are that he found the love of his life.
A good way to start your speech is to tell the bride's parents what an amazing job they did with raising the bride to be the beautiful woman she is today and how she has changed the life of the groom. You can use a bit of humor in your speech, but remember to be respectful and keep it clean, as both of their families are present. Nor do you want to embrace the couple on the happiest day of their lives.
If you are not sure what to say, you can always include some inspirational quotes in your best man's speech. This is always a good way of impressing the audience and most importantly the happy couple.
Following are some examples of the best man's speech quotes!
"When love reigns, the impossible may be attained."
– Indian proverb
"There is no more lovely, friendly, and charming relationship, communion, or company than a good marriage."
– Martin Luther
"A successful marriage requires falling in love many times, always with the same person."
– Mignon McLaughlin
"Love, be true to her; Life, be dear to her; Health, stay close to her; Joy, draw near to her; Fortune, find what you can do for her, Search your treasure-house through and through for her, Follow her footsteps the wide world over, And keep her husband always her lover."
– Anna Lewis
"The most precious possession that ever comes to a man in this world is a woman's heart."
– Timothy Titcomb, J.G. Holland
"There is only one happiness in life, to love and be loved."
– George Sand
"Love is a canvas furnished by nature and embroidered by imagination."
– Voltaire
"You know you are in love when you see the world in her eyes, and her eyes are everywhere in the world."
– David Levesque
"When the husband drinks to the wife, all would be well; when the wife drinks to the husband, all is."
— English proverb
"Success in marriage does not come merely through finding the right mate, but through being the right mate."
— Barnett R. Brickner
"Love is a force more formidable than any other. It is invisible — it cannot be seen or measured, yet it is powerful enough to transform you in a moment, and offer you more joy than any material possession could."
— Barbara De Angelis
"Love one another and you will be happy. It's as simple and as difficult as that."
– Michael Leunig
"Happy marriages begin when we marry the one we love, and the blossom when we love the one we married."
– Sam Levenson
"One word frees us of all the weight and pain of life: That word is love."
– Sophocles
"We never live so intensely as when we love strongly. We never realize ourselves so vividly as when we are in full glow of love for others. "
– Walter Rauschenbusch
Maid of Honor Speech Quotes
Source: kristiesergot via Instagram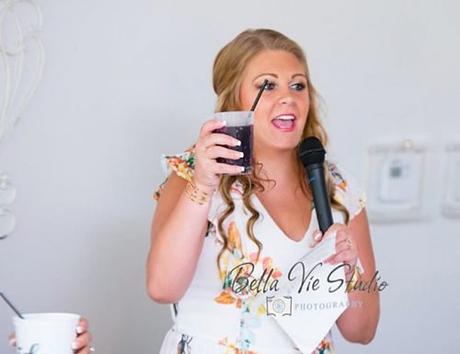 wedding-toast-quotesmaid-of-honor-toast-kristiesergot-min-500x385.jpg', null)" class="icon-facebook wwm_socialshare_imagewrapper facebook_custom">Facebook
As the maid, or matron, of honor, you have the privilege of making everyone feel warm and fuzzy about the newlyweds. The bride chose you for this role as you play a special role in her life. You are her sister, her best friend, cousin or college roomie. She has shared her innermost secrets with you and you have probably discussed her wedding at great length, long before she met her husband.
Your maid of honor speech should let the groom know just how special his new bride is. So let him know that he brings out the best in her and how much this means to you. As with the best man speech, you can include some humor as long as it respectful. Talk about your favorite memory with the bride and wish the new couple and long and happy marriage, giving them your blessing.
If you need some inspiration, here are some wedding toast quotes for touching maid of honor speech:
"Love does not consist of gazing at one another but looking outward in the same direction."
– Antoine de Saint-Exupéry
"Don't marry the person you think you can live with; marry only the individual you think you can't live without."
― James C. Dobson
"The best love is the kind that awakens the soul and makes us reach for more, that plants a fire in our hearts and brings peace to our minds."
– John Green
"We are each other's harvest, we are each other's business, we are each other's magnitude and bond."
– Gwendolyn Brooks
"To love someone deeply gives you strength. Being loved by someone deeply gives you courage."
– Lao Tzu
"Whatever our souls are made of, his and mine are the same."
– Emily Bronte
"What greater thing is there for two human souls than to feel that they are joined…to strengthen each other…to be at one with each other in silent unspeakable memories."
– George Eliot
"Love is the sum of our choices, the strength of our commitments, the ties that bind us together."
– Emily Giffin
"Marriage is not a ritual or an end. It is a long, intricate, intimate dance together and nothing matters more than your own sense of balance and your choice of partner."
— Amy Bloom
"Love is a force more formidable than any other. It is invisible — it cannot be seen or measured, yet it is powerful enough to transform you in a moment, and offer you more joy than any material possession could."
— Barbara De Angelis
"The capacity to love is tied to being able to be awake, to being able to move out of yourself and be with someone else in a manner that is not about your desire to possess them, but to be with them, to be in union and communion."
– Bell Hooks
"Chains do not hold a marriage together. It is threaded, hundreds of tiny threads which sew people together through the years. That is what makes a marriage last."
– Simone Signoret
"A good marriage is at least 80 percent good luck in finding the right person at the right time. The rest is trust."
– Nanette Newman
"Happy is the man who finds a true friend, and far happier is he who finds that true friend in his wife."
– Franz Schubert
"There is no remedy for love but to love more."
— Henry David Thoreau
Remember that you are very special in the eyes of the bride and groom. They have chosen you to be part of their wedding ceremony for a reason. Thus, your toast is a reflection of your love and best wishes for the newlyweds on their special day!
So, we hope that you have found these wedding toasts quotes to be helpful in composing your toast to the newly married couple.