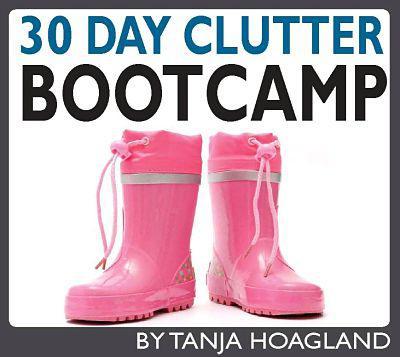 I often write about my struggle to maintain a balance between being a working mother and the things I want to do for myself. One of the bigger things I've been struggling to find the time for is continuing to declutter my home.
I've been reading an e-book called 30 Day Clutter Bootcamp. Tanja Hoagland of Minimalist Packrat wrote the 106 page e-book with the premise that if you can find 30 minutes a day to dedicate to decluttering, you can get rid of a lot of stuff, really quickly.
Along with continuing to write on my usual subjects, I'm going to dedicate myself to the bootcamp and share every step of my journey with you right here. You can just read along or you could also purchase the 30 Day Clutter Bootcamp e-book and read and work your way through it with me.
I want you to know that I wouldn't be sharing this book if I wasn't taking a lot from it. If you are hesitant to buy an e-book and wonder if you would take anything from it, it is good to know that the book comes with a 100% money back guarantee. I'm not asking for my money back!