I savor rare days like this that I'm home before 9pm! Usually cos of grad school I end up going home late, and on days I don't have classes I make it a point to go to the gym after work. But tonight all I wanna do is curl up in my bed and sleep! Makes me miss my sweet escapade in Palawan a few weeks ago! Speaking of, I wanna share with you my beauty must-haves that I brought with me during my 5-day vacay!
When I was fixing my things in our hotel room, natuwa lang ako kasi siguro half ng maleta ko puro beauty products. Nakakaloka! Kaya ayan picture picture sa hotel bed kasi naaliw ako! Medyo best in tardiness lang 'tong post na 'to pero ayan finally napost ko na!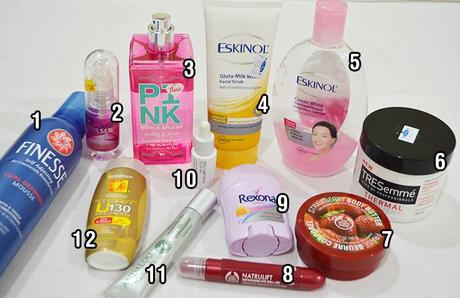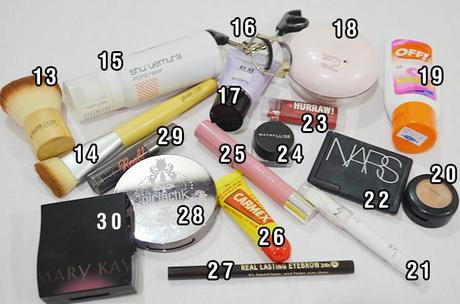 Finesse Curl Defining Mousse - I know this seems bulky to carry around but it's one of my ultimate must-haves! My hair would be one hot mess if I don't apply this life savior! I swear it's so much harder to maintain curly hair than straight! Thinking of getting a hair rebond soon, hmmm!
Glam Works Hair Serum - in relation to #1, I also HAVE to have this, especially on the day tour where it was windy/humid, hence very buhaghag day for me. 
Victoria's Secret PINK Body Mist - Light fruity scent that is not so overpowering always wins for me! 
Eskinol Gluta-Milk White Facial Scrub - My go-to facial scrub lately. It does the work and I don't get breakouts but I find it drying at times. Will replace with another brand soon, though. 
Eskinol Classic White Facial Deep Cleanser - If you remember my DIY acne solution, this is it! I brought this with me in case I get breakouts. Ended up my friend using this instead of me! 
TRESemme Thermal Recovery Hair Mask - I like that with this mask you don't have to wait 10 or 20 minutes before rinsing! It only takes 3-5 minutes! HAHA yes I'm impatient with my hair routines! 
The Body Shop Strawberry Body Butter - The scent is so heavenly! I also made it a point to bring a body butter cos it locks in more moisture on the body cos of the thicker consistency. 
The Body Shop Natrulift Refreshing Eye Roll-on - I normally forget to apply this when I'm at home so when I was away I really focused on using this! 4 out of 5 days I didn't forget to apply this, good job me! I wanted to get back in Manila without puffy eyes! Well, I think it worked naman.  
Rexona Whitening deo - No one wants jabar of course! Lols.
Shu Uemura Tsuya Skin - Aside from minimizing puffy eyes, I also wanted to have radiant skin! Oh diba, ang dami ko iniisip nung vacation ko! No seriously, kasi on normal days I take these beauty products for granted. Eh since dapat stress-free ang vacation, I was able to pamper myself a bit. May ganon.
Andalou Naturals Blemish Vanishing Gel - Obvious bang takot ako magka-pimples? Pati ito dinala ko! No seriously, this one is also very effective! The next day you can see a reduction in size with your big zits.
Dermplus Sunblock Lotion - Not mine really! Ohwell barbel kahit anong sunblock okay sa akin haha!
Virginia Olsen Kabuki Brush - For my loose foundation (#18) I find this brush very useful and handy cos of the size. 
Virginia Olsen Sculpting Brush - This is one of my fave brush! Ewan ko, pero trip ko mag contour lately. Oo kahit sa beach!!! 
Shu Uemura POREraser UV Under Base Mousse (SPF 35 PA+++) - One of the things I liked about this is that it's not greasy on your face after you apply it. And your pores are filled in, leaving you with a smooth face! 
ELF eyelash curler - One of my kikay kit staples! 
AVON Skin Goodness BB Cream (SPF 35 PA+++) - Honestly I only tried this for the first time when I was there! One of the new products I'm curious about but haven't really gotten the time to try, so ayan, nakasama siya. Well, performance-wise I can say I like the dewy finish and I didn't have any breakouts. Plus points also for the high SPF! 
The Face Shop Lovely MeEx Loose Foundation - I don't really have much loose foundations, I don't know why. Probably cos I prefer liquid ones? But this one doesn't cake on me and it absorbs excess oil perfectly. 
OFF Lotion - This is one of the ultimate must-haves when you go to Palawan! Be careful with insect bites to avoid malaria. 
MAC Studio Finish Concealer - I love that this has SPF 35! Being out and about in the sun most of the time, I had to ensure the products I'd bring to my trip have high SPF! 
NYX Jumbo Eye Pencil in Milk - I have to admit this didn't have lots of action time with me on my trip. But back here in Manila, it's one of my most abused product! I use it as highlighter, eyeshadow, primer, etc! 
Nars Blush in Orgasm - Cos the beach sun ain't enough to achieve that sun-kissed glow! Char. 
Hurraw! Tinted Lip Balm in Black Cherry - The scent is a winner! 
Maybelline Gel Liner in Dark Brown - I also didn't get to use this much on my trip, cos hello what was I thinking? But like the NYX Jumbo Pencil, I also use and abuse this on regular basis. 
Revlon Just Bitten Lip Stain in Honey - My go-to lip product lately. I love that it's a bit minty and staying power is great at about four hours. 
Carmex Moisturizing Lip Balm - I have very dry lips and I'm really grateful to have been introduced to this miracle product! I usually apply this at night and I wake up with moisturized lips.
K-Palette Real Lasting Eyebrow Pen - The reason I brought this was because I wanted to test if this will really stay put even under seawater! I'm happy to report that it did! Two thumbs up! Read my separate product review here.
Girlactik Bronzer in Casablanca - Like what I've mentioned earlier with #14, I really got hooked to contouring my chubby/ round face. Eh siympre, marami kodak moments este instagram moments for sure, so I wanted to have well-chiseled features in the pictures. Ano daw! 
Benefit They're Real Mascara - I also reviewed this product before, basahin nyo na lang. Tamad na mag-explain? HAHA! I wasn't able to use this much on my trip kasi but on a daily basis I use this quite a lot lately as well. 
Mary Kay eyeshadow palette - Since I don't want to bring individual eyeshadow pots or large palettes, I opted to bring this compact one. Very sun-goddess kasi mga gold and copper shades, unfortunately I think I only used this once during the trip! 
There you have it! Are we using the same products? What are YOUR beauty must-haves when going on a vacation?