Marble has always been with us and, as its part of my family heritage, I have quite a few small decorative pieces but it's now resurfacing as the hot new trend to be used on all surfaces, and in any room in the house from beautiful, but austere, bathrooms clad entirely in marble, to lighting and accessories. Whatever your budget there is plenty of scope for joining the marble trend.
Real Deal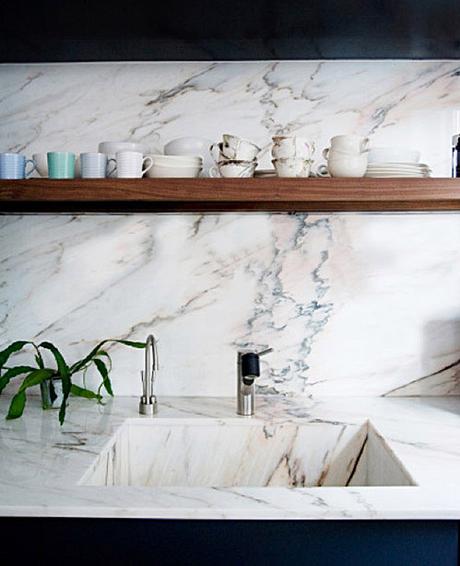 Kitchen designed by Elizabeth Roberts
If you really want to splash out this has to be the ultimate in marble envy for lesser mortals – a sink, worktop and splash back in…..marble. Marble en masse can be quite cold but the addition of a wooden shelf helps to soften the look but I would prefer brass taps to add even more warmth.
Ideal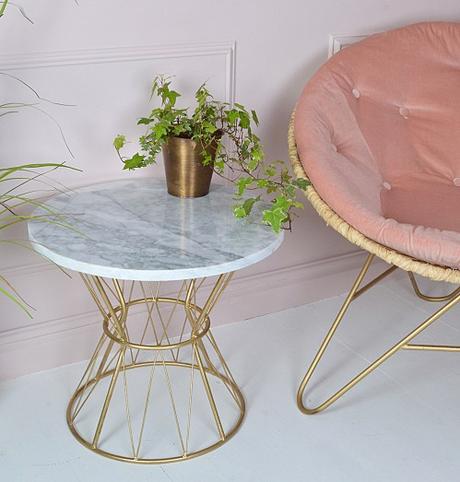 A beautifully simple marble and brass side table to bring urban glamour into your life. The simplicity of the round marble top is enhanced and warmed by the addition of brass spoked legs which give it a timeless appearance suited to any décor. For me marble always needs softening, either by color or texture, to counteract its hard lines and this round raffia chair with its pink velvet cushion enhances the clean lines of the marble table and adds warmth.
Steal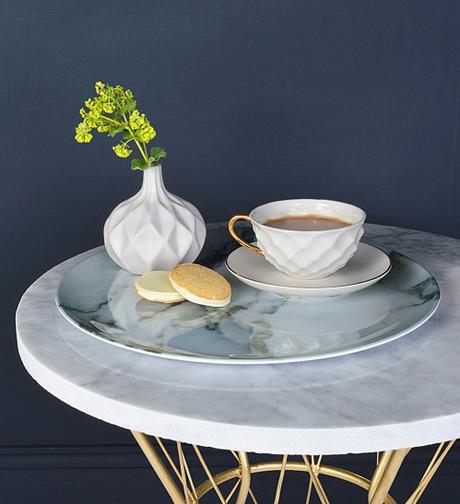 And now the easy, and cheap way, to bring the marble trend into your décor – accessories. With increased technology marble effects can be applied to any surface realistically and cheaply. A melamine marble effect tray, not only for carrying your cuppa to the armchair but to use for styling vignettes. We love this tray for its simplicity and practicality.
Here's my top 6 pics of how to get the marble look with accessories.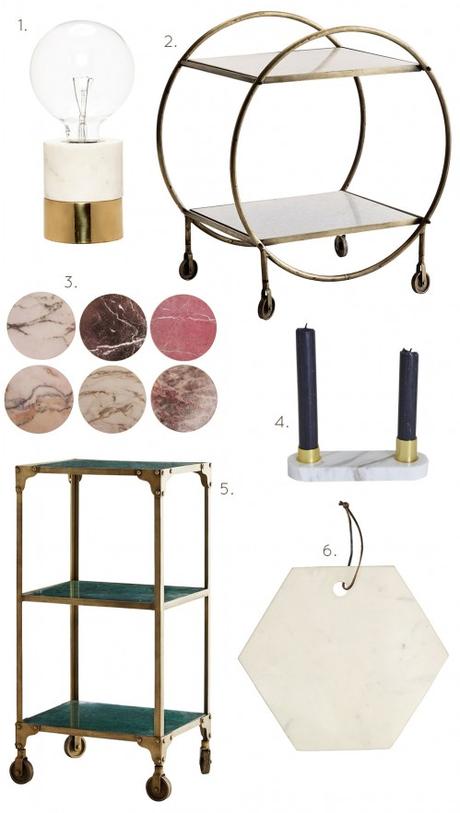 1. 
Marble bulb table lamp
  2. Round marble and brass drinks trolley  3. Marble effect coasters
4. Marble candle holder   5. Green marble drinks trolley  6. Marble chopping board
Jacqui x
Never miss a post: follow us on Bloglovin'!
'3 Ways to Use Marble in your Home for all Budgets' by Jacqui Brooks
Photography: Amelia Brooks/ Styling: Jacqui and Amelia Brooks